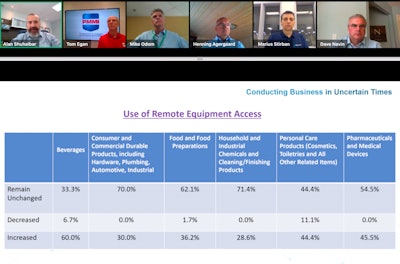 Field service technicians face unique challenges as they head back to work keeping customers' essential production lines up and running. Tom Egan, vice president, industry services, PMMI hosted a webinar earlier this month with four OEMs, discussing issues such as travel arrangements, quarantine before and after customer visits, customer requirements for entering plants, hotel and meal arrangements, conducting customer training, virtual options and more. This Q&A covers the remote access and travel portion of the webinar.
Panelists:
Alan Shuhaibar, president, BellatRx
Marius Stirban, technical services and parts manager, Wexxar Packaging
Dave Navin, president and CEO, Spee-Dee Packaging
Mike Odom, general manager, Kliklok LLC, a Syntegon Company
Tom Egan: What we want to address, first of all, is the use of remote access, mainly where the CPG is asking OEM suppliers to come in and access their machinery.
Alan Shuhaibar: A lot of our customers are in the pharmaceutical sector. They are typically hesitant and reluctant to allow for remote access. However, we found them to be a lot more open to it now, which allowed us to fix a lot of issues remotely without having to be present on site.
Henning Agergaard: With food and beverage, it's definitely easier to transfer data and use new technology. Whereas in the logistics world, we're talking UPS, FedEx, Amazon, these guys, they are still reluctant to let you use any remote access or have any data transfer out of their buildings.
Tom Egan: Henning, I think that's a great capture point where you're looking at two different aspects of your business, meaning those that are in the packaging side, and then those that are in the logistics side or transportation-distribution side. There is a differential in what they're expecting [and allowing].
Dave Navin: We're [finally] seeing large CPGs adopting this technology. Our IT team has recently come up with four specific offerings that we can either install on a machine when we ship it or retrofit kits that we can ship out into the field. A lot of customers have been adopting that recently.
Tom Egan: PMMI has a lot of data indicating this increased remote equipment access. The OpX Leadership Network has an excellent work product on OpXLeadershipNetwork.org that we put out about a year ago with six different methodologies for connecting remotely. Now we move from remote access to actual in-person access via field-service teams. What is it that you're doing to help facilitate that? Are you making specific travel arrangements? Are your field technicians allowed to travel by plane or by car?
Mike Odom: What we've found is that most of our customers ask that we travel via car or at least not travel via plane. So we're seeing that we're doing most of our travel through driving. When it comes to finding reasonable hotels, etc., we communicate with the customers. Our customers have been very helpful in ensuring they find a good place to stay that has availability for food, etc. So that part hasn't been an issue. I'd say the other item is that if we do fly, a lot of our customers ask for us to quarantine for two weeks. We've been able to avoid that quarantine by driving. But again, we've got a lot of people spread out throughout the U.S. So what we end up doing is sometimes putting a generalist in to help the customer and supporting them remotely.
Tom Egan: I think that's a good point that you're bringing up. A field service tech that you have in the northwest might not be an expert on the type of machine in question, but you're able to assist them, perhaps call back with a tech that's more familiar with the equipment.
Dave Navin: Spee Dee brought our field service team into a town hall early on to discuss travel safety, and we've continued doing it every three weeks. Their buy-in is critical, and the techs are very invested with what they feel is necessary to do their job. Our second town hall on this topic was much different than our first. We've learned a lot from that second town hall, which is that travel on airlines appears to be much safer than many think; at least, that's our techs' perception today.
Tom Egan: I think that is a great takeaway, bringing in just the field service techs for a town hall. Who else do you involve from your executive team for that?
Dave Navin: We also have weekly town halls of our whole company, virtually and in the plant. So that once we make decisions, we've informed everybody in the facility. [The employees say it] makes everybody in the facility feel more comfortable that they know what techs are doing, what their thought process is, what their mentality is when they come back from a trip and how safe they've been on while they've been traveling. It keeps the anxiety in the entire facility down.
Tom Egan: I'm going to go across the border as we have both Alan and Marius in Canada. Alan, what are your thoughts on what preparation work you're doing with your field service teams?
Alan Shuhaibar: First of all, we did have town halls with our field service technicians to better understand their concerns as they've changed since the beginning of the crisis until this point in time. People are more at ease with it as long as PPE procedures are taken into account. Our customers, we have not experienced any requirements for quarantine to get into their plants. But, since we focus on driving as much as possible, we have had situations like Mike mentioned where the technician closest to a customer might not be the one with the most level of experience with that piece of equipment. We're able to support those technicians using other tools such as augmented reality from our plant to bring them up to speed before and during the visit.
Marius Stirban: When this started, we tried as best as we could not to cross over the border. So we didn't send a Canadian-based tech into the U.S. or the other way around. But in cases that we need that knowledge for a particular project, we do similar to what Alan and Mike mentioned, and we send whatever tech is closest to a plant. We'll help him remotely if need be, either before with a virtual meeting or during the actual service call. I think Dave also mentioned this, but our techs have found [they also feel] that traveling in airplanes is actually safer as the airports are almost empty, and there are just a few people on a plane. They don't feel unsafe when they travel on a plane.