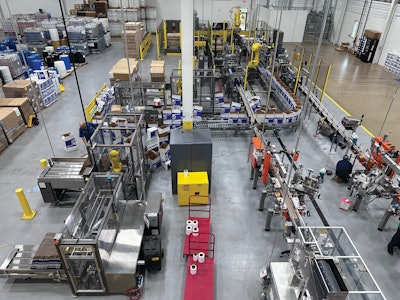 In 1978, Sonny's The Car Wash Factory started as a small parts manufacturer with a mission to "Make Car Washing Easy" for car wash owners and operators, and to become the global industry leader. Sonny's is now the largest manufacturer of conveyorized car wash equipment, providing 12 car wash business solutions as the one-stop-shop for all car wash needs. Sonny's strategically acquired complementary businesses, including Cleveland-based Diamond Shine, the industry leader in premium quality cleaners and solvents.
Diamond Shine's Bullseye™ line of industrial-strength commercial car wash detergents and waxes are quite a bit more potent than the buckets of suds that weekend warriors labor over as they wash their cars in the driveway. The biggest difference is that these are concentrated chemicals meant to be carefully measured and diluted in water, not used right out of the bottle. At 2.5 gallons, these F-style bottles are clearly portioned for commercial use. Once in the hands of the car wash professional, the rigid HDPE bottles with integral handle are specifically designed to nest into the company's Bullseye mechanical tank-based detergent delivery system, which mixes the soap solution with water and ensures proper car wash detergent dilution ratios.
Leakers are a major enemy of any liquid bottling operation, but the sentiment holds doubly true for Diamond Shine's concentrated chemical products. Given the bottles' industrial-strength contents, the 2.5-gal detergent bottles require infrared sealing with foil as they're capped. And secondary packaging in two-count printed cases is also about as robust as it can get, using double-walled corrugated and a Z-style corrugated partition. Two bottles per case are packed in a parallel position so they nest together in a tightly packed, partitioned packaging system. Case weights vary by product, but each one weighs somewhere around 50 lbs.
Genesis of a custom line
In a thin labor market, growth spurs automation. Since Diamond Shine's acquisition a few years ago by Sonny's, it has been growing fast.
This rapid growth precipitated a 2021 move from an existing location in Wickliffe, Ohio to a larger brownfield manufacturing facility in Mentor, Ohio, in a 109,000 sq. ft., 20 million-dollar renovation project to accommodate increased production. The primary impetus for the move was on the processing side of operations, in increasing mixing capacity via larger mix tanks and adding bulk storage tanks for the most-used bulk chemicals. This bulk chemical storage would obviate the need to add many of the high-volume chemicals manually, via drums and totes, when mixing product. But as is often the case when upstream processes improve and get faster, downstream packaging operations need to come along for the ride, lest they become the bottleneck.
Video courtesy of Sonny's Direct
The 2.5-gal detergent packaging operations, known internally as the Bullseye line, landed at the top of the company's wish list in packaging automation. This format had previously been a manual packaging process that wasn't very labor-friendly. It was heavy in secondary packaging and created some messy situations when filling concentrated detergent.
But a lack of legacy automation meant there was little existing packaging equipment or infrastructure from the previous location that would need to be relocated or replaced. As leadership considered renovating their new facility for their needs, including a near blank-slate of a packaging line project on 2.5-gal detergents, the company reached out to packaging and processing line integrator Patrick Coakley of Plant Automation Group (PAG). He crunched the numbers on factors such as line speed requirements, the robustness of the packaging, a desire for redundancy, and a preference to be able to grow into packaging lines if speeds or demand were to increase. Coakley recommended an approach in which he and PAG would integrate the primary packaging line.
"When we started investigating the long-term requirements for automating packaging for this two-and-a-half-gallon jug, we realized it would be an interesting project," Coakley says. "The manufacturers that we brought to the table were all carefully chosen to be the optimal equipment for this unique suite of wants and needs."
Now, PAG does quite a bit of business integrating downstream secondary and end-of-line packaging applications, too. But in this case, the circumstances pointed them to a more local solution. Coakley tapped frequent project partner Hamrick Packaging Systems, an Ohio OEM that's not too far from Diamond Shine, to integrate the box shop and secondary packaging down to the palletizing at the end of the line. The handshake between the two parallel integration efforts would occur at the case-packing function. Here's their telling of how the collaboration came together.
"Hamrick just does a fantastic job," Coakley says. "Jordan is growing his company, and he does the right thing for his customers. For me, part of it was that Hamrick was physically close to the manufacturer, but also has the ability for robotic placement of containers. And because of the weight of the containers, we needed a robotic placing solution."
With a robust packaging system handling 50-lb cases being the name of the game, less emphasis would be placed on overall speeds—six cases per minute, per line (the line is mirrored), or 15 cases per minute for the whole system, was going to be more than enough for the foreseeable future.
"Patrick asked us, 'Can you guys case pack these? Can you do erect, seal, palletize, and do the partition inserting?'" Jordan Hamrick recalls. "And yes, we could. We had done robotic partition inserting before, just not for a Z-style. That was a new piece of equipment that we had to come up with. The case erector we had done before, but not for a double-walled case, so we added some components to be able to run that. But we had the blueprint in place to be able to furnish the entire line in house. It just took some minor tweaks and engineering to get the job done."
Initially, Hamrick had looked at using another vendor's case erectors, which they frequently sell and integrate for their own customers. But Hamrick realized that, at these speeds, they might be better off taking this step in-house as well.
"They were running at 25 cases/min, and that was a little overkill for what we needed to run five or six cases a minute per line. And we had our own 15 per minute case erector model that we redesigned a couple years ago," Hamrick says.
Robotic configurations and end-of-line operations were next to be discussed, and another change in plans came not long after Hamrick entered the fray. Initial designs had called for a single secondary packaging line. But Sonny's sales team concurrently set for itself an ambitious, long-term goal to flip its mix of detergent package formats between drums and the 2.5-gal packs. This change will not happen overnight, far from it. But if and when the sales team begins to meet its sales mix goal, a single-lane secondary packaging line would become obsolete for the predicted volume very quickly. So, the new plan of attack became a mirrored two-line system with plenty of runway for the expected future growth in this package format. The plan would be able to maintain single robotic installations at the case packer and palletizer, though two mirrored partition inserting robots would still be used in the box shop.
"The way we and Hamrick designed the line was to provide a single robotic installation supporting two lines," Coakley remembers. "So, although redundancy isn't there in terms of clear one-to-one ratio, we're reducing footprint. And since Hamrick's done such a fantastic job with Fanuc robots over the last three years, and the confidence was so high with me, we recommend Jordan also manage it to do a robotic palletizer for their needs."
With roles and responsibilities sorted, finalized plans for the line came together fast. PW spoke to Sonny's automation engineer Adam Harper, the brand-side counterpart to PAG and Hamrick on the installation, in late 2022. As could be expected, there were some hiccups along the way, because "not everything in 2D or 3D CAD always lines up perfectly," Harper jokes, but the three parties worked through what's now a pretty nifty full packaging line.
Primary packaging
Integrated by PAG, primary packaging operations begin with empty 2.5-gal F-Style HDPE bottles coming into the Mentor facility on pallets of about 60 bottles per row, at eight rows high, with slip sheets separating each row. Operators manually depalletize by cutting through the pallet shrink and placing each row of bottles on an incline elevator belt feeding a single unscrambler assembly from Pace, a ProMach brand, which begins with a ring hopper that spins parallel to the floor on a mezzanine level. The hopper orients the bottles on their sides and places them on a series of timing belts, but the direction they face as they travel (bottom-leading or closure-leading) remains random until the bottles pass through a mechanical turning hook assembly that orients them in the desired bottom-leading posture. After orienting, a mechanical lip on the belts catches the flat surface of the leading bottoms of the bottles as they travel by, uprighting them from their sides.
"The next step is that all the nozzles have to be facing the same way, with the nozzle leading," Harper says. "So at the very end of the bottle unscrambler assembly is a bottle orienter. It has two Allen-Bradley laser photo eyes, one viewing for the space inside the handle, and the other viewing the nozzle. If the bottle is facing the correct way, with the nozzle leading, the sensors both read the handle and orientation as true and the bottle isn't turned. If the bottle is facing incorrectly, with the nozzle trailing, one photo eye reads the handle as true, but the other reads the nozzle as false. When that's the case, it's moved up the line slightly to be turned 180 degrees by a rotating arm, and all bottles leave the Pace unscrambler in the correct orientation."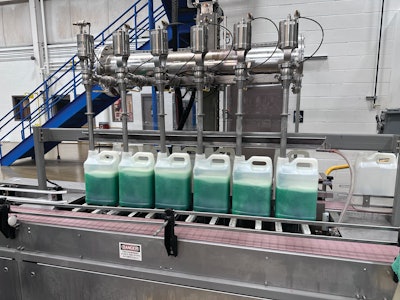 Are you asking yourself, "Wait, just one single unscrambler? I thought this was a mirrored, dual-line operation?" If so, good catch; here's where the line splits into two. Once oriented, a diverter conveyor from Wrabacon Inc., a PAG company, branches the single conveyor into a 'Y' shape with two downstream lines. A gate at the split diverts bottles downstream into whichever line needs feeding.
The two lines travel in parallel to two mirrored six-head fillers from Massman's PASE Group, where lances descend on ball screws into the empty bottles. Each of the two fillers handles six bottles at once. Each bottle sits on an individual load cell, and filling is metered by weight rather than volume or fill line.
"In an ideal world, we'll be doing 12 bottles per minute on each side, or about 30 seconds per cycle," Harper says. "But we make soaps that are extremely concentrated, so it can be very sudsy stiff. A more realistic goal for the foamier chemicals is to fill about 10 bottles per minute, over the course of the whole run. But we're shooting for 12."
The six-head fillers are capable of top filling, bottom filling, or tracking, depending on the viscosity and foam characteristics of the detergent being filled. Top filling is fastest, and as the name implies it fills from the top of the bottle, where the lances remain during the entire filling. Top filling is suitable for waxes and products that lack surfactants, thus can handle some agitation without foaming. But chemical products that contain surfactants can't be easily top filled due to their foaming characteristics, so that's where bottom filling comes in. The lances are plunged to the bottom of the empty bottle and remain there for the fill. This is the slowest method, considering as much as 25 lbs of liquid detergent will pool above the lance as it fills, working against the flow. But it's also gentlest on the foamier, suds-prone products. To make up some time on a bottom-fill, the tracking fill option can be used. When using this method, the lances are raised up a bit more than an inch for every five pounds of liquid detergent that's filled. This is sort of a best-of-both-worlds approach that's gentle on the product and still faster than bottom filling, but it requires operator input. Ultimately, choosing between the three is a function of the product, the operator, and the desired or required fill speeds. Flexibility to change methods for different products and requirements is the important factor for Sonny's.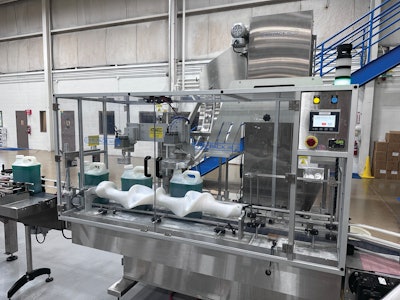 Filled bottles are then conveyed to a front-gated, custom designed timing screw, where one-by-one they are accelerated and metered out until they reach a stationary pocket on the screw. Despite the conveyor continuing to run beneath the temporarily stationary bottle, it is held in place under a chuck-style Balpack screw capper, purchased from All-Fill, until a pneumatic arm successfully pushes a cap onto the bottle. The caps themselves are fed into the screw capper via a hopper and incline elevator, then are dispensed down a chute into a cap pocket, where each cap will precisely meet the waiting filled, but uncapped bottle. The pneumatic air cylinder then drives down the positioned cap, and spins it onto the thread of the bottle's neck. Before the capped bottle has even left the first capping pocket, the following uncapped bottle has cleared the stop-gate at the head of the timing screw and is already traveling through the screw to be capped.
"Once it goes through that first station where the cap has been applied, the timing screw carries it slightly further to take the bottle to a second torquing station to do a secondary torque-check on the top of the cap just to make sure it's at the right torque setting," Harper says. "It's important that it's at the correct torque since there's a foil lid on the inside of the cap that needs to be snug enough that, when it goes through an infrared sealer further down the line, the foil is positioned correctly to line up and seal to the top of the bottle, rather than to the cap. If it's too tight, it will crease the foil, resulting in a bad infrared seal. And if it's too loose, it won't get sealed onto the bottle at all." More on that infrared seal later.
After exiting the second torquing station, each bottle travels through two separate Keyence sensors. First, a foil detection sensor confirms that there is a foil in the cap and rejects those that don't onto a reject tray. A cap height sensor is next; Harper explains its purpose.
"The weights are substantially different between of our chemicals, slightly distending the bottles in different ways, and each one slightly changes the height of the cap, even on the same sized bottle," Harper explains. "The correct height range gets adjusted during each run by the operator. Using the first six bottles that exit the six-head filler on a production run as a representative sample of what's to follow, the operator sets the torque height limit for the remaining bottles. Then any that are out of spec, plus or minus one or one and a half millimeters, those are also rejected."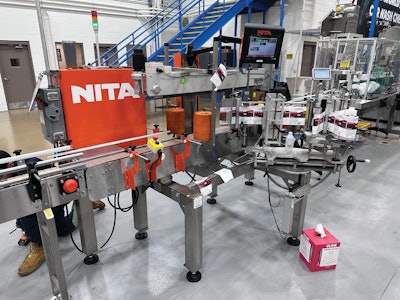 Downstream of capping operations and related quality assurance, pressure-sensitive label application is done on a NITA labeler, a machine that Harper says is easy to use and required very little training. While this equipment is certainly capable of more complex jobs and many recipes, labeling variation on the 2.5-g liquid chemical line is fairly limited. Label positioning tweaks during changeovers are infrequent, and usually are based on minor bottle distending or deformation that may occur with heavier liquid detergents or the occasional hot-filled product.
After labeling we find the only significant piece of legacy equipment that came over from the previous, mostly manual packaging line in Wickliffe. That's an Enercon infrared sealer, which doesn't physically touch the bottles at all. Remember how important the correct torque was in capping operations? As the capped bottles pass underneath this equipment, the Enercon device sufficiently heats the precisely positioned foil lid that rests on the lip of the bottle, underneath the cap, so that the foil and bottle adhere to one another. This is an important step, since when a car wash attendant finally opens the cap to mix the detergent in a Bullseye device, they will find a foil seal underneath the cap. The Bullseye dilution station then then breaks that seal to release the detergent within the equipment, meaning the car wash attendant doesn't have to handle the concentrated liquid chemicals.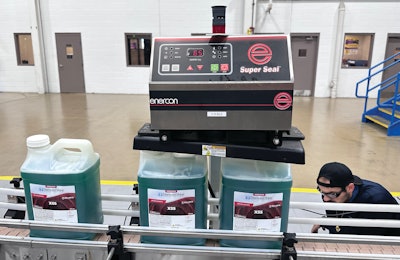 Some accumulation occurs after foil sealing, and the bottles are again oriented, this time to prepare them for robotic case packing. Using a simple but slick mechanical turning hook assembly, bottles are turned to travel downstream broadside first, nozzles facing out. Lagrotta Packaging incline product conveyors supplies the timing belts and conveyance for this portion of the line.
"There's a variety of methods you can use to turn these bottles," Hamrick says. "There's a star wheel, there's timing screws, and other options, but the most cost-effective way for that specific bottle on lower speed lines is to use the turning hook assembly."
Secondary and end-of-line packaging
At this point, the line transitions from primary to secondary packaging, and that's where PAG handed over the line integration keys to Hamrick. At the beginning of case packing operations, two left-handed, mechanical Hamrick case erectors with Festo pneumatics operate in tandem, with one cleverly oriented at a 45-deg angle of the other to accommodate a structural pillar in the facility. But why use two separate, independent box shops for these slower speeds and a single pack format?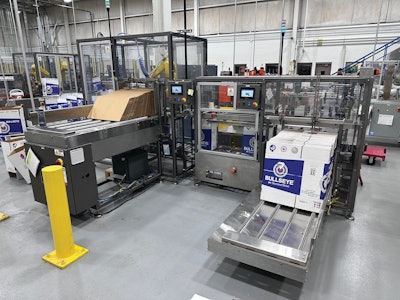 "Initially, at these speeds, we looked at running one case erector, one partition inserter, and then diverting the cases to pair with either one line or the other, whichever was more starved for cases. Afterall, the pack format is dedicated on both lines, it's all 2.5-gallon bottles," Hamrick recalls. "But the formula of the soaps, and the artwork on the cases, could vary between the two lines. One filler could be one type of detergent, the other a different type. And if we only had one box shop, we would need to do mixed pallets or mixed magazines of cases. In the end, it was easier to do a dedicated box shop on each line. And then, we were able to use the robot to be able to synchronously pack between both, even when they're running a different product on each line."
The box shops are designed to handle extremely heavy, 48 ECR double-walled corrugated to accomodate 50-lb liquid loads. Each case erector features a 6-ft (roughly 100-ct of corrugated blanks) magazine, a squaring mechanism, and servo indexing system, with controls on the back side. A tape head from DEKKA, a ProMach company, on each of these case erectors tapes the bottoms of erected cases; a servo arm simply advances the erected case along a bottom flap-closing fixture, and past a tape head.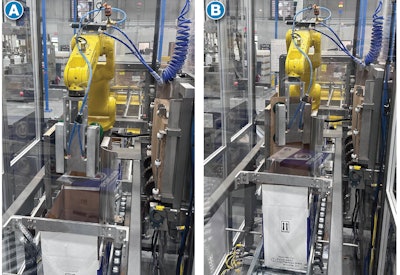 Immediately following, and in fact mated to each case erector, is a robotic partition inserter. Hamrick selected two 6-axis LR Mate 200iD/7L from Fanuc for this operation.
"You don't need a high payload here since it's just the partition insertion; you only need speed and reach," Hamrick says. "The partition might only be a fraction of a kilogram. Small vacuum plates pick flat 2D, pre-scored partitions off a stack, then run then through a curved mandrel to create the Z format, then plunge them into the case."
Erected, bottom-taped cases proceed on TGW Case Conveyors-powered roller conveyor underneath the two bottle-infeed lines and turn 90 deg to align and run parallel to one another, as two paired product/case infeeds. A five-axis M-710iC/50H robot from Fanuc resides between the two parallel lines. A sixth axis isn't necessary there since all the work being done is on the same plane—bottles don't require rotation or further manipulation. The end of arm tooling designed by Hamrick is a hybrid of vacuum and mechanical clamps that grabs bottles by the handle, picking two bottles at a time. As the robot picks and carries the bottles from the product infeed, a mechanical collar descends over the open flaps of next case to be packed, ensuring proper placement into the partitioned cases and avoiding bottles catching on corrugated case flaps.
The six filler-heads upstream on each line predicate that most downstream operations are done in groups of six, as evidenced by the cap height sensor calibration step mentioned earlier. Case packing is also done in groups of six, but with an added two-bottle buffer. The single robot arm will case pack one line until the opposite line accumulates eight (six plus a buffer of two) bottles. It will then change from one line to the other, to do three picks of two, two, and two, leaving the last two bottles in place as the line replenishes to eight. The robot will then switch to the other line, by which time eight bottles will have accumulated, and this process is repeated for the entire run.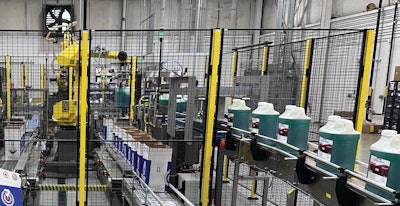 "It works out well because there's eight bottles, and the robot picks up six of them," Harper says. "That's two bottles per case, and three cases per line being pushed downstream in each cycle, which is exactly what the palletizer grabs in each pick. There's convenience and efficiency baked into that design."
Top flaps of the packed cases are mechanically closed and taped on another DEKKA tape head as they're conveyed toward palletizing. Automated case labeling also now occurs at the handshake between case packaging and palletizing. Sonny's had been pre-labeling the corrugated blanks in the early days of this packaging line's production, but the company has since invested in two more NITA labelers designed for corrugated cases that were integrated into the line immediately downstream from case packing, just before palletizing, to allow labeling to happen on-demand.
End-of-line operations are accomplished by another single Fanuc robot arm that serves both lines, this time an M-410/185-kilogram robot, which equates to about a 370-pound potential payload. In this operation, the arm is picking up three cases at a time, so at roughly 50-lb per case, that makes for 150-lb picks. Since each pick is six total bottles or three cases, the pace is notably slower at the end of the line, easily outpacing primary operations.
Hamrick left pallet pattern preferences up to Harper, who naturally consulted the employees who had been manually palletizing operations at the Wickliffe plant. Those employees' selected 3x4, or 12-ct per layer pattern, at three rows in height, which remains the preferred pallet pattern today. Slip sheets are placed on top of the empty pallet via gantry after pallet dispensing–none are required between layers. The three rows are stacked without rotating the center row, thus avoiding overhang. Though the heavy weight works against going tall with pallets, it makes for sturdy, robust 36-ct unitized pallets that travel well, according to Harper. As for speeds, each line produces a pallet every six minutes at cruising speed, with room to speed up from there if necessary. Even at the end of the line, packaging operation hew to a rule of sixes. If you remember, filling operates at 10 to 12 bottles per minute per line. That equates to one 72-ct pallet of bottles, or 36-ct pallet of cases, every six minutes.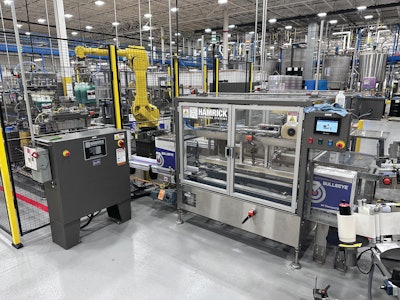 A more recent development has been training the robot to rotate picks in such a way that ensure labels are outside-facing on both sides of the pallet, as the most natural pallet pattern would result in all the labels only being visible on one of the pallets four sides.
"It just makes shipping easier, and it's easier for our distributors," Harper says of the upgrade.
This palletizer's end effector was supplied by Joulin, a Piab company, and perhaps surprisingly, is able to easily accomplish 150-lb-plus picks using only vacuum suction, and no mechanical clamps.
"The original plan behind this was to go with a similar tool that we had used for a bottled water company, which was more like a fork and a clamp," says Jeff Eckstein, director of engineering at Hamrick. "But we brought in Joulin, who we have worked with on a number of other applications. They were very confident that we could pick these using a simple vacuum, which simplifies everything since robot can hover and make these rows very easily without interfering with anything else, and without needing to open up clamps, or anything like that.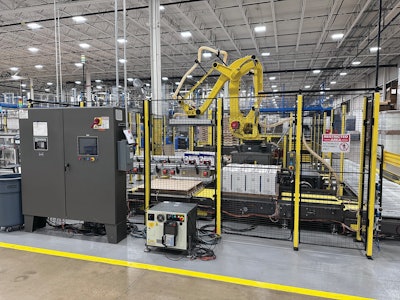 Prime Conveyor supplied pallet conveyors for the project, providing a pallet dispenser, a gantry-style sheet inserter, and pallet conveyor/accumulation. Stretch wrapping isn't done in-line; pallets are manually rolled from the packaging line to a stretch wrapper. Plans for 2023 include an in-line stretch wrapper.
Overcoming supply chain disruption
No project is without its hurdles, and the ones faced in the Sonny's detergent automation project bear mentioning. As occurred with most automation projects undertaken during the pandemic, supply chain issues were a hinderance to timelines. One workaround that ended up being a surprising find for Hamrick and Sonny's alike was the pivot to Weintek HMIs and Mitsubishi Electric drives and drives and servos. Standard Allen-Bradley PLCs, though, were integrated on all machine centers.
"I hadn't been that familiar with them, but they've been great. They're very user friendly, and just as good as anything else we've seen," Harper says of the interfaces and drives.
For its part, Hamrick had intended for this project to be the first full line build and factory acceptance test (FAT) in its own brand new, 65,000-sq-ft facility. But that wasn't possible because construction and supply chain issues of their own delayed the facility build. While individual machine centers were tested at the existing Hamrick facility, there wasn't room to FAT the whole line at once, so the FAT ended up being a site acceptance test, too. Many of the kinks that Hamrick would have ironed out in his own new facility would have to happen at the customers' site. But these types of experiences were common, possibly even typical in 2022.
"That's just the reality we all dealt with, and there are always going to be start-up pains. We just saw more of them since we started it up here," Harper says. "Not to mention, we were starting our own new manufacturing facility, too. Like I said, CAD plans aren't perfect in the real world. That's just how it is in the world of packaging.
"But I wouldn't change a thing," Harper concludes. "Patrick and Jordan, and really every single manufacturer and supplier that we dealt with has been great, I don't have any concerns about anyone that we've gone with. And every time we bring our customers, or brother and sister companies into this plant, nobody can take their eyes off the robots. They're basically a showpiece." PW
Companies in this article