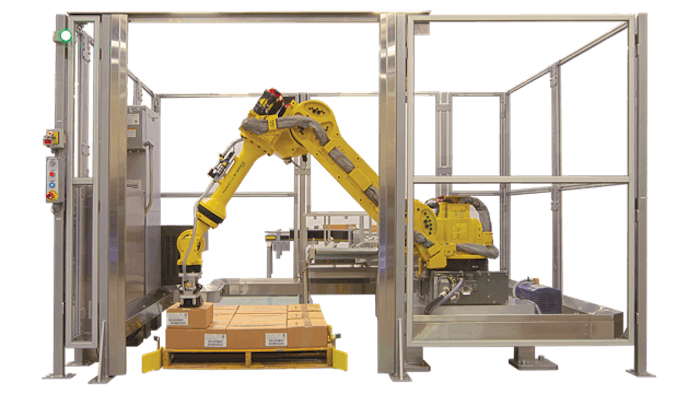 Manufacturers are constantly looking to improve productivity and increase efficiency in order to maximize operations. This is especially the case when it comes to packaging, where a streamlined process translates into faster achievement of production goals. By integrating advanced technological solutions like robotic palletizers and depalletizers, companies can optimize their packaging workflows to cut costs, expand operations, and generate more profit.
Serpa Robotic Palletizers leverage next-generation FANUC robotics technology to pick and place products with ease, no matter the size or weight. Manual palletizing can be labor-intensive and expensive. Serpa Robotic Palletizers automate the workflow with reliable robots, high-quality conveyors, side guides, and guarding. Their compact footprint means they require little floor space and can be deployed in small spaces.
Available in single-cell or multi-cell configurations, Serpa Robotic Palletizers deliver fast cycle times, high throughput, and accurate changeover.
They're developed for simplicity in order to make them easy to operate. The company's experienced engineering provides sophisticated motion control and consistent performance to improve productivity. Robots support fast, flexible palletizing applications with access to multiple packaging lines with one unit. Custom-designed end-of-arm tools are engineered and built by Serpa to meet the needs of customer-specific operations.
Robotic palletizers are becoming essential to most industries. Manufacturers rely on them to automate production processes and reduce labor costs. E-commerce businesses depend on them for fulfillment operations. Researchers estimate companies spend $3.5 billion annually on warehouse automation in the U.S. and Canada, and forecast growth at 5% to 7% a year.
All Serpa products are manufactured for quality and value. Robotic Palletizers are developed for precision high-speed and high-payload operation, user-friendly setup, and maximum reliability. They provide a lower Total Cost of Ownership in order to generate the best Return on Investment.
Companies in this article