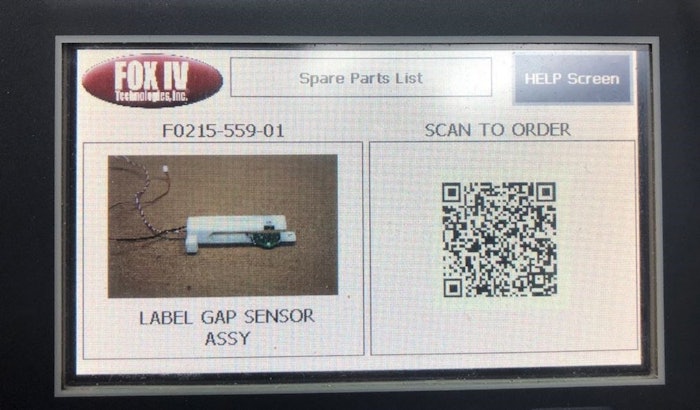 Manufacturers don't keep spare parts for machines on the factory floor because it's just not cost-effective. But the money saved is time lost, as maintenance technicians will spend too much effort referring back to manuals or on the phone with a service department to identify the correct part information when ordering. As a result, end users and machine builders alike are looking for new ways to streamline the parts replacement process.
FOX IV Technologies, Inc., a provider of automated print and apply labeling machines for packaging lines, has done its part to solve this inventory issue.  The OEM and integrator has rolled out a new technology that will save time by automating the ordering process. 
The company's patent pending technology, QROMA (pronounced "chroma"), enables individuals to request and buy parts and supplies directly from the shop floor, the field or the fulfillment center.  The QROMA code—embedded on the part, the packaging, the storage rack or in the digital HMI screen—uses a QR code which can be scanned by a smart phone or device configured to read the QROMA code, which, once scanned will automatically generate an e-mail order to the supplier, including the correct item number and a part description. 
To provide a secure transaction, the supplier's order entry system contains a confidential customer specified profile of the authentication process for a QROMA order. Valid email addresses and the order acknowledgment process are part of the QROMA profile and orders from invalid email addresses are rejected. Every customer is able to define their desired authentication process and the response before the order is shipped. 
FOX IV will be using the QROMA code on all of its new products at no additional cost to the customer. In addition, the company will license the QROMA technology to other equipment manufacturers, company officials said. 
In summary, the advantages of QROMA include:
A fast, easy and secure method for ordering parts, inventory or supplies over the Internet.

Approved personnel can immediately place orders from the plant floor, the field or a fulfillment center.

It provides a guarantee that personnel will order the correct item.

To prevent fraud and scams the QROMA process requires that the supplier has a confidential profile for every customer to authenticate that it is a legitimate order.

It offers the option to have additional authentication/approvals.
Companies in this article