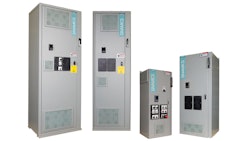 Built around the popular SINAMICS G120X infrastructure drive, Siemens' new enclosed system is ideal for fast design and commissioning in industries such as oil-and-gas/petrochemical, water/wastewater, power plants, industrial climate control, refrigeration, and chillers in harsh environments. A NEMA 1 enclosure is standard with a NEMA 12 version optional, featuring appropriate ventilation and air filters. The base enclosure is suitable for wall-mounting to 75-hp applications, while the free-standing floor module accommodates uses to 200 hp.
Standard electrical characteristics of this new enclosed drive system also include a UL508A listing, SCCR rating to 65kA, circuit breaker disconnect with flange-mounted operator handle and mechanical door interlock, plus control power transformer for internal power control and power module with PWM IGBT inverter. Overload ratings allow operation in either light or high overload duty conditions.
The enclosure ventilation fans on the SINAMICS G120XE are controlled via a relay and run only as needed, a significant energy saver and noise reduction feature. Optional features on the enclosure include output filters and reduced voltage soft start (RVSS) bypass.
Companies in this article