By Sean Riley on Sep 15, 2018
The Hub of the Packaging Universe
At PACK EXPO International and Healthcare Packaging EXPO, exhibitors and attendees will learn about new technology and industry trends, network with p...

PACK EXPO International and the co-located Healthcare Packaging EXPO continue to stretch the confines of Chicago's McCormick Place, convening the largest packaging show to date. Over four days, Oct. 14–17, the 2018 program will bring 2,500 exhibitors and 50,000 industry professionals together to address the trends and challenges of the packaging industry. 
As in year's past, attendees will include managers, engineers, production supervisors, purchasers, brand managers, package designers, product development professionals and supply chain and logistics experts from more than 40 vertical markets and companies of all sizes.
Here's a quick overview of what to expect at this year's trade show:
A plethora of pavilions to explore
PACK EXPO International and Healthcare Packaging EXPO serves targeted areas for many vertical markets within its over 1.2 million net square feet of exhibit space. 
This year, the PACKage Printing Pavilion (South Hall) debuts as the industry's main stage to spotlight the advantages of digital printing applications for short-run, on-demand, cost-effective variable data and personalized packaging. 
The Confectionery Pavilion (South Hall) sponsored by the National Confectioner's Association (NCA), welcomes candy connoisseurs seeking the newest trends and technologies in aeration, batch refining, shaping, cluster production and cooling conveyors. It is also home to The Candy Bar Lounge (S-2583), hosted by NCA and sponsored by Robert Bosch Confectionary Technology (S-3514). 
Beverage and snack lounges provide networking opportunities via The Beverage Cooler Lounge (N-4575) hosted by The International Society of Beverage Technologists (ISBT) and sponsored by Bevcorp, LLC (S-3874). And, The Snack Break Lounge (N-4565) is hosted by SNAC International and co-sponsored by Dorner Mfg. Corp., (N-4936), JLS Automation (N-5342) and Soft Robotics, Inc., (E-7207). Networking receptions for each industry lounge will take place in their respective locations on Tuesday, Oct. 16, from 3:30-5:00 p.m.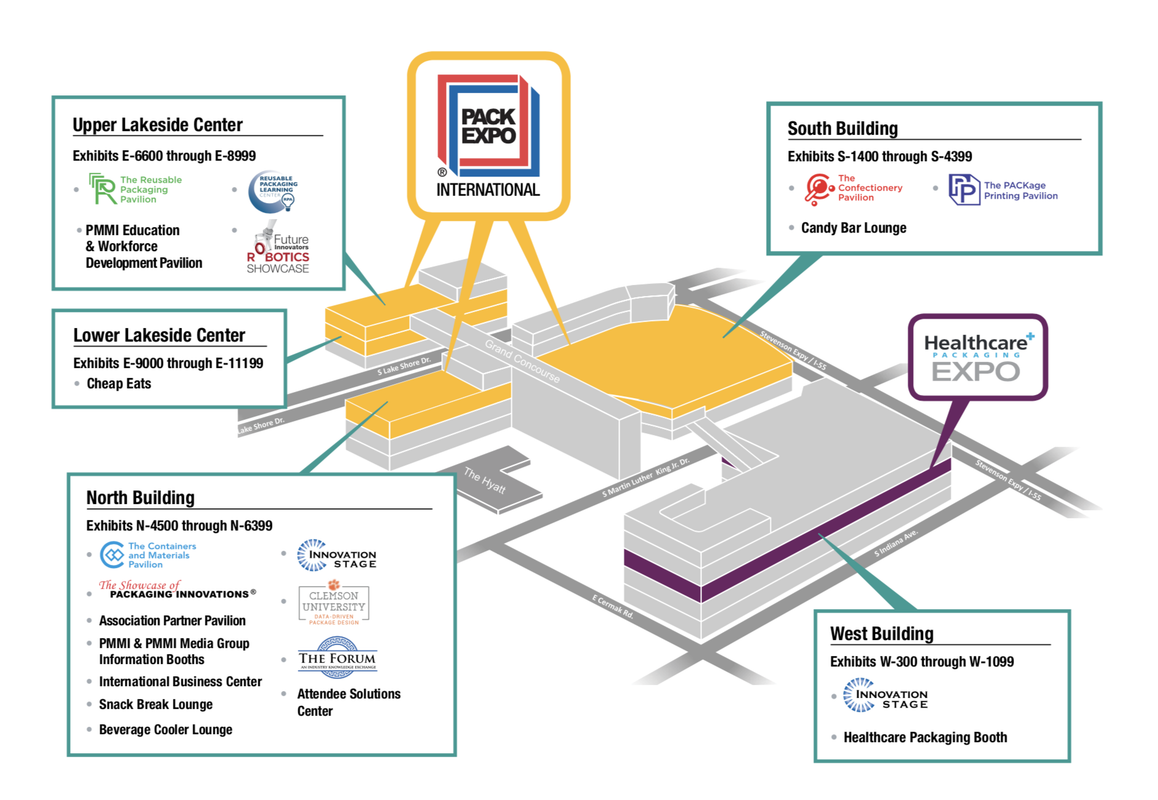 The North Hall is home to the Containers and Materials Pavilion which addresses the latest innovations in paperboard, glass, metal, plastic, flexible and resealable packaging options. The Pavilion houses the Showcase of Packaging Innovations®, sponsored by The Dow Chemical Company, where visitors will find award-nominated packages. 
The Reusable Packaging Pavilion (Upper Lakeside) sponsored by the Reusable Packaging Association (RPA), is a hotspot for reusable products and services for increasing sustainability across the supply chain. The RPA's Reusable Packaging Center within the pavilion will offer free presentations on case studies and best practices for incorporating reusables. 
Feed your mind
With over 2,500 exhibitors, the show floor is sometimes called one large packaging classroom for attendees and exhibitors alike. 
In addition to in-booth education, The Innovation Stage at PACK EXPO International (N-4560, N-4570 and N-4580) and Healthcare Packaging EXPO (W-320) provide free 30-minute educational seminars on breakthrough technologies and techniques for a wide range of industry-specific solutions. Coming off its successful debut at PACK EXPO East, The Forum at PACK EXPO (N-4580) arrives in Chicago, offering interactive presentations. Here, audience members will experience unique 20-minute open sessions on the latest industry trends, presented by the OpX Leadership Network, Institute of Packaging Professionals, Contract Packagers Association and PMMI Business Intelligence, and followed by small group discussions and Q&A sessions. 
INNOVATION STAGE PRESENTATION SCHEDULE 
Three popular training workshops also offer high-level and targeted hands-on learning. Before the show, Oct. 12–13, PMMI's Risk Assessment experts will host a workshop on ways to reduce downtime, improve productivity and ensure worker safety, while teaching the techniques to perform and document the critical risk assessment process. 
Once PACK EXPO begins, PMMI's Certified Trainer Workshops, Oct. 14-15, equip companies with strategies and tactics to train across all employee skill levels, including service technicians, service and training managers, maintenance technicians, internal trainers, line supervisors and any employee tasked with training fellow employees or customers. 
On Oct. 15-16, PMMI's Introduction to Field Service provides the non-technical knowledge and skills needed to be a great technician. Field service technicians are the face of most manufacturers, and need to be aware of much more than just technical proficiency. Topics include: customer service, troubleshooting, environmental issues, safety, training and service call follow-up. For more information on upskilling your team while at PACK EXPO International visit: oemgo.to/pmmiupe
Exchange and advance
The third component to PACK EXPO International and Healthcare Packaging EXPO—beyond technology and education—is its ability to serve as a central networking hub for the packaging industry. With so many professionals under one roof, the opportunities to build relationships, secure top-level talent and exchange ideas is unparalleled. 
In addition, the Packaging & Processing Women's Leadership Network (PPWLN) breakfast meeting, which is now a staple of the PACK EXPO portfolio of trade shows, will take place on Tuesday, Oct. 16, starting at 7:30 a.m. The breakfast brings the women of the industry together to exchange ideas and experiences. The greater mission of PPWLN, which launched in 2016, serves to recruit, retain and advance women in processing and packaging. The breakfast supports that mission with presentations and discussions on topics affecting woman in manufacturing.
Another big debut at the EXPO this year is CareerLink, PMMI's online job board, which is going live for the first time. CareerLink @ PACK EXPO is an opportunity for PMMI members and consumer packaged goods (CPG) companies to meet with students and military veterans pursuing careers in packaging and processing during one-on-one informational interviews. Interviews will take place at the show on Monday, Oct. 15 (9 a.m.–3 p.m.) and Tuesday, Oct. 16 (9 a.m.–5 p.m.). To register visit: oemgo.to/peistudent 
Packaging & Processing Women's Leadership Network Returns to PACK EXPO
The network is once again hosting a networking breakfast and conversation with industry leaders on Tuesday, Oct. 16 from 7:30-9:00 a.m. (Room E-450). Sponsored by Duravant (S-2147), Morrison Container Handling Solutions (N-4906), PlexPack (N-5328) and Septimatech Group, Inc. (N-5742). Visit pmmi.org/ppwln and the PPWLN LinkedIn group to stay up-to-date on the latest PPWLN news and events.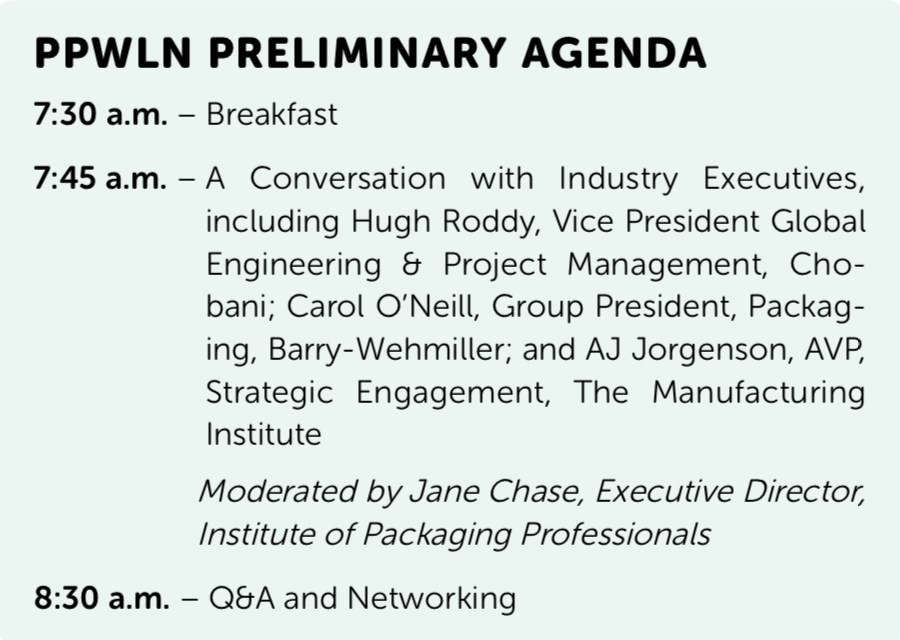 Chicago comedian headlines PACK gives BACK
PACK gives BACK, PACK EXPO's biggest networking event, will feature Sebastian Maniscalco, a Chicago-area born, Italian-immigrant-raised comedian behind wildly successful network specials such as "Sebastian Maniscalco: Why Would You Do That?", "What's Wrong With People?" and "Aren't You Embarrassed?" 
PACK gives Back benefits the PACK EXPO Scholarship, which supports students studying at two- or four-year PMMI partner schools. Winners of the six $5,000 scholarships will be announced at the event.
"At PMMI we recognize and value the future of our industry and want to continue to invest in the incoming generation with generous scholarship opportunities," says Jim Pittas, president and CEO, PMMI. 
Rockwell Automation (N-5701) returns to support scholarships for future packaging professionals through its title-level sponsorship of this year's PACK gives BACK event. 
"As a PMMI member and PACK EXPO exhibitor, we are proud to be affiliated with an association that cares about the future of the packaging and processing industry and feel strongly about supporting the next generation of professionals," says Christopher Zei, vice president of Global OEM and Global Industries, Rockwell Automation. "We are pleased to contribute to such a worthy cause and continue sponsorship of PACK gives BACK."
The Monday, Oct. 15, fundraiser kicks off with a reception of beer, wine and light hors-d'oeuvres at 4:30 p.m., with Maniscalco scheduled to perform at 5:30 p.m. in the South Building's Grand Ballroom. Tickets are $75. For more information or to purchase tickets visit: oemgo.to/packgivesback