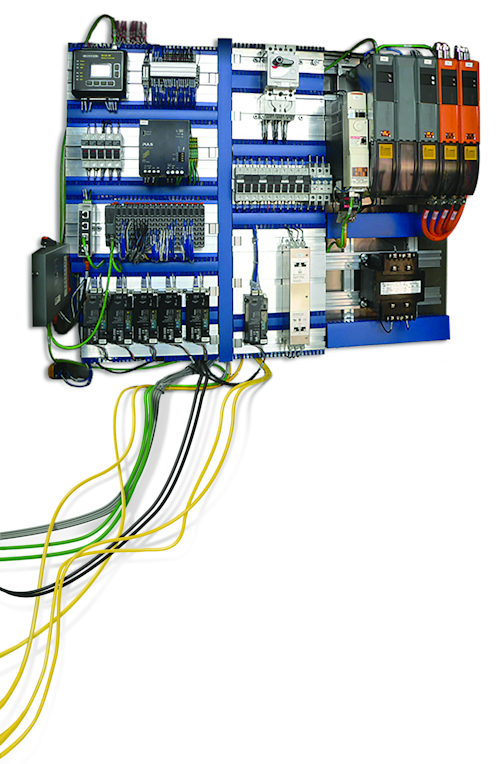 Change is a constant in the food, beverage, and consumer products industries as marketing departments seek new ways to entice customers and increase sales. The result is a proliferating number of SKUs, and an increased number of shorter production runs that reduce inventories. 
OEMs that make the machines that produce and package these goods are being challenged to engineer solutions that increase the flexibility, productivity, and profitability of their customers. Their arsenal runs the gamut of servos, integrated drives, more efficient gearing and other mechanical components, vision systems, robotics, powerful processors, control software, intuitive HMI, networks, and standards like PackML and the new PackSpec RFP template.  
But instead of focusing just on the newest technology, the most innovative OEMs are fundamentally rethinking how they design machines. Modularity and mechatronics are the building blocks for this new approach to engineering flexibility into machines. They also provide important tools for finding the right balance between too much flexibility and not enough.
Rethinking machine design
"Flexibility is really the domain of mechatronic design, which combines mechanical, electrical and control engineering," says John Kowal, director of business development for B&R Industrial Automation Corporation. "One OEM, for example, was able to avoid robotics and significantly reduce the footprint of his machine simply by redesigning its mechanical system. Modularity also extends beyond the mechanical, such as cost-effective distributed intelligence, distributed motion, and ultra-high speed I/O."
Mike Wagner, Rockwell Automation's global segment leader for packaging, agrees. "Designing a flexible machine starts with mechanical design, so you can break it down into modules," he says. "You need to think in a mechatronic fashion so that your machine is reconfigurable. That really changes the game. It becomes a different way to think."
Wagner goes on to say that while everybody focuses on products of different sizes and shapes, "flexibility is also about finding ways to extend the lifecycle of a machine. That's particularly important in emerging markets, which need to phase in automation. It requires a line solution rather than a machine solution."
Adds Kowal, "Back in the 1990s, it was all about designing machines for servo control and reducing mechanical complexity. Next came robotic functionality. Today, the big opportunity is the convergence of all these functionalities, plus networked safety, condition and energy monitoring, autonomous maintenance, and vertical start-up capabilities in the control system that are accessible through the HMI.
All of this is being accomplished, Kowal says, with powerful software tools that make programming simpler and more consistent and modular. Add to these important new standards, such as TR88.00.02 (also known as OMAC PackML), OPC UA, and openSAFETY, all of which increase flexibility by simplifying line integration, operation, and data integration.
The more variations in products or packaging, the greater the value delivered by flexible machines. 
"There is a place for relatively inflexible machines where high volume and low variability is still the priority," adds Kowal. "These machines will still benefit from convergence, however, because it will reduce total cost of ownership."
Maximizing payback
OEMs who focus too much on their own cost structures, and don't spend enough time to understand their customers' market dynamics and business goals, can find themselves behind the
competitive curve.
"As an OEM, we are driven to make our end-customers as profitable as possible," says Mark Ruberg, director of corporate business collaboration for packaging OEM ProMach. "This means maximizing the machine's OEE through uptime, fast changeovers, and proactive maintenance programs. All these characteristics minimize the time to go from the last good part for product A to the first good part for product B."
Ruberg says there are a number of key technologies that help OEMs improve machine flexibility. These include robotic palletizing and more powerful machine controls combined with more cost-effective servo systems. Adjustable rails, guides, glue guns, and other components that can be automated and stored as recipes in a machine will also simplify changeovers because they can be repositioned so they're ready when the operator cycles through the change parts. 
"Sophistication through simplicity generates huge OEE benefits," says Ruberg. "Tool-less changeovers, color-coded change parts, carts with a complete set of the changeover parts required, and visual instructions continue to find their way onto the production floor with tremendous payback."
Ruberg cautions that there's only one way to determine the right balance between too much and not enough flexibility—does the value created for the end-user offset the investment for the flexibility built into the machine? 
"You have to evaluate the life span of a particular machine and determine how much flexibility makes economic sense," he says. "It also requires a new level of collaboration between OEMs and end-users so this value/investment ratio can be clearly understood by all parties." 
One of the newest tools to help OEMs find this balance is PackSpec, an RFP template was developed by the OMAC Packaging Workgroup to facilitate the communication of all critical factors required by an end-user. "Adoption of PackSpec saves time by eliminating surprises coming up at the worst time, the machine FAT," Ruberg says.
Greg Raciti, engineering manager of Faber Industrial Technologies, says his company has found that software-driven motion control is a crucial technology for creating flexible machines. 
"The bottom line is that no matter how reliable or repeatable a motion control system is, without good programming software the system will not be flexible," he says. "Of particular importance is the ability to control the stroke length of a machine's linear actuators. Good software lets the operator change package or carton sizes with the press of a button." 
Raciti says packaging machines benefit the most from flexible design. 
"Packaging changes on a regular basis, whether it's the number of items included in the package or carton, or simply the design of the outer carton," he says. "What may look great on the store shelves can be a nightmare to package without flexible automation."
Flexibility also benefits OEMs
OEMs also need flexibility, says Allen Tubbs, product manager for electric drives and controls, Bosch Rexroth Corporation. "It's a constant balance between function and cost. Every aspect of the machine must be considered, since design time is one of an OEM's biggest costs. Avoiding the need to re-engineer and re-invent is what makes them successful. The challenge is not just to design to meet one customer's needs, but to design to meet the needs of many customers with the same machine."
Tubbs cites control systems as an important aspect of flexibility. "Two of the biggest design efforts of a control system are the control cabinet and the software," he says. "The control system needs to be flexible enough to accommodate a very simple machine as well as a very complicated system without driving up the cost." 
To achieve this, Tubbs adds, "The software needs to be modular and re-usable, such that the same machine operating functions do not need to be re-visited from project to project. Re-usable machine programming code saves time and money by reducing start-up time for debugging and troubleshooting."
Integrated servo motor/drive systems are one way to save control cabinet space. 
"Whether you need a four-axis system or one with 40 axes, adding extra servo drives to the machine frame means there's no need to change the design of the control cabinet," Tubbs says. "This technology reduces expensive design time, allowing an OEM to standardize across many different machines."
Change is constant whether we like it or not, so increasing the flexibility of machines is crucial to both OEMs and end-users. As management guru W. Edwards Deming famously pointed out: "It is not necessary to change. Survival is not mandatory."