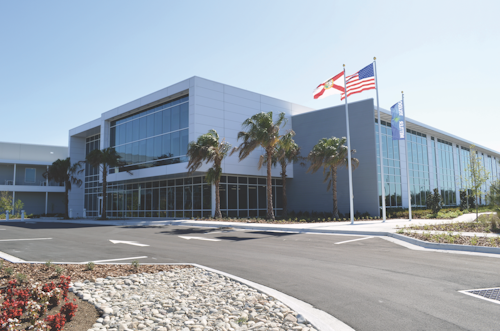 ...while bringing a new management style that may enhance teamwork and diversity at the company.
Last year, Mettler Toledo Product Inspection announced the completed consolidation of its three North American businesses—located in Tampa, Fla., Ithaca, NY, and Aurora, Ill.—into a 270,000 sq. ft., state-of-the-art facility in Lutz, Fla. It was a three-year journey for the company, which makes inspection systems for the food and pharma industries, and it culminated with not only a new building, but also new leadership. 
In January, Margie Custin took over as general manager of the Market Organization (sales, service and marketing) for Mettler Toledo Product Inspection. She succeeds Viggo Nielsen, who held the position for 17 years and who remains on at the company as a part-time project consultant. 
A change in leadership often impacts the overall business—from company culture to external relationships. But Custin and Nielsen have worked together for over a decade, and therefore they share the same vision in many ways, Custin claims. Specifically, a focus on customer satisfaction and employee engagement. 
These two factors were part of the decision to consolidate the North American businesses as a way to unify the teams, which is also a huge advantage to customers. 
"One communications channel, one production facility and one service team all doing business in a harmonized manner to exceed customer expectations," Custin explains. "If a customer has a Safeline metal detector, a Hi-Speed checkweigher and a Safeline X-ray inspection system, they get one service technician to work on all three versus three technicians, which they had before. One phone call, one purchase order, one sales channel, one quote. It makes doing business much easier for our customers and provides a one-stop solution."
And, when it comes to the workforce, the new larger location—which includes a modern open floor plan with collaboration space, a full service café, a fitness facility, an outside walking track and much more—is an environment where people enjoy working. The amenities also help capture the attention of new talent, which is important as the company competes for skilled workers which are in high demand across the manufacturing and packaging industries.
Day by day
So, the big picture vision remains the same. But the daily operations may be modified, Custin admits. "At the high level there won't be any fundamental changes in what we are doing or our strategy; however, the tactical day-to-day will be different." 
That's largely due to her management style. "I'm an active listener and an avid communicator. I surround myself with a strong and diverse team and foster the sharing of ideas and debating solutions. This is what I built in [the] service [business]," she says.
Custin, who began her career in finance on the CPG side of the industry, joined Mettler Toledo over 12 years ago as a controller for the division. Six years into that job, she moved on to Mettler Toledo's aftermarket services business, stepping in as Head of Service. And here, she says, was the perfect training ground that prepared her for her current position. 
"The first six months of the transition was the worst six months of my career," Custin remembers, "because, as a finance person you are trained to fix things yourself. In the service world, it didn't take long for me to realize that it doesn't matter if I work 18 hours a day, I can't fix it myself. I need a team. And I built a team that makes [service] one of our biggest competitive advantages."
Teamwork with an environment of "trusted advisors," both internally and externally, is the engine of the organization, Custin says. Within the company, each technician goes through Trusted Advisor training, which they can then leverage externally. "Our technicians are not there to sell, they are there to advise customers and to keep their machines up and running."
And, she encourages her team to share problems to engage in healthy debates. "Agreeing gets us nowhere. The best ideas come from debating what the solution is."
Leading change
In an effort to raise the level of diversity in the organization to aid in those dynamic discussions, Mettler Toledo is working on a women's leadership program. The program launched last year and is in the process of identifying the next group of women who will be selected from each of the five Mettler Toledo business divisions in North America. The program works with individuals to identify their communication styles as well as their strengths and weakness. It also teaches things that Custin herself would have liked to have learned in the early stages of her career, like how to be an effective self-advocate.
For example, there's a general perception that women are not good negotiators. "Maybe we're not good negotiators for ourselves, but when it comes to advocating for our kids and our families, we are all over it," she points out. "But when it comes to negotiating a salary or a promotion, for some reason, we shy away from it."
Plus, it does take a strong personality to survive in a male-dominated industry where women constantly feel they have to prove themselves. Which is why mentorship is important. 
"I know several women in my organization who will be great leaders within the company, they just need coaching in areas where they need to build confidence to find the footing to express themselves," says Custin.
Most importantly, however, she urges women to take control of their own growth and career development. "Early in my career, I sat back and thought my boss would tell me when he thought I was ready for the next opportunity. If he didn't say something, I must not be ready," she remembers thinking. 
"You have to realize that you are in the driver's seat and you can manage your own growth." To that end, Custin recommends that women talk to their company leaders about where they want to be and what they need to do to get there. 
Relationship goals
Now, about six months into her role as general manager, Custin says her job is not too different than what she did in the Mettler Toledo aftermarket service business, which was, and still is, focused on making sure that every decision takes care of the customer—from providing timely quotes to identifying the right equipment to shipping and servicing the machines. 
To measure the customer experience, Mettler Toledo sends a customer satisfaction survey to evaluate every touchpoint. Every one of those surveys are read, she says, and if there is a score of three or below on a scale of one to five, the customer gets a call to find out what Mettler Toledo needs to do better. 
"Having a relationship with the customer is the easiest way to grow the business," she says, noting, it's fairly straight forward. "If you don't take care of the customer they won't buy from you. If you give them a good experience, they'll stick with you."