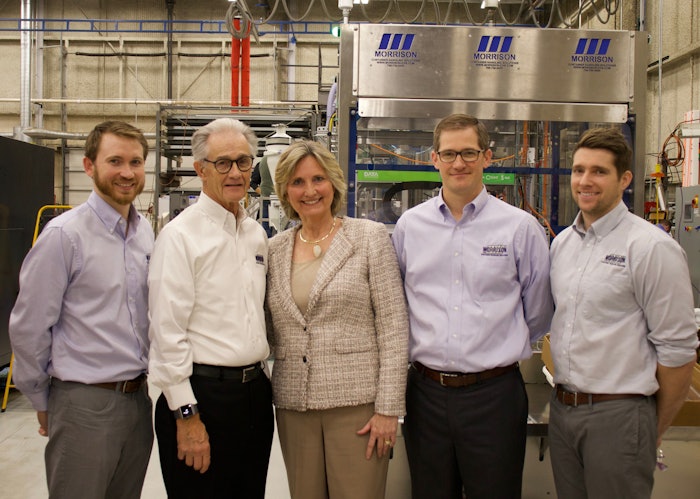 Morrison Container Handling Solutions
Location: Glenwood, Ill.
Established: 1971
Leadership: Nick Wilson, President; Nancy Wilson, CEO; Chris Wilson, VP of Operations, Dustin Lee, Director of Sales; Ryan Finke, Engineering Director
Revenue: 10 to 20 million
Employees: 85
Field service personnel: 14
Facility: 40,000 sq. ft.
Markets served: North America
Industries served: Packaging, food and beverage
Product range: Container handling systems and timing screws
Standard controls platform: PLC Rockwell Allen Bradley
On a mid-October morning, South Suburban Chicago Illinois High School superintendents, technology administrators, and instructors huddled in one of Morrison Container Handling Solutions' conference rooms. The schools are months away from finalizing a comprehensive plan for engineering, robotics, and STEM programs to secure Perkins- Career & Technical Improvement (CTEI) grant funding. According to a high school administrator in attendance, Illinois high schools could secure a percentage of the grant based on programs in the school, enrollment in those programs, and the program structure. But high school officials only have two months to decide how their programs are structured and where money will be allocated, which is why they are turning to local manufacturers like Morrison to ensure that these programs are meeting the needs of global employers.
As a part of the Calumet Manufacturing Industry Sector Partnership (CMISP), Morrison has committed itself to building relationships and providing resources to local schools in turn for a pipeline of talent who is already familiar with the way the OEM works. It's a very strategic involvement during a time where the skills gap is growing and there seems to be a disconnect between what engineers are learning in school and how that applies to the actual workforce needs and requirements. But Morrison isn't just seizing this moment, they have been foundational to engineering programs in the South Suburban Chicago Illinois and Northwest Indiana region colleges and high schools for decades.
Since President Nick Wilson founded the company in 1971, he made it his mission to influence and build programs with local colleges and high schools that would ensure that Morrison and other OEMs in the area would have a constant stream of talent to add to their workforce. In the early 2000's, Morrison helped found Purdue University Northwest's four-year mechatronics program, which was the first of its kind in the U.S. The program has since enabled the university to create its Commercialization Manufacturing Excellence Center, which includes packaging machinery, automation, and robots that students can work on, meaning that students come out of college with a knowledge of how packaging machinery is built. The outgrowth of this action has deeply impacted the industry.
And that same attention and devotion to education continues with current Morrison CEO Nancy Wilson who joined the company in 2011 after a 25-year career at Ford Motor Company where she led many positions in brand management, sales, and marketing. So, when the teachers and superintendents expressed that the CTEI grant funding process was weighing heavy on them, Wilson jumped in and asked: "What help do you need from us?"
It's critical for Morrison to assist schools in situations like these because this is a prime—if not the only—chance manufacturers have to influence students to consider a career in manufacturing. And it starts way before high school.
Last year, Nancy Wilson went to a seminar for Girls Who Code, a nonprofit organization which aims to support and increase the number of women in computer science, and she learned that by age nine, girls have to decide whether or not they want to work in a technical field because beyond that age, the probability of them choosing a field in STEM drops drastically. This statistic is what drives Morrison's involvement with local grade schools. And as a woman in manufacturing, Wilson hopes to see more women enter and succeed in this field. Morrison also sponsors Girls STEAM Ahead, a program that helps young women get involved in science through the Homewood Science Center, which is right in Morrison's backyard.
"There's so much peer pressure of, 'That's not cool. Girls don't do that,'" Wilson says. "So, if we're really going to impact women, we have to go to these girls when they're young and empower them. I'm constantly telling my granddaughter, 'You're so smart at math. You can do this. Let's build these snap circuits,' and she's started already to fall into the, 'I don't do that. I'm a girl,' attitude, and I'm just like, 'Yes you do. You can do this.'"
According to Deloitte, women are the largest untapped talent pool in manufacturing, totaling about 47% of the U.S. workforce, but only 29% of the manufacturing labor force.
But Wilson says she is happy to see how the manufacturing industry—and packaging, specifically—is evolving from when she first entered the field at Ford in the '80s.
"I was hired into a man's world," Wilson says. "And, truthfully, the guys didn't even look at me as competition. I think that time has changed, but it doesn't mean that this still isn't a man's industry. That's why I helped create the Packaging and Processing Women's Leadership Network with PMMI. The attendance for the network's breakfast during PACK EXPO is always outrageous. I am just thrilled every time I see that, because it tells you there's a demand."
Beyond timing screws
Consumers rarely consider how a product made it to the shelf, let alone the intricacies of how the container was filled, dated, capped, or packaged. And for the past 48 years, Morrison has been an integral part of the least known process of it all: getting the container in the correct position. Morrison's reputation was built on its timing screws, which move and position the product into the correct orientation for the next part of the packaging or processing line. And at the end of the day, the more efficiently the container can be presented to the next step, means more output. Just like every container on the market is different in some way, so is Morrison's solution to the problem. The OEM has never really had a standard product line just because every project they take on is highly customized and revolves around the container the equipment needs to move and how it needs to be positioned.
"We artfully and scientifically craft machines that seamlessly integrate the consistency of screws into production lines and brings in new efficiencies which can drastically improve the bottom line," Wilson says. "Oftentimes, the engineered solution will encompass a variety of methods and innovations we've designed over the years but will, in essence, be completely custom to the user each and every time."
Because of the customization and amount of R&D that goes into a machine, larger projects can take some time. For example, Morrison had a larger robotics system on their floor when OEM Magazine visited in October. The system had been there for almost a year because it was an R&D project unlike anything Morrison has done before. But Wilson says that while they are working on complex, customized projects like that, they need to get other, more standardized products out the door to enhance cash flow.
"I always call standards 'applesauce'" Wilson says. "It doesn't matter how full you are or how much you've eaten; you always have room for a little applesauce. So, I am always after my salespeople for some applesauce because that's the throughput and cash flow that I need every month."
The OEM has dedicated sales personnel for specific territories that also work with the engineering staff throughout the entire project so that customers have a dedicated support person to guide them through this process from purchase order to installation.
"Our equipment is typically needed because that is the weak point in our customers packaging line, and our customers are anxious to know what is happening to its development at all times," Wilson says. "But what's most important to Morrison is not necessarily the process of project management during development, but it's more so how we handle a project after its installed. We take this seriously, putting stock in fully developing our relationships beyond the lifespan of the product. We want to be there for our customers well beyond installation, and we engrain this in our culture. If 10 years from now you need us, we'll be there to support you like we just installed the system yesterday."
Built-in support
Both Nick and Nancy Wilson have built Morrison on dedication and trust, and they are proud of their 48-year-old "Support Built In" philosophy, which is a pledge and promise to take a customer from design to build to installation to preventative maintenance—no matter what.
"'Support Built In' means that it doesn't matter what happens, we stand by behind our product," Wilson says. "We just had a job in California, that unfortunately, had more money and rework materials needed than I charged for the job. But that's okay, because if we say we're going to deliver something, we will follow through no matter what. When we got out there and we found out what they ordered and what they needed were two different things, we took multiple trips back and forth to get it right. But the good news is, the end customer has bought a lot more from us, because they saw how we stood behind it, no matter what. We're in it for the long haul."
Accelerating into new tech
While Morrison's timing screw roots are still in all of its designs, the OEM has evolved into offering more complete lines with the screw being a facet of the entire solution. Most recently, Morrison has taken on its first-ever complete line with robotics incorporated, which was purchased during PACK EXPO International 2018. And the company is now pioneering new technologies such as augmented reality (AR), which it demonstrated during PACK EXPO Las Vegas 2019.
These technological advancements mark a huge step forward for the OEM, and also offer a glimpse into just how the company has been able to grow its business by 70% since 2012.
In addition, Morrison's emphasis on continued education is another key area of investment that enables the OEM to evolve as the industry does. And the company's approach of partnering with local schools also ensures they get a flush of new talent with progressive ideas to help drive them forward.
Reshaping departments to boost growth
When Nancy Wilson came to Morrison in 2011, the company had about 40 employees, but now they have more than 80 and the OEM just purchased a third facility close to its other two. One of the main reasons why their staff has doubled in number is because the company switched from using manufacturing sales reps to hiring its own internal sales team. This strategic move was another factor that spurred growth for the machine builder.
As sales were rising, Wilson wanted to stimulate the same growth among the engineering department, however, there was a large IT obstacle in Wilson's way—its bill of materials (BOM) management system. So, Morrison tapped into its talent pool at Purdue University to find a young IT professional who could automate this process, which ended up serving the OEM very well.
"At one point in time, releasing a BOM would take an engineer 90 minutes because of the formatting," Wilson says. "Our engineers were saying, 'This is crazy. I hate this.' The IT person we brought in wrote a program, and it took seven minutes to run [the BOM]. It was light years difference in time."
Seven years ago, Morrison didn't have an internal IT department, and now the company has as many as five people working on IT-related issues. The department assists the OEM with its ERP system, which they are currently in the process of looking to upgrade to something that meets their needs more.
"Our ERP system isn't the best but because I have a really good IT department, they're able to pull data out of our system to make usable reports for us," Wilson says. "They've created what we call 'order queue,' which the whole company uses. We can track all of our orders and where they are in the process, and the milestones. Each engineer can see what's in their queue. They can use it in production, on the floor, to see what percentage of the parts for a certain job have been completed. It was all created internally because there wasn't anything out there that I wanted to buy that would do what I needed it to."
A call to action on the workforce crisis
Everything Morrison does circles back to the access it has to fresh, top-notch talent. However, the OEM isn't immune to the same workforce problems the rest of the industry is facing. To solve and help alleviate some of the pain caused by the growing skills gap and impending generational workforce shift situation, Wilson says OEMs need to band together.
"I've been driven by the serious education gap in our country, which is why Morrison has been steadfast supporters of local programming in our high schools, as well as serving Purdue Northwest in numerous ways," Wilson says. "We need to work together as a community of local and national manufacturers in order to bridge this gap in skills with people who don't have them. If manufacturing is to survive and thrive, this is paramount, and as leaders in the industry, we must lead by example, put aside our differences, and recognize we can all benefit from the common ground that is supporting education in our communities."
Wilson notes that this is not just about putting money into organizations, but rather about dedicating time, resources, and people to the cause, connecting the potential we see in students and fostering a desire and foresight into the opportunity that is manufacturing. "Investing in young people is the only way I see I can help to fix many of the issues in our country and bring on a new season of positive change," she says. "It is our responsibility as businesses, regardless of size, to find ways to make this investment. With this, we can and will have a bright future and so will so many other young people who are eager to seek opportunity if they are just presented with paths that will lead them to success."