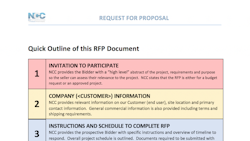 NCC Automated Systems, Inc.
NCC Automated Systems, Inc., has been designing and building conveyor systems for over 30 years. And, like any company with that kind of longevity, it has had to evolve with the ever-changing needs of its customers. In the food industry, especially, there has been shifting requirements when it comes to connecting point 'A' to point 'B' across processing and packaging equipment. As a result, NCC found itself acting more as an overall system integrator—tying all of the islands of automation together to have a line that worked as a system.
NCC also took responsibility for overseeing the engineering and planning of the integrated line. And, then, the inevitable happened. "About 15 years ago, some of our customers asked us to do even more," says Les Patkos, director of sales and applications engineering at NCC. "They said, 'you are already providing the heartbeat of the line and making sure everything works together, so can't you just supply us with the entire line including the major packaging equipment?' We said, sure, but that requires more engineering work and research to understand the customers' needs around the packaging equipment."
It also meant NCC would act on behalf of the end users to put out bids on new machines. And consumer packaged goods (CPGs) companies want multiple options. As a result, NCC began developing its own Request for Proposal (RFP) and creating its own best practices for the dozens of bids it makes every year. But CPGs and OEMs often speak a different language when it comes defining specs and functionality, which put NCC in the middle as the "interpreter," and was not an easy position to be in.
"It takes a lot of time to put together an RFP," says Patkos, explaining that it may take three to four days for someone to put this document together for a machine. "But when you have a packaging line, with four or five major pieces of equipment, an engineer could spend two weeks just preparing RFPs—and that's after we've gathered all of the information, which can take two months."
The RFP process was becoming one of the more tedious exercises for NCC. But then Patkos heard something at a PMMI meeting that he believed could be a game-changer. "When I heard that the OpX Leadership Network was trying to unify CPGs and OEMs to get them on the same page, I thought it was a fantastic idea. Everyone following the same format and understanding what information is important and required in the RFP."
And so, last year when the OpX "RFP Guideline for the CPG Industry" was released, NCC gave it a try.
The free document provides seven key steps for collaboration among stakeholders in developing a robust RFP. The accompanying RFP template is designed to help clarify project requirements and minimize costly misunderstandings.
The template includes seven color-coded sections, with subsections, that provide instruction for how to create the RFP based on processes, procedures, standards, etc. For CPG companies, achieving vertical startups of packaging and processing equipment lines consistently and effectively are imperative. By using the RFP guidelines and template, CPGs can provide the bidder with a high-level abstract of the project, requirements, purpose, and a detailed timeline. In addition, information such as insurance requirements, technical and validation specifications, special contract needs, site drawings and safety standards are included in the template to assist in the RFP process.
"When we send out an RFP to a company to give us a price on something, we attach all of the relevant specs from the CPG, including mechanical, electrical, control, safety, even ergonomics, and they are all listed in sections of the RFP," says Patkos. "We also provide a pricing spreadsheet so that when we get prices back from different equipment vendors, we can easily compare pricing and the options we asked for."
All of this information is formulated into a decision matrix that NCC uses to assess each OEM proposal in order to come up with a final decision of which machine to buy. "And then, PMMI has produced another OpX work product for the Factory Acceptance Test [FAT]. A lot of this carriers over to simplify the FAT process." 
To download the OpX Leadership Network RFP Guidelines and Template for CPG Industry: oemgo.to/opxrfp
When the RFP and FAT guidelines complement each other, it is a win-win when it comes time to deploy the equipment on the packaging line. It benefits the CPG because it is a detailed document that covers all of the critical questions in an RFP. And, while an OEM may complain when they receive a 40-page quote request, by complying, they are helping themselves in the long run.
"Ultimately, it really benefits both parties," says Patkos, "There is clarity in the expectations. What causes disappointment is when my expectations are different from yours. So when the expectations are clear and both parties know exactly what those are, it is the foundation for a good relationship."
And it's one more step closer to that ultimate goal of walking into a plant after setting up a new processing or packaging line, flipping the switch, and being in production mode right away. "The closer everyone is at meeting expectations from the beginning, the more vertical your startup will be," says Patkos.