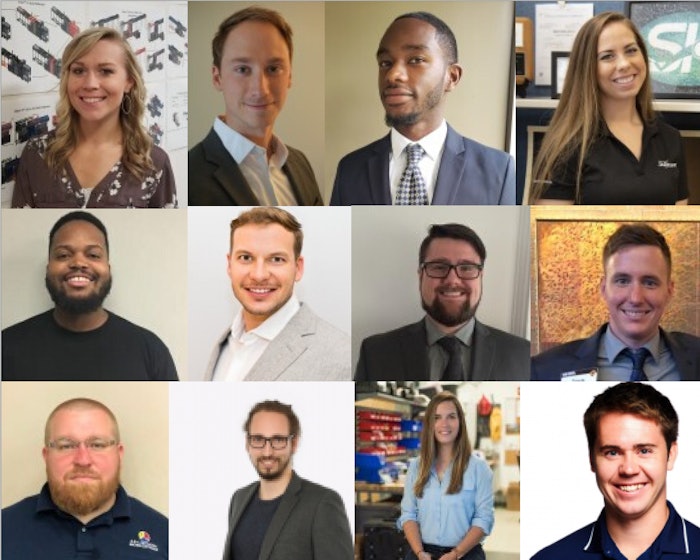 As a way to recognize young talent making their mark on the packaging and processing industries, PMMI set out to find 12 rising stars. OEM Magazine spoke with each winner to find out where they think the industry is heading, how they have overcome obstacles. To access each winner's Q&A, click on their name.  
Britny Lochowitz, Mechanical Project Engineer, Busse/SJI Corp, Arrowhead Systems
Five years ago, Britny Lochowitz was recruited by Busse/SJI after she received her bachelor's degree in Engineering, and since she has joined the company, she has experienced constant growth. Fresh out of school, Lochowitz had to learn how to design and detail parts for manufacturing and how to size gearboxes, motors, and pneumatic valves for the OEM's equipment. Then, she would take on bigger parts of the machine until she got to a point where she was running projects on her own. After running projects independently for a couple of years, she was promoted to mechanical project engineer in 2018 where she designs and develops palletizers and troubleshoots issues that arise throughout the build process.
Paul Krechel, International Sales Manager-Dairy / Senior Market Manager — Protein, Deville Technologies
Paul Krechel's introduction to the processing industry was unplanned. He worked in the power transmission industry prior to becoming an international sales manager and market manager for Deville Technologies. But when he met a leader at Deville and learned how the processing industry could further his career development, foreign language and international business experience, and mechanical and sales knowledge, Krechel was sold. Today, he travels to various international locations to meet and conduct trials within the customer facilities for Deville, and he enjoys that no two days are the same.
Emmanuel Myers, Controls Engineer, Rovema North America
Emmanuel Myers began his career working at an automotive battery manufacturing plant, but as he gained more experience, he found a desire to do more design work. Looking for work in a more comfortable and challenging environment, Myers was contacted by a recruiter about an opportunity to work at Rovema North America in Atlanta. During his time at the OEM, Myers has had the opportunity to travel and work with some of the best minds in the company, as well as learning different aspects of the machine builder's business. He enjoys working on projects outside of the usual scope and learning from his peers who have decades of experience. He is also helping the OEM innovate by focusing on the methodology and programming behind cutting edge equipment.
Loren Starr Luck, Marketing & Communications, Coordinator, Shibuya Hoppmann
As the marketing & communications coordinator for Shibuya Hoppmann, Loren Starr performs an array of duties in the feeding and filling equipment manufacturer's marketing department. Because Starr has to also manage the company's social media marketing efforts, which are always evolving, she is constantly learning new marketing strategies and programs to help the OEM stay on the leading edge. In her seven years working at Shibuya Hoppmann, she's had two promotions, but she's not stopping there.
Tarique D. Walters, Electro Mechanical Technician, Pineberry Manufacturing Inc.
Tarique Walters has always wanted to build things, which led him to study automation and robotics. While he came out of college wanting to build robots, he joined Pineberry Manufacturing to build controls. As a PLC programmer and electrician, he spends most of his time building electrical panels, drafting schematics, and programming PLCs, which he loves. Walters began his career at Pineberry as a mechanical assembler and has taken advantage of every educational opportunity presented to him.
Travis Robert, Manufacturing Manager, RND Automation
It's Travis Robert's responsibility to ensure that the assembly phase of all projects at RND Automation is completed on time and within budget. As the OEM's manufacturing manager, Robert is involved in all aspects of the shop, as well as its internal machine shop, through which it aims to run 50% of its in-house parts. He's been with the machine builder for six years, and recently saw the company experience rapid growth as it was acquired by MDC Packaging. Through the years, Robert has also grown with the company,  starting out as a shop helper and then moving on to assembly, purchasing, and now being involved with many aspects of the OEM's business as a manager.
Robert Schmelzer, Applications Specialist, Mettler Toledo
After graduating from Heinze Academy in Hamburg, Germany, Robert Schmelzer moved to Tampa, Fla. where he worked in quality assurance at the airport. Then he transitioned to a role as a mechanical technician at Mettler Toledo. Since starting his career at Mettler Toledo two years ago, Schmelzer is now an applications specialist, and he isn't stopping there as his interest in other aspects of the OEM's business grows. With a mechanical engineering background, Schmelzer felt that Mettler Toledo and the packaging and processing industries were where he could make a difference.
Garrett Price, Market Manager, EoL Packaging & Labeling, H.B. Fuller
As H.B. Fuller's market manager, Garrett Price is the technical expert on adhesive technology, customer applications, customer needs, and industry trends in the End of Line (EoL) Packaging and Container Labeling markets for the U.S. and Canada. He collaborates with R&D, the company's commercial team, marketing, top strategic customers, and equipment suppliers daily to understand market needs and develop solutions. Moving forward, Price plans to further develop his leadership skills in business by taking on roles in sales and strategic account management. Long term, his goal is to be a business director overseeing a global market segment.
Alex Nunnally, Business Analyst, ProMach
Alex Nunnally loves to take on difficult technical tasks. An engineer by education and experience—he bridges the gap between manufacturing and technical support. In two years, he has learned ProMach's ERP system, business processes, and how to write SQL code. Nunnally has also assisted the company with five acquisition integrations and one upgrade project—with eight facilities. He started as a mechanical engineer at a manufacturing company outside Chicago, which slowly morphed into an analytical role, which is when he joined ProMach.
Haley Parizo, Sales Operations Manager, Soft Robotics Inc.
Haley Parizo worked as a sales operations manager for several years before joining the packaging and processing industry via Soft Robotics Inc. in May of 2018. After gaining an understanding of the growing market and being introduced to the energetic and motivated team, she knew this was where she belonged. As the owner of Soft Robotics' internal CRM and order management system, Parizo has eyes on each order from quote to shipment and her and her sales team support customers and partners along every step of a project. She started at the company as a sales and marketing association and grew with the department, transitioning into her current role as the sales operations manager.
Jeremy Despota, Field Service Representative, A-B-C Packaging Machine Corporation
Jeremy Despota has been an employee at A-B-C Packaging since 2006, and he has risen through the ranks, starting as a general shop employee who helped with cleaning floors and emptying trash cans to one of the company's top service engineers. While at A-B-C Packaging, Despota went to school to learn PLC programming, which eventually allowed him to move into an assembly position and then into service. Jeremy currently oversees logistics for the company's PACK EXPO booth, and he has built, tested, and installed equipment, as well as trained CPG's at the highest level.
Guillaume Savoie-Lavigueur, Research & Development Supervisor, NJM Packaging
NJM Packaging's Guillaume Savoie-Lavigueur leads his own team of professional engineers while managing the OEM's research & development (R&D) portfolio and intellectual property, and taking part in strategic meetings and decisions. He is currently NJM's R&D supervisor, but he started at the company as an intern and then a mechanical designer after completing an internship with Kraft Foods where he worked on continuous improvement and engineering projects. With his recent promotion to R&D supervisor, Savoie-Lavigueur plans to be more involved in the strategic side of NJM's business.