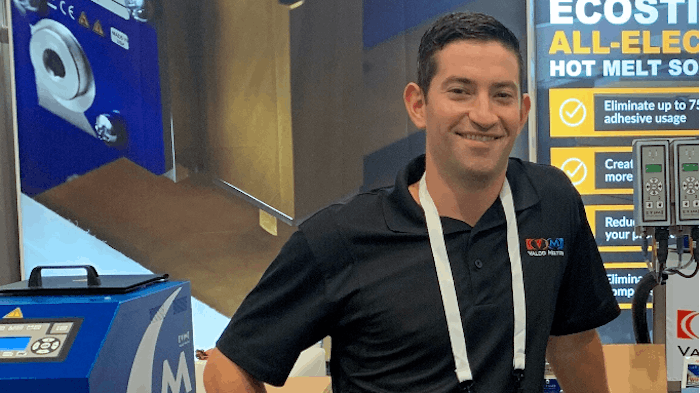 Andy Karel, hot melt equipment manager for the northern region at Valco Melton, had no idea he would have a career in the packaging and processing industries when he studied finance at a small liberal arts college in Kentucky. But after connecting with the hot melt equipment manufacturer, Karel has since seen the value and opportunity that the industry has to offer—especially for younger generations. That's one reason he has gone beyond his job duties of overseeing hot melt applications for the international company, which has more than 500 employees in 90 countries, to join PMMI's Future Workforce Committee. 
What does your day-to-day look like normally, and how has that changed during the COVID-19 pandemic?
Usually, my position requires me to travel 60% to 70% of the time. I typically travel three days during the week. A lot of times I will attend an installation going on or I will travel out for sales meetings. When I am in the office, I interact with all of our different departments. So that way I can have conversations when I'm out in the field about things that are going on within our facility. The COVID-19 pandemic has significantly changed how we conduct day-to-day business just like everyone else in the packaging/processing industry. Customers have limited visits and travel of their corporate personnel, and as a result, we are only making visits to customers who consider us as an essential or critical visitor. The majority of meetings/installations have been canceled and those are difficult to reschedule given the uncertainty surrounding the direction of the pandemic. Valco Melton has taken several steps to both answer demand while keeping our employees safe. I have been working out of my home office and many others are as well to minimize the number of employees who are working out of the corporate office at one time. We now have two production shifts to limit the number of workers on the production floor at one time. Valco has also expanded our Zoom capability as we have seen an increase in the number of video meetings since the outbreak. Our customers are busier now than they've ever been, so it is important that Valco Melton is able to meet their needs while also keeping employees and their families safe.
What has the time at your company been like? Have you had any promotions or had the opportunity to learn a different side of the business?
I'd say it's been constantly changing and evolving. I had a full year of training when I first started, which included a month at our European headquarters in Pamplona, Spain. I went into my current role after that, but there was a learning curve. I had so much to learn about—not only about our company and solutions, but the industry as a whole. It took a good two to three years to start to feel comfortable with what I was doing in my role. There's always been a clear path and plan moving forward as the company continues to grow with new opportunities both domestic and abroad. I'm thankful to be based out of the corporate office, which allows me the opportunity to interact with all departments while continuing to learn about all aspects of our business. 
How does your company support you as an emerging leader?
Valco Melton supports me as an emerging leader in many ways. One of the first things they did was get me involved in PMMI where I am currently a member of the Future Workforce Committee. This has allowed me to network and connect with colleagues who have many years of experience in the industry. I am able to take this knowledge and experience and bring a new perspective or idea back to my company. Role and title changes and increased responsibility has also helped me emerge as a leader within Valco. 
What has your experience been like in PMMI's Future Workforce Committee?
We recently decided to rename the committee because really the focus is building a future workforce within the packaging and processing industries. We're working with schools and always wondering how we can provide resources to PMMI members, like information on how to start an internship program so that kids can be introduced to the industry. So, once these kids graduate, they would consider coming into the workforce because they know that there's good job opportunities for them at an entry-level and room for them to grow.
What is the most fascinating part of your job? 
The most fascinating part of my job is traveling to all the different manufacturing facilities and seeing the differences in technology from plant to plant and company to company. Also, being able to see how different products are made that we, as consumers, use in our daily lives will always be fascinating to me. It was something that I never thought about until I entered this industry. And I can help my company innovate by bringing ideas and suggestions from the field back to our corporate office. By bridging the gap between our customers and engineering, Valco Melton is able to develop products and solutions based on their needs. 
What intrigues you about this industry?
The complexity and the opportunities really surprised me about the packaging and processing industries. Valco Melton is just one small part of a packaging line. I always enjoy walking a line from the start to the finish and trying to understand how it all comes together. One of the responses I get when I tell people what I do is, "Guess there's an industry for everything." Packaging and processing is something that not a lot of people think or know about, but there are so many opportunities regardless of your background. Most companies have sales, service, engineering, accounting, etc., with great entry-level positions and opportunities to move up. 
As an emerging leader, what were some obstacles you faced in your career and how did you overcome them? 
Valco Melton and the packaging and processing industries require some level of technical ability. I grew up barely turning a wrench before I started my career at Valco. This was a huge obstacle for me and something I had to learn quickly on the job. Fortunately, Valco Melton and PMMI offered training and the tools to be successful in acquiring technical knowledge and learning new skills. I never thought I would be able to navigate myself around a PLC cabinet or through an electrical schematic. 
What advice do you have for other emerging leaders and veterans about getting involved?
I know this industry is not the glamorous job someone may be looking for, but that doesn't mean that it is not the right or best job out there for you. There are so many opportunities to work your way into this industry and with an aging workforce, there is a clear path for you to move forward. I never thought I would find myself in this industry but couldn't be happier that I did. 
As a rising star in your organization, what is next for you? What are some goals you have?
I have always wanted to work internationally so my goals are to continue to grow Valco Melton's business here domestically and to get more involved as we continue to grow abroad. 
For more information on PMMI's Emerging Leaders Network, visit: oemgo.to/emergingleaders