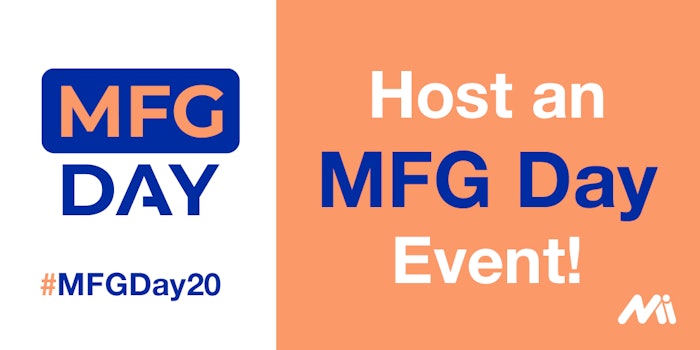 Manufacturing Day may look different this year because of the COVID-19 Pandemic, but Julia Asoni, senior director of Youth Engagement, Manufacturing Institute, says the challenges may present a unique opportunity to highlight the manufacturing industry.
Manufacturers need to hire candidates to fill more than 4 million jobs over the next couple of years as baby boomers retire. However, manufacturers will struggle to fill just 2.4 million positions because of the shrinking talent pool. This will put the industry at risk of losing out on more than $400 billion in revenue, said Asoni during a Manufacturing Institute Webinar on June 18. 
So how do manufacturers get the next-gen workforce into manufacturing so that they can fill the other 2 million jobs that will be vacant? The greatest way to engage youth is through personal experience, Asoni says, which is why Manufacturing Day (MFG Day)—or for some states, Manufacturing Month—is so critical to the industry. More than 72% of MFG Day attendees believe that manufacturing provides an interesting and rewarding career after they have toured facilities and learned more about opportunities in the field. 
In Nebraska, MFG Day is known as Manufacturing Month—as it lasts throughout all of October. Juli Thelen, who handles public relations at Nebraska-based Behlen Mfg. Co., hosted eight high schools last year with 13 other Nebraska-area manufacturers, which got more than 350 students involved.
"We try to give the students hands on experience so they can see what goes on and how we make what we make," Thelen says. "We also created an app for smartphones that engaged students during the tours with challenges and trivia games, which was so successful."
Creators Wanted
CreatorsWanted.org is the new online home for MFG Day and it is also the core messaging theme for youth engagement work at the Manufacturing Institute. Tying careers to creativity is appealing to young people, says Chrys Kefalas, VP of brand strategy at the National Association of Manufacturers (NAM).
Manufacturers who are interested in hosting an MFG Day event will want to register at creatorswanted.org to gain access to resources and toolkits that can assist in planning.
NAM has also launched a new logo to garner excitement and better encompass the events, Kefalas says.
Planning your MFG Day Event
As manufacturers sit down to plan MFG Day events, there are many considerations they should focus on. Depending on where manufacturers are located, there is potential to host both in-person and virtual events or a hybrid of the two. Through creatorswanted.org, NAM will be providing manufacturers with many tools to assist in hosting a virtual MFG Day event, which includes helping OEMs create a digital tour and walkthrough of their facility. The Manufacturing Institute recommends that OEMs identify their goals for the event early on. During the MFG Day webinar hosted on June 18, Thelen shared Behlen's timeline for planning out their MFG Day events.
An example timeline of how Behlen Mfg. Co. plans MFG Day events is as follows:
July
·     Determine target audience
·      Plan event and engagement activities
August
·      Save the date flyers for schools
·      Connect with schools
September
·      Confirm and lock in tour details and dates
·      Setup up tour routes
·      Add event to creators wanted website
October
·      Handouts/flyers/presentations
·      Have events
Leverage media to garner attention and continue the conversation
Once you have your event planned, Kefalas says it's important to spread the word through social media.
"Social media and engaging the audience through the hashtags is critically important," Kefalas says. "America will always need creators and we need to share the opportunities in manufacturing with more people, and social media is one way we can amplify the message."
Behlen Mfg. Co. created Snapchat filters and specific hashtags to get students engaged before, during, and after the tour, which increased the event's visibility and garnered media interest.
You can learn more about developing your story and plan for MFG Day and listen to the full  MFG Day Planning presentation and webinar on the Creators Wanted Website.