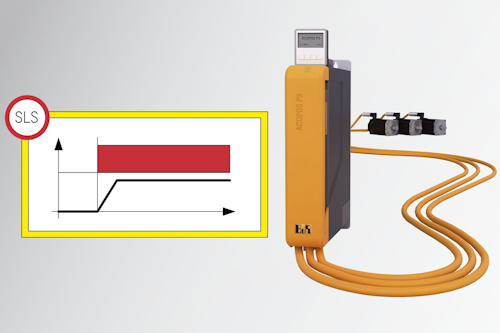 B&R, a manufacturer of automation technology, has developed a virtual sensor for its ACOPOS P3 servo drive: the Safe Speed Observer. It is designed to determine speed in accordance with SIL 2 / PL d / CAT 3 requirements, reducing the cost of implementing the Safely Limited Speed safety function by eliminating the need for a safe encoder.
From the electrical variables of a permanent magnet synchronous motor, the Safe Speed Observer is made to calculate two redundant models of the motor—in order to achieve a high safety level for the calculated speed. The virtual sensor can be used for both linear and rotary synchronous motors, according to the company.
The Safe Speed Observer is meant to be easier to configure in the Automation Studio engineering environment via the respective encoder interface. The user can implement the safety functions available for the safe axis from the safety library. The company claims this system is made possible by the drive-integrated safety technology of SafeMotion.
Companies in this article