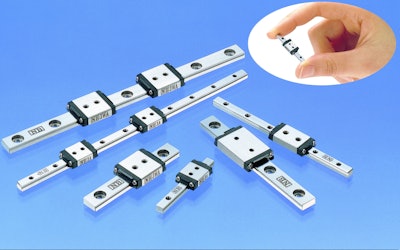 NB has a wide selection of miniature linear slide guides. The SEBS series has a standard radial clearance that is twice as accurate as the competition's, yet for the same price.
NB's series replaces other standard brands. All-stainless models are ideal for high-temperature applications. Choose from retained-ball lines (whose elements allow for easier handling since the guide block may be removed from the rail without ball loss) or low-cost non-retained-ball lines. Sizes available from 2mm. Friction-free travels from 104mm – 1000mm rail lengths.
Get complete technical and dimension information in our SEB Type Slide Guide catalogs, as well CAD drawings, at www.nbcorporation.com.
Download the NB Linear Mobile App to access drawings, specifications, and interchange capabilities!
Find out more at www.nbcorporation.com/shop/slide-guide/seb/.
Companies in this article