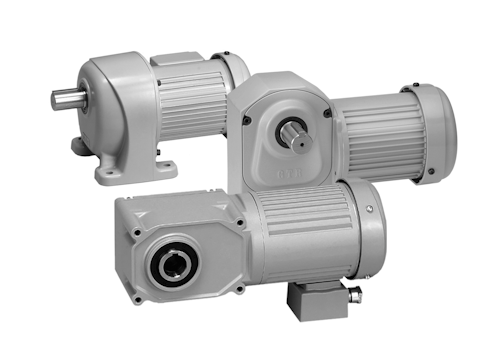 Brother Gearmotors has expanded its mid-series product line with the addition of the G3, H2, and F3 series of fine-pitch gearmotors, with capabilities ranging from 1/8- to 3-hp. Each model features superior efficiency from hypoid or helical gearing, which leads to greater torque output and allows for smaller motors to aid in energy efficiency. Brother Gearmotors offer high strength, and can be mounted in any direction with a slip fit "O" ring design.
The helical gearing in the G3 series commonly enjoys a longer lifespan than spur gears of similar pitch diameter, and also has the ability to transfer high loads at greater speeds. The hypoid gears utilized by the H2 and F3 series use hardened steel gears throughout, giving them superior wear life compared to worm gears. Models with hypoid gearing, making gear reductions of up to 1,500:1 attainable in a significantly more compact and lightweight design compared with worm/worm and helical/worm designs.
All Brother products have an  Electrocoat paint finish for higher durability and superior resistance compared to traditional painting or powder coat finishes.
Companies in this article