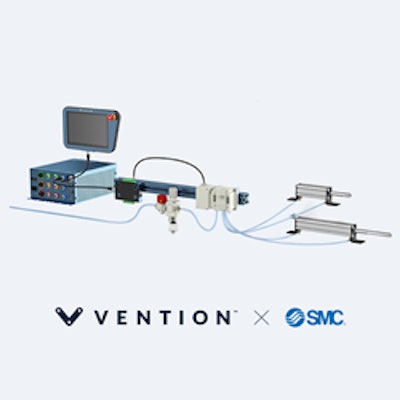 Vention, a digital manufacturing platform for machine design, announces the launch of its pneumatic systems in partnership with SMC, a provider of pneumatic technology for machine automation. The SMC pneumatic plug-and-play system was developed to integrate with Vention's cloud CAD (MachineBuilder 3D) and motion control platform (MachineMotion controller and MachineLogic cloud software).
Vention's cloud-based platform is meant to allow anyone to design, order, and assemble industrial-grade machines within days. The pneumatics integration system created in partnership with SMC is made to enable an broader range of applications to be designed and built in less time. Pneumatic systems are useful in a variety of automated equipment contexts, notably, automated aerospace fixtures, robot cells, complex conveying applications, and custom manufacturing equipment.
Vention's pneumatic systems include an air preparation station, dual-acting compact cylinders available in 100 mm and 200 mm stroke variants, tubes of various lengths, and one-, two-, three- and four-valve manifolds operated via Vention's MachineMotion controller and MachineLogic software.
"Our partnership with SMC brings the best of the Vention platform together," says Max Windisch, Co-founder and CTO at Vention. "Users of Vention, will be able to design pneumatic equipment online, develop and simulate the logic of their machine in the same environment, and deploy their pneumatic sequence directly to their shop floor, without having to install or learn proprietary software or programming language. Pneumatic projects will be greatly simplified as a result
Companies in this article