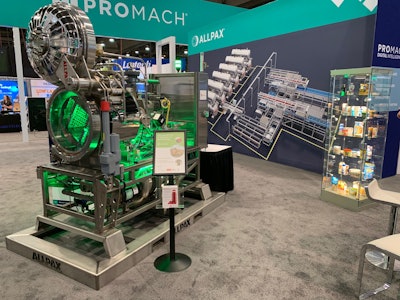 Allpax, a ProMach brand, will feature retort and retort room automation solutions for the ready-to-drink (RTD) beverage industry. Allpax will join more than a dozen ProMach brands in a multi-exhibit "Canning Solutions" showcase illustrating the one-stop-shop advantages of selecting ProMach as the primary equipment supplier for canned beverages.
When Allpax refers to the canning of RTD beverages, it is in the broadest sense of the term "canning" which includes the handling of multiple different types of packaging formats from aluminum cans to glass and plastic bottles to flexible stand-up and spouted pouches. Allpax's retorts and retort room automation equipment processes shelf-stable low-acid drinks such as milk-based coffee, tea, and energy drinks packaged in the various containers mentioned above.
The in-booth demo will focus on Allpax's Model 2402 Multimode R&D Retort (shown) that helps research institutions and processors alike bring new shelf-stable foods and beverages to market more quickly, and with higher levels of quality. The Multimode R&D Retort is controlled by the same software as Allpax production retorts, thus supporting fast and accurate scale up from lab to production. The 2402 will demonstrate rotary agitation, which in conjunction with the integrated hotwell tank greatly reduces sterilization and cooling times. Reducing product heat exposure through faster processing results in higher throughput and better tasting shelf-stable RTD beverages.
Companies in this article