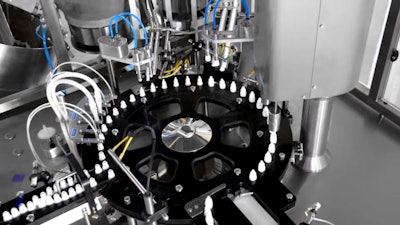 A key demonstration in LinMot USA's booth will feature Edgewater Automation, accompanied by a stainless steel linear module and a directly mounted linear module for pick and place. A directly mounted linear module with closed-loop force control will also be on display.
LinMot USA's electric motors are high quality, high efficiency tubular linear motors that generate less heat and provide better position accuracy while delivering significant energy savings. Compared to compressed air systems, electric linear motors from LinMot USA reduce energy costs up to 95%.
The company's stainless steel linear motors are hygienically designed to meet the requirements of demanding environments and are suitable for sanitary applications such as pharmaceuticals and food. Made of stainless steel EN 1.4404/AISI 316 and developed with plastic bearings, cleaning is simplified in washdown environments. The windings of the linear motors are completely encapsulated with epoxy resin, which protects the copper filling and the stator package from condensation or corrosion, therefore meeting IP69K requirements. Furthermore, the drives are designed for "in-place" cleaning processes such as CIP and SIP.
"As the food and pharma packaging industries continue to see immense growth, we're observing an uptick in demand for hygienic solutions that keep products safe," said Peter Zafiro, General Manager at LinMot USA. "LinMot's hygienic solutions are an essential component to creating an efficient, sanitary packaging line where downtime is reduced and yields are increased."
Companies in this article