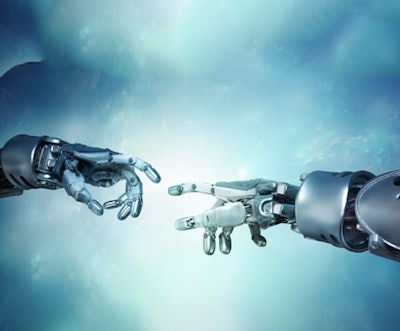 Think about the gadgets we carry, the houses we live in and the cars we drive. Our phones have embedded chips and apps that can track our location and give us directions, our homes have sensors and fixtures that can turn on the lights and adjust the thermostat when we walk in, and cars—well, soon, due to all of the built-in intelligence within the machine, they will drive themselves. Things are getting "smarter," so it only makes sense that the machines that we build and use in manufacturing become more self-aware and digitally savvy, as well.
Thanks to 50 years of Moore's Law (the prediction that computing power would increase and cost decrease at an exponential pace), the Internet of Things (IoT) and ubiquitous deterministic networks, the manufacturing industry has reached a tipping point. Specifically, with faster, smaller and cheaper processing units, intelligence is no longer delegated to a central controller, like the PLC, but is being distributed throughout the components and instruments within a machine and a network of systems.
As a result, technology suppliers are rethinking the way in which processes are controlled on the factory floor.
"We've forced control to be applied on the process…it's been an add-on or an appendage to the process," says Don Clark, vice president of global application consulting and Schneider Fellow at Schneider Electric. While addressing attendees at the company's Foxboro User Group meeting last year, Clark explained a profound new approach to process control. "New technology is going to shift that old paradigm so control will be performed in the process. If you embed autonomous control within the process itself, so that it is no longer 'stuck on,' it allows you to think in new ways and to go back to the roots of the fundamental control loop of one."
Schneider Electric is working toward creating cyber-physical systems (CPS), in which intelligence, I/O and communication are happening between assets in a low-level mesh network. In this environment, devices and instruments are self-operating and self-optimizing. It's about putting measurement and control inside sensors, valves, pumps and motors, which are communicating in a localized network—but also operating autonomously.
The plant floor is evolving into a "system of systems," that has embedded intelligence everywhere. So, when components and instruments become self-optimizing, manufacturers will be able to approach energy management more effectively, they will be more predictive in maintenance, rather than reactive, and they will be able to meet new customer demands that come in the form of mass customization.
Technologically, we are not to the point where components are intelligently autonomous, but the industry is getting there, as devices can now monitor and report on vibration, electrical current or temperature, and do some self-diagnostics and reporting. Eventually, these smart components will evolve into networks of cyber-physical systems. But, before that can happen, the collective manufacturing mindset must change, and there's some resistance to change.
Price vs. value
ARPAC, a provider of packaging equipment and integration services, understands the value of a "smart machine," and, to that end, the company is leveraging IoT, cloud computing and production analytics as part of its service, called BeConnected, to remotely collect data and monitor a machine, enabling the OEM to proactively maintain customer equipment.
This is just one of many "intelligent offerings" the OEM is already providing or exploring, but there are two obstacles that ARPAC and every machine builder must overcome: machine design and customer interest.
You can add in sensors and intelligent components, "but the hardware is only a quarter of the cost. It takes more time to design, program and test," says Brian Ormanic, lead engineer at ARPAC, "We have about 100 different machine models and customizations, so it's hard to find the time. And, you have to have customers care about it, and willing to pay for it. Customers are always pushing us for the lowest machine price, but they should understand the value of information."
ARPAC uses Rockwell Automation technology as part of BeConnected, and Rockwell understands its role in educating the manufacturing masses. "We have been working hard to help manufacturers understand the potential value so that they can have conversations with the OEMs," says Steve Mulder, Rockwell's North America packaging segment lead. "It's critical to have the conversation with the end users' operations side so they understand how impactful it will be to production and the bottom line to utilize intelligent components and smart machines."
John Kowal, director of business development at B&R Industrial Automation agrees that the manufacturing end users are not always aware of the huge value-add of built-in intelligence in servo motors, drive systems, gearboxes, etc. But neither are all machine builders.
"We have an I/O slice with intelligence onboard that is cost effective because Moore's Law has made field-programmable gate arrays very affordable," Kowal says. "It's processing the input and output that it is controlling directly in the slice...so it doesn't have to go back to the PLC CPU to process, and it can respond within microseconds."
The approach, used in packaging, allows extremely time-critical subprocesses to be managed using standard hardware, all programmed within the IEC 61131 environment, while cutting costs by reducing the load on the controller and optimizing performance to match high-end packaging machine demands. Nevertheless, not all OEMs understand the value at first. "I asked a flow wrapper builder, what if we could detect an empty wrap in a matter of microseconds, would that have value to you? He said, 'yes,'" Kowal remembers, noting that the value to the OEM is the ability to shrink the footprint of the machine by responding faster and more precisely, and requiring less distance between detection and rejection stations.
An example of a smart component is B&R's Acopos servo drives that use "repetitive control," which, with a simple firmware update, can minimize lag errors that result from stationary disturbances. Embedded in the standard speed control loop for the drive, repetitive control adjusts torque setpoints of the drive in a way that drastically reduces the periodic portions in the speed or lag error. The algorithm undergoes a constant learning process that changes to the load profile, caused by wear, for example.
Similarly, Festo's Motion Terminal, is an Industry 4.0 pneumatics system that includes integrated programmable processors and smart actuator technology that decentralizes intelligence. "It is a closed-loop control system that can adjust itself," says Sandro Quintero, Festo's product manager of valve terminals and electronics. This helps machine builders, which, like manufacturers, are faced with the challenge of finding components that will create flexibility. "If there is a need to change a tool on a pick and place system, with the Motion Terminal you just have to change the end of arm tool and digitally, on-the-fly, the behavior of the valve to apply grippers instead of suction cups is done in milliseconds," Quintero explains.
What's more, intelligent component options are affordable, considering the cost of a machine.
A machine may cost $400,000 and the addition of an intelligent component may be around $1,200, which is .003 percent of the cost of the machine. But, more often than not, an OEM will not add an intelligent component because the customer is not asking for it. And OEMs aren't selling it, either.
"The OEM's problem is price," says Chris Noble, key account manager at Aventics, which makes intelligent pneumatic systems for IoT. "People think the point of entry is way too expensive, so a lot of OEMs aren't even talking to customers about having IoT as an option. If an OEM can understand how simple it could be, they'd have an easier time discussing it with customers."
For example, to be IoT-ready simply requires the addition of an IoT gateway with a built in webserver. At Aventics, it is referred to as the Smart Pneumatics Monitor (SPM), and it analyzes existing sensor signals to generate status information. To monitor the wear of a shock absorber, for example, the SPM breaks down the end switch signals to evaluate the cushioning sequence. Algorithms analyze the data and sends information to a manufacturing execution system (MES) or an enterprise resource planning (ERP) system via the OPC UA interface or to the cloud via Message Queuing Telemetry Transport (MQTT), a publish/subscribe messaging protocol.
Based on Node-RED, an open source programming tool for IoT, there is no licensing fees, and the aftermarket service potential for OEMs is huge. Continuing with the failing shock absorber scenario, Noble says the SPM can send information to a person's phone saying it is getting weak. At the press of a button, an OEM can order parts and proactively send a service person to fix it. "There's an opportunity to double the size of your business by making a small upfront investment," he says.
For its part, B&R offers its mapp application development software framework that includes a "Tweet" function that enables a machine application to send information via text message or email triggered by specific events. The mapp Tweet function can easily be connected to mapp-based components that not only sends a message when there is component problem, but can include additional information, such as troubleshooting instructions.
When tools talk back
While there are existing components that are considered to be "smart," technology is evolving to provide devices with the ability to "tell" us what is going on with them. "In the future we want the machine to talk to us," Festo's Quintero says, noting that traditionally, a technician will go to the machine to inspect it and figure out what the problem is. "We want the machine to report to us to say there is a problem and this is what it is."
To accomplish this in a wide-scale way, there needs to be a network and a common communication protocol—and there is. IO-Link is an IEC 61131-9 standard for communication with sensors and actuators. It enables the device to communicate more than just basic data.
IO-Link is considered the foundation for intelligent components because it allows you to get much more information from the sensors and actuators, says Dana Holmes, global business development manager for Banner Engineering, which provides smart sensors for the Industrial Internet of Things. "In the past, a sensor could tell you if something was there or not, or provide some kind of measurement, but now it can tell you a lot of different parameters that we didn't have access to before," says Holmes. "So it helps make decisions on what is happening and if things are functioning correctly."
For example, Banner's Q4X laser measurement sensors can automatically adjust their gain based on the information collected via IO-Link (i.e. indicating a dirty lens). So, for a time they can compensate for a dirty lens. But, they can also alert an operator when it is time to clean it or signal an air purge (burst of air from an installed air purge collar). "Also, our new LM series laser measurement sensor has internal temperature monitoring and can alert the operator when the temperature has shifted substantially and could be affecting the precision measurement values," Holmes says.
IO-Link is a great way to get started down the path of component intelligence, Holmes says, noting that some OEMs just use IO-Link to program devices, but do not use it on the machines themselves. She outlines a few areas where OEMs can benefit from the open protocol tremendously with little upfront investment. First, it can reduce set-up time during the machine build process by automating the process and storing settings and configurations in an IO-Link master that can be replicated from machine to machine. Second, IO-Link can provide machine run-time data and prevents operators from making "fixes" to the sensor configurations as changes made with the sensor buttons are overwritten by the stored parameters on the IO-Link master. Third, OEMs can save money on post-sale service. The data the sensors provide can indicate predictive maintenance data, provide machine run-time data and make it easy to replace damaged devices with automatic device replacement, thereby preventing installation of the wrong replacement sensor.
Intelligence on the edge and in the cloud
Of course, all of this data generated from smart components and machines must be stored and managed somewhere.
"Every sensor and actuator will have the ability to play a role in IIoT by having an IP address and providing data right from the [device]," says Bill Henderson, manager of the industry consultant team at Siemens. But you need to sift through and manage that data before it gets to the cloud. "You will see more processing done at the edge to prepare the data for higher level predictive analytics."
Siemens is investing in edge technology, Henderson says, to complement the company's IoT cloud platform called MindSphere. "With the added intelligence that can be gathered off of a machine, today we can directly connect to the cloud and provide a platform for an OEM to gather and analyze data about their machine."
That is what ARPAC is doing for its manufacturing customers with the BeConnected service, which uses Rockwell FactoryTalk Analytics for machines and Microsoft Azure to transmit productivity data from the machine to the cloud server and generate reports to dashboards and event logs accessible via a secure website.
The cost for BeConnected is $4,000 per machine, which is a one-time charge for hardware and setup, and includes the first year subscription to the cloud service. ARPAC includes the option in every sales quote, still, not many customers buy into the offering, Ormanic says.
It goes back to educating manufacturers on the benefits of these relatively easy add-ons to a machine and change their view of their world. To put it into perspective, it wasn't too long ago that basic cell phones were an expensive novelty, and now we couldn't imagine a world without our smartphone in hand telling us where to go and even what to do.
"We as technologists just need to explain to end users the huge potential for improved productivity and reduced maintenance," B&R's Kowal says.