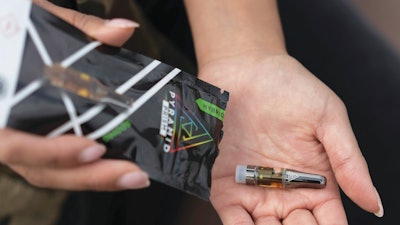 In 2015, Jake Berry and Coley Walsh founded Pyramid Pens, which now operates under the Loud Labs umbrella, a brand selling various formulations of cannabis oil packaged in cartridges that could be used in a host of vaping devices. Using the well-regarded CO2 extraction process, the partners began formulating unique strains and flavors of THC and CBD oils for vaping. In fact, the brand's innovative attitude toward packaging caught our eye back in 2019, read about what they were doing then, and see how far they've come in what follows.
Today Loud Labs markets its Pyramid Pens line of cannabis formulated oils packed in cartridges and pods in Colorado and Michigan and is setting the stage for future expansion into other states. Expansion is a complex process of navigating each state's individual laws and sales environments. The company offers a total of six oil formulations, each with its own characteristics of potency and flavor, concentrates, distillates, and CBD/THC combinations. The company also offers lines of infused pre-rolls and edibles.
Vape devices, which come in many different shapes, sizes, and technologies, all rely on cartridges filled with oil. Cartridges typically feature .3-, .5-, or 1-g of oil, depending on the type of device. Filling needs to be accurate for the optimum allocation of an expensive oil.
Log in to view the full article