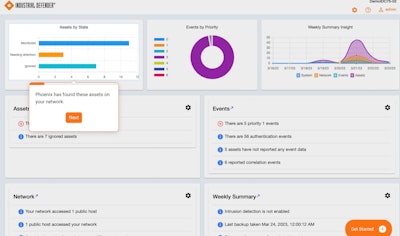 Industrial Defender
Industrial Defender, which provides a cyber risk management platform for operational technology (OT) and Industrial Internet of Things (IIoT) infrastructures, has been catering to large manufacturers across a variety of industries, including oil & gas, food and agriculture, and pharmaceutical segments.
But cyberthreats against industrial organizations are not limited to the big conglomerates. Every manufacturer—large or small—has control systems, sensors, and software to drive their operations. And, unfortunately, attacks on OT environments are on the rise, especially as companies move to a digital environment for collecting and analyzing data.
In an effort to help small and medium-sized businesses (SMBs), Industrial Defender launched Phoenix, a cost-effective and easy to deploy OT visibility and security tool for smaller plants and factories. This simplified offering gives an automated view of all of the OT assets, whether there are 25 endpoints or 200, the company said.
To that end, Phoenix is minimal footprint solution that plugs seamlessly into the environment, making it easier for smaller industrial smaller manufacturers to assess cyber risks.
"From ransomware campaigns to nation-state attacks, cyber threats against industrial organizations have never been higher," said Jay Williams, CEO of Industrial Defender, in a statement. "Attackers are increasingly targeting operational technology, and smaller organizations are especially vulnerable due to their limited resources. SMBs often believe they wouldn't be targeted, but all users of operational technology are at risk of cyberattacks, whether they are the intended target or just caught in the blast radius. Cyber incidents are crippling for small businesses, and Industrial Defender is excited to launch Phoenix as a solution to help protect their operations."
Phoenix will identify and monitor all OT assets in the factory through passive asset discovery, which is done by monitoring network communication, as well as active discovery that collects more comprehensive endpoint details in order to understand cyber risks. Phoenix also enables security event management by providing event log data, network analytics through network monitoring and visibility into communication flows, and enterprise integration with flexible application programming interfaces (APIs).
If a software supplier discloses a security vulnerability, Phoenix enables the user to quickly search for any instances of that vulnerability within their environment. According to the company, this all-in-one solution is specifically designed for SMBs struggling with limited resources and budget. Suited for environments with up to 200 endpoints, Phoenix monitors all OT assets and vital endpoint information including:
· Device type, make, model and serial number
· Software and firmware
· User accounts
· Ports and services
· Configuration details
"Just because operators have smaller footprint facilities, whether a specialty manufacturer, a water treatment site, or a micro power generator, it does not mean they should operate with a blind spot to their cyber and business risks. We are proud to support SMBs in the important role they play in fueling our economy and advancing our quality of life," said Williams.
Phoenix is available at flexible pricing options that provide the right fit for small to mid-sized environments. As needs and operations expand, Phoenix can be scaled into a network of enterprise-grade solutions to enable future growth. This gives any organization the ability for situational awareness and enhance the security and resilience of their industrial operations.