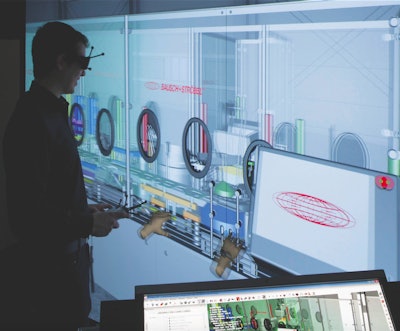 As altered reality technology matures, manufacturers around the globe are starting to realize that its constituent virtual and augmented reality could drastically change the way OEMs build, market, and test machinery. Some OEMs are racing to implement the technology in some capacity to capitalize on a first mover's advantage. But many are skeptical and wonder if betting on these early technologies is worth the financial risk, time commitment, and potentially, IT connectivity and security concerns.
Many OEMs that PP-OEM spoke with said practical use of altered reality seems "five years down the road," and not something they are interested in implementing right now. Senior Project Managers Jeff Stewart and Dean Weber at Amec Foster Wheeler, a multinational consultancy, engineering, and project management company, have heard a similar tune among their packaging and processing OEM partners.
"They will be six years behind if they wait five years," Stewart says. "If you are not on the cutting edge right now, you are going to get left behind. But for OEMs, virtual reality technology is easier to implement than it seems. I think people are more afraid to dip their toe into it more than anything else."
In fact, a giant hurdle that OEMs don't have to face with this technology is acquiring the software needed to create the virtual reality environment.
"One of the most important realizations is that virtual and augmented reality speak the same language as the 3D AutoCAD programs that OEMs have been using for a while," says Glynn LoPresti, founder of the consultancy Emerging Technology Advisors. "In many cases, the machine design mock ups are the exact same files that can be dropped into virtual and augmented reality platforms. There is nothing new to learn. Those same files in a virtual or augmented reality world allow you to see your machine in complete 3D."
So compared with industries that don't design in AutoCAD, this technology has a low barrier to entry for OEMs.  But virtual and augmented reality are like any other potentially disruptive technology, in that there may be some initial hurdles and investments, such as allocating R&D resources and funds, and in the case of remote access uses, breaking through end user network connectivity and security.
"This technology is coming no matter what, but there are ways to prepare" LoPresti says. "There is a correct anxiety about being the first person to do it. You don't want to base your entire future business on pioneering the use of a new, unstable technology, but you also can't be the people who are years behind your competition. The rate of change that these technologies are penetrating and changing the industries is happening quicker than it ever has in the past."
But unlike the accessibility of the software, some industry insiders note that virtual and augmented reality hardware like Google Glass may not be robust enough for industrial applications, or headsets like the Microsoft Hololens can be heavy and apparently too bulky to allow operators or technicians to "get inside" the machine. High cost and limited battery life are also commonly heard criticisms. But technology and battery life will improve, and prices will come down as general hardware becomes more specialized for OEM applications.
Understanding the difference between augmented and virtual
While both versions of altered reality—augmented and virtual—use some of the same technology and provide an enhanced virtual experience, the capabilities, equipment, and software needs vastly differ.
Virtual reality is an artificial, computer-generated simulation of a real-life environment. Virtual headsets simulate an operator's vision and hearing to provide a firsthand experience of the simulated reality, to the exclusion of the actual surroundings. The technology needed to simulate virtual reality is a headset, such as the Oculus Rift or the HTC Vive, which retails anywhere from $120 to $800. The environment itself can be created through a coding language known as virtual reality modeling language (VRML), which can also be found in the AutoCAD files that OEMs already use to create 3D models of their equipment.
Since operators cannot see the real world around them when they are using a virtual reality headset, the opportunities virtual reality brings to manufacturing and service are limited. But it still offers a unique approach to trade show marketing, machine demonstrations, and employee training.
Augmented reality, on the other hand, layers computer generated enhancements, like digital images and graphics, over an existing reality. This allows users and operators to interact with the world around them while in an augmented reality state. Augmented reality uses headsets, too, but unlike virtual reality headsets, they allow operators to see through the headset into the real-world. This technology may prove to be ideal for remote maintenance, employee training, and machine assembly. Augmented reality headsets like Google Glass or Microsoft Hololens retail anywhere from $199 to $4,500, and the technology, still in its infancy, is always undergoing fresh iterations and advancements.
Augmented technology implementation is a riskier prospect at the moment because it is more expensive and the software and technology are not thoroughly developed yet. Plus, wireless connectivity in a plant setting can be a challenge. Still, it has the potential to transform the way OEMs handle maintenance, ordering spare parts, aftermarket e-commerce, employee and end user training, machine assembly, and machine testing.  But when it comes to using this technology for remote maintenance, OEMs may face strong headwinds from security-minded end user IT departments.
OEMs wade into virtual reality
During interpack 2017, Intralox, a New Orleans-based conveyor belt manufacturer, used videos and AutoCAD drawings to virtually demonstrate how the OEM's conveyors can optimize plant floor layouts. They imported these videos and drawings into Emulate3D's DEMO3D software and used the HTC Vive virtual reality headset to display the plant floor mockups.
"We are using this technology to walk customers through the layouts so they can visualize the ergonomic and safety aspects of the plant floor and our conveyors," says Bobby Pedigo, Intralox's packaging platform manager. "We have been demonstrating our value proposition compared to our competitors by showing the floor space savings, accessibility, and the accumulation potential through this technology."
Intralox engineers could sketch a 2D model of this plant floor optimization and show it to prospective customers, but attendees would miss out on the real-life perspective that virtual reality delivers, says Reid McCall, Intralox's simulation and virtual reality product manager.
"We can superimpose the new and old plant floor layouts on top of each other so in the virtual space, you will see the old conveyors disappear and suddenly the new layout will appear in the same space. It's A/B testing in real-time," McCall says. "You can move around the plant floor, and you can even move your face through the conveyor and see all of the different componentry."
ARPAC, a Schiller Park, Ill.-based manufacturer of end of line solutions, and Duravant company, took a similar approach to marketing its equipment at interpack 2017. Mike Allegretti, ARPAC's marketing and documentation supervisor, says the company needed a more cost-efficient way to transport their machines to interpack. That's when virtual reality came into the picture.
"For us to build machines to go to Europe, it would cost a lot because we would have to build them to meet EU specifications. So we started throwing out ideas of what we should do instead," Allegretti says. "We decided to take the virtual reality approach, which had a good turnout at the show. And we knew that the virtual reality technology we invested in would also make a good sales tool after the show."
ARPAC is currently building a virtual reality room in its facility to demonstrate its integrated lines to new and prospective customers, and help train its distributors.
In 2013, Bausch+Ströbel, a German pharmaceutical equipment manufacturer, built in its facility a virtual reality center, that displays complete pharmaceutical processing lines in full-scale in a stereoscopic representation. This center makes it possible for the company's engineers to discuss the machine design and functions with less effort. Different machine concepts can be compared at an early stage of the design phase, allowing customers to be more involved.
Beyond trade show demonstrations and marketing presentations, the company also uses the virtual reality technology for virtual mock studies, safety and ergonomic studies, employee training, computer-aided engineering, and air flow visualization.
"Implementing virtual reality needs a well-defined integration concept," says Tobias Hörner, Bausch+Ströbel's group leader of IT organization systems and product design. "The most important thing is the integration of virtual reality into the whole product development process. The technology is continuously developing along with augmented reality, and we are evaluating those new functions to see if we should expand our system soon."
Augmented reality's high risk brings big rewards
A March 18 NPR article titled, "Google Glass didn't disappear. You can find it on the factory floor," highlights the transformative potential of augmented reality as told by a tractor manufacturer that uses Google Glass to improve productivity among its engineers. Once an engineer scans the serial number of the machine or part with his Google Glass, the glasses instruct the engineer with photos, manuals, and notes from other engineers who have previously worked on the project. This eliminates the need for engineers to leave their workstation to retrieve manuals and drawings, and the glasses foster more collaboration among engineers.
Cavanna Packaging Group, an Italian flow wrapper manufacturer, has its engineers and remote technicians use an augmented reality headset, like Google Glass, for machine assembly. But when Cavanna decided to offer remote maintenance services through its augmented reality capabilities, the OEM faced pushback from its end users' IT departments.
"Our current headset allows the technician to work with a personal hotspot through a smartphone and avoid going through an end user's server altogether," says Bill Kehrli, Cavanna's vice president of sales and marketing. "While that works around the connectivity issue, it has its own set of problems. Bad service providers and buildings that don't get good service can keep us from connecting and sharing images with the technician."
Despite connectivity obstacles, Kehrli says the technology has been well-received among customers, and it allows technicians to restore machine operations in as fast as five minutes.
Tetra Pak, a Swiss food packaging and processing equipment manufacturer, is piloting another service solution package, which includes remote maintenance via augmented reality simulation. During ProFood Tech in April, the OEM demonstrated how this technology would be used between a remote Tetra Pak technician on the customer's plant floor, and a Tetra Pak expert in the home office.
"We have field service technicians stationed around the world near our customers, and we needed a way to connect the service and support office with the front line," says Paul Granger, Tetra Pak's technical key account director for the U.S. and Canada. "We have the 24-hour telephone line and traditional communication channels, but we recognized that we needed to augment the situation in a way where we could bring in a massive amount of technical competence into the hands of the technician that is physically on site—regardless of the individual's expertise level. It is clear to see a significant step change in our ability to resolve issues and restore our customer's production with this technology."
When Tetra Pak solely embarked on developing this technology five years ago, the company encountered some challenges.
"These remote services are based on big data, the cloud, and data storage. Our core competencies are not in such structures. So, we said, 'OK let's close the gap, and partner with a technology giant that can help us in the areas we are struggling with,'" says Roberto Mastri, Tetra Pak's director of technical support and quality.
To reduce some of the risk of spending years and thousands of dollars on implementing this relatively new technology, Tetra Pak collaborated with Microsoft in late 2015 to develop specific technology for the company's service solution package using the Microsoft Hololens augmented reality headset.
"Microsoft has the hardware and the software, and we can display diagrams and manuals through Skype to create that full-blown bidirectional communication. We had to invest in that," Mastri says.
Emerging Technology Advisors' LoPresti says entering a corporate partnership with companies like Microsoft is a great way for OEMs to get involved with the technology and lower the initial risk factor.
"There is an entire group of people at Microsoft who focus on industry and manufacturers," he says. "There are several resources for people who are gambling on this early technology. OEMs can eliminate a lot of the financial risk and burden of trial and error by working with companies that do want to get involved earlier in the process. There is so much opportunity in these partnerships."
Practical advice for moving forward
As augmented reality develops and gains stronger footing in industry in general, it not only has the potential to simplify remote maintenance and machine assembly, but it could also boost aftermarket sales. Augmented reality headsets could bring e-commerce capabilities, such as ordering from within the augmented reality environment, to engineers in need of spare parts.
There is validity in not wanting to gamble on technology that isn't practical or mature enough, making it difficult for OEMs to pinpoint the best time to jump in. But with concrete examples of other OEMs implementing virtual and augmented reality, it might be a sign that the technology is mature enough to take seriously.