The industry as a whole has moved toward more progressive technologies in the past year, in large part due to the global pandemic. But over the last couple of years, input/output (I/O) cabinets have become more modern and streamlined, too. There is movement toward a standardized I/O is turning traditional I/O—which had fixed functionality and was supplier-specific—into a plug-and-play part that's quickly configurable, as well as smart.
Whether it's called universal I/O, flexible I/O, intelligent I/O, configurable I/O, electronic marshalling, etc., the concept of smart I/O placed in standard cabinets is enabling more flexibility for I/O changes without having to reengineer everything. The push for I/O standardization has come from large corporations, like ExxonMobil, who were asking for help in easing commissioning and enabling changes to a control system without impacting the build out. The idea behind universal I/O is to reduce customization and complexity, which helps large oil and gas companies and small machine builders, alike.
Universal I/O is said to deliver many benefits—especially when it comes to accessing data, simplifying programming, and allowing equipment and automation systems to be more flexible and communicative with older devices. For OEMs who are eyeing digitalization and the Industrial Internet of Things (IIoT), a standard approach to I/O can help with budget and space constraints, among other things.
In a 2017 blog post published by Belden, the company noted four benefits of universal I/O modules in the smart factory of the future. "Since there is no time or budget for special tools or expensive, highly-trained engineers and electricians, machine builders need products that are easy to use, install, and maintain. This need is driving a trend in industrial automation called plug-and-produce." An extension of plug-and-play, which means having the ability to connect something and it automatically works, plug-and-produce is applying that ease-of-use expectation across an entire industrial facility, the article said.
But, while universal I/O may open more doors into data, there may still be some use cases where traditional I/O serves as more effective.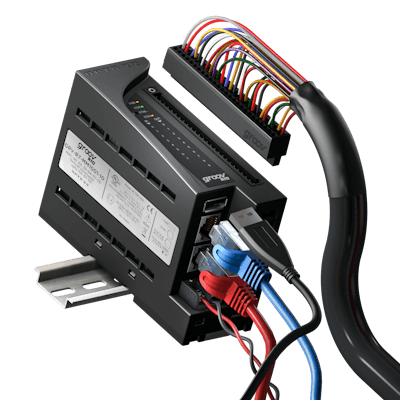 How universal I/O stacks up
Input/output devices handle the communication of information between a processing or automation system and other devices within a machine. There are two types of I/O, analog, which is an electrical signal representing things like temperature level or rate of flow, and digital, which uses signals that represent two states, such as on and off or start and stop. Common PLC I/O can be analog and/or digital.
With a traditional, analog I/O system, there is a lot of upfront work that goes into specifying the right field I/O module, electrical panels, installation, power, distribution, and networking. Because the I/O system is typically associated with a PLC or some kind of central controller, users and builders have to iron out all of the programming that's involved in getting those systems to communicate. These traditional I/O systems require specialized skills and other hardware infrastructure, which means they could also be more expensive to configure. 
As the industry moves toward digital transformation and scalable Internet of Things (IOT) systems, network technology providers are trying to simplify the programming process as much as possible. Since computer programs use digital signals, and digital signals can be transmitted without interference by electrical noise—which can affect analog signals—and because digital processing is much cheaper and more versatile than analog, there's a shift in this direction.
Enter intelligent or "edge" I/O, which allows builders to drop an I/O module in place—offering many different I/O options—and then plug it into a network cable to power it, as opposed to all the steps needed with a traditional I/O system. It also simplifies the machine design and building process by virtually eliminating any rework associated with I/O, and it provides data processing and network connectivity options, in addition to the flexible I/O capabilities.
"The advantage there is all of the complexity that typically goes into the frontend engineering and design of I/O could be a lot simpler than it is to the point where you can actually bypass having a PLC," says Josh Eastburn, director of technical marketing at Opto 22, an industrial automation software and hardware manufacturer. "If your control systems, process, or manufacturing engineers are still developing the equipment, they may not know how many of a particular type of signal is needed. They have to do a bunch of change orders on the backend, revising the I/O design to meet the different signal needs that they have after the design is complete. Or they can drop in flexible or universal I/O, which will allow them to reconfigure it in the field without changing the electrical design, panel, or enclosure. It simplifies a lot of the design process and reduces the project budget. Down the line, universal I/O also translates into easier maintenance."
Demand for data pushes flexible I/O adoption
The demand for more flexible I/O has been growing rapidly, according to Sree Swarna Gutta, North American I/O product manager at Beckhoff Automation. Behind the demand is a push for more data and the need to be able to predict machine failure and other critical timelines that point to maintenance.
"Beckhoff started offering I/O products in the 1980s, and this segment has been growing consistently by 10% every year," Beckhoff's Gutta says. "That shows you the acceptance within the industry and how happy users are with flexible I/O. One of the things that they demand out of flexible I/O is gaining the ability to incorporate more diagnostics and information that the OEM and customer could use to improve their designs and performance of the machine."
Where a standard I/O device may only receive process data and signal communication from a sensor within a machine, flexible or universal I/O can provide insight into other information about the environment that the sensor lives in. This capability holds a lot of untapped potential when it comes to predictive maintenance, according to Shishir Rege, technical sales specialist, IIoT at Balluff Inc., an industrial equipment manufacturer.
"For example, if something knocked the sensor out of alignment, there is no way for the sensor to tell that to the standard I/O device," Rege says. "So how does the sensor communicate that information to the machine so that the machine can affirm it? The universal I/O unleashes that sensor or device to provide a lot more diagnostics, not only about itself, but about the ambiance that they live in. So that is much richer communication."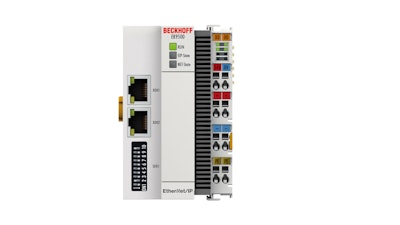 Compatibility opens opportunities for global markets and retrofitting
As industries become more globalized, machine builders are creating equipment for different countries around the world, meaning they are encountering different standards and protocols in every region they sell into. According to Belden, universal I/O can work with many different PLC environments and fieldbus protocols, such as Profinet or EtherNet/IP, making it easier to sell equipment into global markets while reducing product variants and the need to replace I/O modules to meet protocol-specific requirements.
"When you choose a flexible I/O, machine builders can actually leave that technology as is. They don't have to re-design anything when they are selling globally," Gutta says. "While Beckhoff created and specializes in EtherCat, our I/O supports more than 25 communication protocols. The universal I/O offers the flexibility of being able to connect to any network and it can be used anywhere in the world."
Aside from allowing machine builders to sell globally with less complexity, universal I/O is also touted as being able to work with both new and legacy equipment. Machine builders can retrofit existing machinery with customizable modules that can include as many inputs and outputs needed—rather than being confined to the eight inputs and outputs that traditional I/O devices have.
One such innovation in the area of I/O flexibility is called IO-Link, a standardized I/O technology for communication with industrial sensors and actuators. Popular in Europe and making its way to the U.S. and Asia, IO-Link is a unified point-to-point device level communication method that is easy to implement and has built-in diagnostics. IO-Link is vendor-independent. This is the reason why it is possible to combine IO-Link Masters and IO-Link Devices from different manufacturers and integrate these products easily into the same network.
"Because IO-Link is the bottommost level in the automation pyramid, it's a device level communication," Balluff's Rege says. "The protocols, the fieldbuses, or networks used in today's automation pyramid, like EtherNet/IP, Profinet, Profibus, DeviceNet, or EtherCat, are control level protocols." 
In an earlier interview with OEM's sister publication, Automation World, Rege described IO-Link like a USB for industrial automation that is independent of control level networks and protocols. "So, all you need is a gateway or a bridge module that connects the protocols together. And that's what we call IO-Link gateway or IO-Link master, that communicates on that fieldbus level, as well as collects data from the IO-Link devices."
According to Rege, the advantages of IO-Link to OEMs is reduced cost of build, faster commissioning times, reduction in network nodes, and more diagnostics. "IO-Link also enables OEMs to integrate more complex devices to make their systems stand out from the crowd and be ready for the next-generation of machines."
And Belden's product manager Svenja Litz adds, "Because an Ethernet interface would not fit—regarding size and costs—into the smallest devices like photoelectric sensors, which are due to the trend for miniaturization, IO-Link is the perfect communication protocol to make simple sensors smart. It enables to transmit a set of different parameters and not only a high/low information as in the past. This is how a simple sensor can transmit something like temperature information in addition to its standard switching signal by using IO-Link communication."
And the compatibility aspect of plug-and-play I/O is also appealing to CPGs and end users. As manufacturers combine different machines from a variety of machine builders, there are a variety of interfaces on each of the machines with different cable lengths, which leaves the end user responsible to maintain inventory of all the different cables in different sizes and different interfaces. However, if all of the devices and machines are outfitted with universal I/O, then there is only one standard cable that fits all devices.
"Whether it's a digital device, a smart sensor, or RFID, even the valve manifold could be brought onto the same standard interface across the board," Rege says. "So that helps manufacturers considerably reduce their inventory, cables, and different types of interfaces they have to learn."
Plug and produce feature speeds time to market
With a universal I/O device, you don't have to do any of the cabling or wiring that comes with analog or more traditional I/O. Analog I/O also requires users and builders to scale the data in the PLC, which can be difficult and time consuming because the data can differ and change from sensor to sensor. With universal I/O being a digital communication device, users and builders can skip these steps, while also being able to store parameters for sensors and other devices that communicate with the I/O device.
Not only can the plug and produce features of universal I/O come in handy while retrofitting legacy equipment or branching into global markets, but this feature also alleviates pressure OEMs feel when it comes to having to provide greater machine performance and shorter lead times.
"When we talk to machine builders, they have a 'value add' mentality for every component, from software and controllers to drives and I/O," says Beckhoff's Gutta. "They want to provide the next generation of technology to their customers and they need to wire up the machines and ship them faster. So, if there is a way that they could use the I/O in a plug and produce fashion, that is more attractive to the machine builders because they can achieve ROI on their investment for the new machine design a lot faster."
Possible drawbacks of universal I/O
And while "plug and produce" may be the future, universal I/O also comes with its own set of tradeoffs.
Because universal I/O is a form of data communication, compared to the more traditional I/O which would be signal communication, users and builders may run into speed issues when it comes to data computing.
"Signal communication is always going to be faster than data," Rege says. "If the sensor is communicating in signal, it's going to reach the controller faster versus if the sensor is communicating data, then it's slower because it's taking more bandwidth on that network communication."
According to Rege, 95% of industrial automation applications fit well with the universal I/O platform because they can tolerate the latencies of 10 to 15 milliseconds. However, if the requirements for latencies is less than five milliseconds, Rege says they would not recommend universal I/O.
Opto 22's Eastburn also doesn't recommend the universal I/O approach for every application.
"Typically, where we're seeing adoption is in these kinds of IoT situations where we need to scale a system fast," Eastburn says. "If you can spend a little bit more on the I/O to save on the frontend design and installation work and then just repeat it over and over for other machines, it can translate into a project savings, and make it easier to scale your system up. But if you're wanting to save and get a cheaper I/O, it's easy to beat out universal I/O in terms of per point/channel price. So, it really depends on what the application is and whether it makes sense from the perspective of total project cost or long-term TCO."
Traditional I/O may have a wider range of signal and power options, which would highly benefit applications that need channel to channel isolation or high-frequency counting, for example. "There's definitely still a need for traditional I/O," Eastburn says.
Universal I/O's role in IoT
The essence of IoT is data, Rege says. And not only does universal I/O provide more opportunities for builders and users to harness the power of data, but it also brings more flexibility to machine design and compatibility.
"Having this data communication at the sensor level enables a lot more IoT-ready applications to be developed," Rege says. "There are so many different applications that are possible with universal I/O."
One of those applications, Rege say, is process condition monitoring, which would help users and builders enable pattern-based artificial intelligence, allowing for more predictive maintenance.
"All this information and data used to be very expensive to collect," Rege says. "Now, it's easily available with the industrial protocols like IO-Link. That universal I/O allows integrating different types of interfaces like RFID, barcode reading, or vision, you can collect and utilize that to create new types of applications, especially in packaging where they run a lot of small batch production."
As cybersecurity concerns continue to grow, universal I/O may be the key to protecting legacy equipment and older control systems, Eastburn says.
"One reason you might need to connect your universal I/O in parallel with an existing control system is because that system doesn't offer any cybersecurity protection," Eastburn says. "In that case, it would be a bad idea to take a PLC and connect it directly to your business. But if your universal I/O has security embedded, you can wire those I/O signals and send encrypted data."
And it all comes back to the plug and produce aspect of universal I/O.
"The real key there is the long-term scalability," Eastburn says. "By bringing down the cost and making it easier to get connected and maintain the system over time, you don't have to do a little project every time you bring in a new device or a new I/O points. This means that we can scale up systems much larger than we have typically done while having it more tightly integrated with the rest of the organization."
Companies in this article