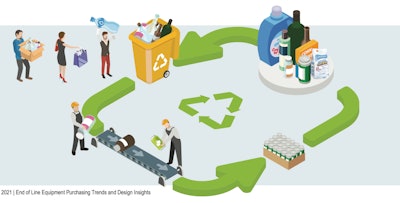 PMMI Business Intelligence
Sustainability is a prominent trend in the packaging industry due to consumer demands combined with manufacturer goals to reduce material and energy usage. Three trends in particular are driving innovations in EOL machinery:
Lightweighting
Lightweighting is the reduction of material usage by designing (or redesigning) packaging so that it requires less material to produce. In EOL operations, lightweighting can be implemented by using thinner films for wrapping, thinner or smaller labels, or by designing secondary packaging with less empty space so pallet stacking can be maximized. "End-of-Line Equipment Purchasing Trends and Design Insights," a report by PMMI Business Intelligence, states that eliminating empty space and fill waste can reduce fill material costs by up to 20%.
Thinner packaging, films, and labels are ultimately less durable, which means that EOL machinery such as wrapping/bundling machines or automated handling equipment must be flexible enough to handle different material strengths.
Post-Consumer Recycled (PCR) Content Increasing
As 60% to 70% of consumers across all industries state they would pay more for sustainable packaging, environmental impact is driving the PCR trend, as is the increase in global legislation aimed at reducing the amount of single-use plastic and expanding the use of recycled materials.
At the forefront of this movement is the EU, which passed a law in 2019 requiring bottles to be made from 25% recycled plastic by 2025 (increasing to 30% by 2030).
Some of the largest CPG companies in the US increased their PCR material use by a combined 22% in 2019, and one of the single largest retailers in the US increased the use of PCR material on their packaging lines from 0.5% in 2018, to 9% in early 2020.
PCR materials can sometimes result in variances in opacity, thickness, and strength, and can impact packaging lines, so packaging machinery configurations should be adjustable to these variances to maximize efficiency.
---
---
Energy Reduction
Reducing the amount of energy used in operations is another sustainability strategy for 38% of the manufacturers interviewed. And while some of these energy reduction strategies – such as utilizing more solar energy, reclaiming water, and upgrading HVAC systems – only indirectly impact EOL packaging, many other approaches are directly related to machine and system modifications on packaging lines themselves.
Seeking out machines that are more energy efficient, integration of robotics, a reduction in reciprocating movement, or the integration of frequency controls for motorized movement are all energy reduction strategies that OEMs can explore.
Even simple alterations to machine design can impact overall energy usage, such as shrink-wrapping systems that use up to 90% less energy when compared to older machinery, or improving the efficiency of existing machines through timed shutdowns and regular maintenance.
Production schedules are now factoring idle time into energy reduction strategies and shutting machines down between runs can reduce electricity usage. EOL machines that can enter an idle mode but be easily reawakened to resume production are becoming increasingly popular with end users.
Manufacturers are also looking to improve electricity efficiency by regularly maintaining and monitoring existing infrastructure. Air compressors, for example, generate $3.2 billion worth of wasted energy on a yearly basis. Packaging facilities can reduce compressed air energy costs by as much as 40% through upgrades, maintenance, and monitoring.
Source: PMMI Business Intelligence report 2021 End-of-Line Equipment Purchasing Trends and Design Insights
Download the FREE report below.