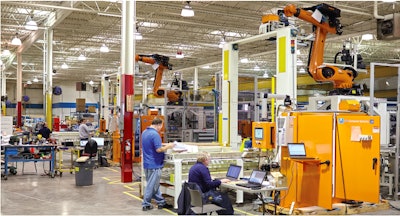 As a diversified, acquisition-driven business spanning many brands and divisions, the larger Barry-Wehmiller model has long been creating greater than-the-sum-of-its-parts value for customers. Within the Barry-Wehmiller packaging platform, the evolution of BW Container Systems is an example of the tightrope walk between well-defined corporate strategies and processes, and letting constituent companies do what they've always done best.
Confident that a positive, sustainable balance has been struck, Pete Carlson, president, BW Container Systems, senses a new inflection point. Armed with new robotics capabilities and a stronger connection to the larger Barry-Wehmiller packaging platform—Hayssen, Pneumatic Scale Angelus, Synerlink, Thiele, and Accraply—he aims to refocus on strategic markets.
Meanwhile, Mike Jerger, BW Container Systems' VP of operations, is doing a balancing act of his own. Maintaining efficiency across locations in Romeoville, Ill., Lynchburg, Va., Loveland, Co., and Doncaster, U.K., he is balancing resources and carefully aligning capacity to meet market demands.
Global capacity sharing
Barry-Wehmiller has been growing via acquisition since 1987, and what is now BW Container Systems has done the same since 1999. Jerger, who arrived at BW Container Systems by way of the Fleetwood brand, says the many brands within Container Systems—Fleetwood, Ambec, CBI, Goldco, Wyard, and others—were acquired and pooled with the usual Barry-Wehmiller goal of providing a larger capability to serve the market. But even with great intentions, this model often precipitates isolated, disparate businesses. Each acquisition adds an independent facility with its own history and its own way of doing things. These individual histories are often completely foreign to the other companies that make up the group.
"When you take that structure into the market, you're left with a reality check. You realize that you're limited in how you can best serve the market needs," Jerger says. "We found very quickly that we needed to change the way we operated. We needed the equipment to be able to stretch across boundaries and break those silos. We needed to leverage all of our facilities as seamlessly as we could to serve this market."
Jerger and his team went about an aggressive plan to accomplish this, developing what he now calls a global capacity sharing capability. First steps included standardization of hardware and software infrastructure so the facilities could share engineering data, processes and outcomes in real time.
A lack of unified infrastructure, left unchecked, can be a killer to multi-location and multi-market OEMs. According to Jerger, it's difficult to ask a set of disparate facilities to use engineering that originated elsewhere. A rigorous cross-training program was another early priority, so both the tools themselves and the people using them were speaking the same language. The company also standardized its ERP, using an Infor system. This gave it a platform by which otherwise independent warehouse parts and materials inventories could be visible locally, yet be shared across the facilities. The system can also be used for advanced capacity planning.
"We can make a purchase decision in one facility, but we can receive it in a different warehouse where we're planning on building the machine, all part of a shared capacity mindset," Jerger says. "Currently, I couldn't tell you that all of our product lines can be made at all of our facilities. But at least 75 percent of our product lines—from conveyance and palletizing/de-palletizing to custom robotics—can be manufactured in any one of our four facilities at any given time."
The global capacity sharing model affords BW Container Systems much more flexibility than the incremental business units separately enjoyed. More importantly, customers experience compressed lead times and improved velocity of business.
"We are working on next steps, even with engineering, to take this capacity sharing to another level. The market is looking for quicker and quicker turnarounds for solutions," Jerger says. "Really, it's leveraging all of our capacity; and not just the physical capacity, but also the knowledge base. We have to be very quick to market, very flexible, and that ability to do that across multiple facilities has been a huge advantage in our ability to serve those needs."
In part, this can be practical, as in the case of clearing a work backup in one location by relocating a portion of it to another. But the bigger picture is the market strategy; being able to adapt to a predicted demand. Global capacity sharing gets all facilities pulling in the same direction to shift capacity around in anticipation of a market possibility, and be ready when an order comes in.
Don't throw the baby out with the bathwater
Carlson cops to the fact that there are indeed internal organizational and efficiency advantages to sharing the manufacturing capacity load across facilities, but insists that it isn't the real impetus. For him, global capacity sharing is just a practical method of keeping up with ever-changing customer needs. Also, it's a compromise between keeping constituent companies' individual personalities, and presenting a unified BW Container Systems front.
"Some organizations that are put together through acquisitions tend to maintain their companies' own unique abilities and characteristics, both physically and in pools of knowledge," Carlson says. "I would say that what we have built allows those
organizations to maintain their unique identities and keep the things that make them competitive in their market spaces in the first place. But we've also established a common approach to our culture and to the tools we use, enabling our teams to feel they are part of a larger team and that they can use things across the enterprise."
From a sales perspective, the combination of local identity and standardized capabilities allows for a best-of-both-worlds scenario. A buyer requiring vast resources and flexibility, according to Carlson, will see it in BW Container Systems. Or, one of Jerger's longtime Fleetwood customers will still see the advantages of Fleetwood's continuity. It just depends on the customer.

Romeoville facility manufacturing and assembly While able to produce just about anything on BW Container Systems' menu, the Romeoville facility's primary concentration is to turn over equipment—mostly can and can-end equipment—in assembly tests. Where it makes sense, some machining and fabrication is still done in-house, and there are press brakes, machining and turning centers available. But increasingly, machining and fabrication are being outsourced, a process symbolized by the remaining hulk of an older 2D laser currently being pieced out and sold off, not to be replaced.
"At some point in our history, I noticed I was running a facility with seven CNC mills, and that wasn't the business we were in," Jerger says. "Now, we concentrate on designing, building, and testing the machines themselves, not the parts that go in them."
Currently, north of 80 percent of components are contracted out and delivered complete.
"Our internal fab augments the external, be it specialty items, some stainless and the welds in particular, and the track work that we push can-ends through. That process is extremely particular to clean, precise cuts, small tolerances and welds, so we keep that in-house."
And while the Chicago-area location affords ample materials sourcing and capable job shops and fab centers, BW Container Systems' global capacity sharing mindset is pervasive, even to sourcing.
"Our shared capacity has allowed us to build a very impressive model, so while Chicago is fertile ground, if we find the right partner, we'll use them," Jerger says. "We don't restrict our supply if it's the right model for us, and eventually for the market to gain through us. Chicago is a big part of it for all of our facilities, just due to the base and size of what's here, but we're flexible in this regard."
Applying lean in manufacturing and assembly
Meetings get a bad rap, and rightly so in many cases. But through trial and error, BW Container Systems' project teams have transitioned to the idea of what they call daily touch meetings. A team will have daily meetings at the assembly site with all parties, including assembly floor operators, the engineering team and the engineering leaders. They use a planning board to keep track of status.
"We've realized that a meeting isn't a waste of time when it's held effectively. In fact, it's a lot more efficient to continually meet," Jerger says. This is because dynamics are constantly changing, especially in the test process. Timelines are fluid. Without the meetings, BW Container Systems' test and assembly teams would have to rely on crossing emails, individuals submitting reports, all on their own timelines, at their convenience.
"It's not worth it. By the time I gather the materials and wait for everyone to check in, I could walk out, or as they say in the lean world, do a gemba walk, and get the most realistic view as to what's happening," Jerger says. "This is a daily gemba, a real world barometer. Yes, we have shortage reports, and yes, we have all the kind of classic elements of a manufacturing system, but you have to ground yourself in reality. That's what these touch meetings do for us."
Once a machine is accepted by the build and test team, it arrives at the facility's crating and shipping center. While assembly and testing can occur almost anywhere on the floor that isn't otherwise occupied, the crating center is an organizational reshuffling point at which several different product lanes converge. These lanes consist of completed machines, and portions of multi-section machines broken into manageable pieces and sequenced for shipping.
"In lean, in general, you're trying to make things visual, so it's easier for everybody to understand the goals," Jerger says. "I remember many years ago, before we started using visual boards, I'd walk out of a meeting thinking we all understood what was happening when. But if you asked around, you'd find people had three different views of what the target was for some reason. It's just human nature, so we tried to make it more centralized, especially when we're dealing with finished sub-assemblies going out to ship. That's one spot where visual manufacturing and lean are so important to us."
Applying lean to culture and people
The company-wide commitment to people and culture can be exemplified in Barry-Wehmiller's department of Culture and People Development (CPD). The department takes traditional HR functions and blends them with lean ideals, humanizing continuous improvement.
"CPD is really about helping our leaders become the kind of leaders that focus on their people as people," says Jennifer Abella, global director, business development and strategic marketing, BW Container Systems. "I help to coach, guide, and be a soundboard to give them the support they need as they work through situations.
This is applied in how we recruit, how we onboard team members, the type of experiences we want to give to other people, and how we work with people to steward their careers."
The Organizational Empowerment initiative is also a company hallmark. One Organizational Empowerment program of particular interest that manifests itself strongly within BW Container systems is termed the L3 Journey, or the Living Legacy of Leadership. This program really acts as an extension of lean's continuous improvement philosophies, extended to the personnel that make up the BW Container Systems teams.
"This is a formal continuous improvement system that combines traditional "lean" tools interwoven with a genuine concern to assure team members are integral to the process and recognized along the journey," Jerger says. "A great example is our team member recognition program that allows any team member at any time to submit improvement ideas. We validate every input and respond to each team member. In the past couple years, we have implemented more than 300 meaningful improvements collected from across all areas of our business."
Projects in these programs run the gamut of complexity, from comprehensive value stream mapping to a recent example at the Romeoville location in which team communication was improved through the creation of a common space for sharing and dialoging on frequent daily pain points.

What's up next for BW Container Systems
Since its inception, what now goes to market as BW Container Systems has strategically acquired the requisite building blocks to create a strong, foundational footprint around beverage containers, especially cans. In fact, the beverage, brewery, and container manufacturing markets account for a majority of the company's volume (roughly $160 million).
Carlson certainly likes where BW Container systems stands, but the recent trend of consolidation in these markets poses a sizable risk. Compounding this, a few key clients and a few large projects account for a significant of BW Container Systems' business. Aftermarket has been a key contributor, but it's a stable market, not a growing one. Carlson recognized a need to diversify and balance the offering by diving even deeper into long-standing strategic market segments. Specifically, wine and spirits, pet food, food and personal care are major target areas into which BW Container Systems hopes to grow. Their route into these markets seems to be a major investment in growing robotics expertise; palletizing robotics specifically.
Carlson is particularly proud of this initiative. The company already has more than 250 robotic systems installed globally, largely end of line packaging and palletizing, and also robotic case packing. Only three years into its significant turn into robotics, BW Container Systems is already one of North America's largest robotic integrators, partnering largely with Kuka.
The company is also making significant investment into the Ambec brand conveyor and conveyor controls lines, particularly the ADAPTA line, as buffering and accumulation technologies could continue the inroads into personal care, wine and spirits, and foods/pet foods.
A third pathway into new markets is via new hires. The company added nearly 50 new faces, accounting for 10 percent of its total workforce, within the last year. Most of these hires haven't been to augment core business, but to broaden the knowledge-base in strategic markets.
"Our team members that are great in our core markets? Let them be great. Use those skills and abilities they have there, instead of stretching them," Carlson says. "Then, we'll add this new found depth to our strategic markets, and focus on showing them what we can do and the solutions we can provide."
This focus on new markets ladders up to Barry-Wehmiller's larger packaging platform. Although Barry-Wehmiller's packaging platform is comprised of a number of disparate, the degree of alignment and collaboration between these entrepreneurial companies is accelerating rapidly.
"I think very soon, clients will start to see us act more as an integrated platform, when it's warranted," Carlson adds. "Part of our strategy of shared success across every business in the platform where we go to clients, and look to better leverage the collective strengths and the financial wherewithal of this business. That is something that's very new. I think you'll see it and it will manifest itself at PACK EXPO—a much more packaging platform-integrated BW Packaging Solutions platform booth and personality than you have seen before."
Global growth perspective, and challenges to meet
BW Container Systems has demonstrated the ability to weather the ebbs and flows of packaging business at a global level, with four facilities sharing capacity. But that doesn't mean that measured, organic growth is grinding to a halt.
"We are very focused on organic growth at the moment, and strategic acquisition has always been core to Barry-Wehmiller's growth strategy" says Scott Smith, global director, business development & strategic marketing. "All of our manufacturing facilities came to us as part of acquisitions. We look for companies with whom we see a fit, both culturally and strategically, in our core markets, as well as in adjacent ones. Today, our acquisition strategy has changed to the point that many of the acquisitions done by Barry-Wehmiller today are in Europe. That is a major shift."
BW Container Systems will continue its organic growth cognizant of a changing marketplace. According to Smith, certain elements are kept top-of-mind as the company grows into strategic markets and new locations and acquisitions. More consolidation typically means fewer plants and thus fewer places for us to provide solutions, something that Carlson is keeping an eye on in beverage. Another challenge, especially to U.S.-based manufacturers, is the necessity to globalize their businesses.
"Today, multi-nationals corporations expect to be able to purchase the same quality products with the same level of service, anywhere in the world," Smith says. "Local parts availability, local language capabilities and local service anywhere on the planet can be a challenge for U.S.-based companies."
He says that economics could be a challenge for U.S.-based manufacturers as well. A stronger dollar not only makes our products more expensive, and thus more difficult to export around the world, it makes packaging equipment from Europe and Asia easier and more cost effective to import.
"We are fortunate to have the scale, financial wherewithal and global manufacturing capabilities to help us offset some of these challenges," Smith says. "We, and other PMMI companies will have to look very broadly and strategically at our both Domestic and Global strategies if we want to continue to be able to grow."