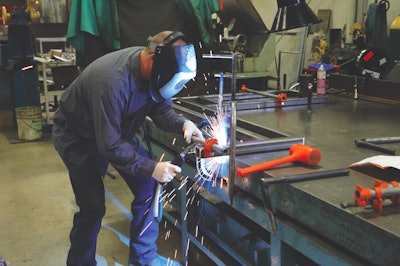 No machines are designed or assembled in Pro Mach's Covington, Ky. headquarters. But that's not to say that massive structures aren't being honed, tweaked, rethought, and improved daily in that glass building overlooking metro Cincinnati and the Ohio River.
What's under construction isn't physical, but it's every bit as real as the packaging and processing machines that Pro Mach's constituent branded OEMs manufacture and support.
Pro Mach is known for having an eye for acquisitions that they can integrate into their structure. But common knowledge about the company doesn't always include the hands-off role that corporate plays in its brands' day-to-day operations. Pro Mach acts as a pit crew or mechanic, while its brands' keep their hands on the wheel, humming along, and doing what they do best, according to company leadership.
On the late-July afternoon that PP-OEM visited Mark Anderson, CEO, and John Eklund, VP, marketing, at Pro Mach headquarters, work was underway on a common, company-wide customer relationship management (CRM) system implementation. This constitutes heavy lifting, considering Pro Mach's 28 go-to-market brands, each with differing needs, sophistication levels, incumbent systems, and existing infrastructure.
Fitting with Pro Mach's management strategy, the details of how to implement a CRM aren't dictated from on high. And don't expect to hear grumbles from the brands about having to contort themselves as square pegs to fit into the round holes that corporate gives them. Pro Mach represents a sort of inversion of that stereotypical corporate-to-brand dynamic. Though Pro Mach corporate has its fair share of ideas, for the most part ideas bubble up to corporate from the brands instead of the other way around.
General manager-focused corporate structure
"The organizational structure can best be described as led and driven by the general managers at each of our brands," Anderson says. "Each one is focused on a particular set of customers and a particular type of equipment that is serving a particular market that has a particular set of competitors."
Typically, an acquisition's first general manager will have been the businesses' founder/owner/president or an operations/engineering/sales lead prior to having been acquired by Pro Mach. He says those general managers know their corner of the space better than anyone. They've hand-selected their teams and developed them over the years—and that's a balance that Anderson is careful not to upset.
"My brother and I started Matrix Packaging in a garage more than 20 years ago and built it into a multimillion-dollar business," says Marc Willden, general manager of Pro Mach's Matrix brand. "Having the business we started be acquired by Pro Mach opened new doors for the company and widened my personal horizon much more than I ever anticipated. It was a great step for Matrix and our entire team."
Anderson echoes Willden in terms of keeping successful structures together. "The people in those organizations want to work for that person. Corporate's role is to help those general managers get the most advantage possible out of being a part of Pro Mach. Then the people at their organizations know who their boss is. It's the general manager there in the corner office, right there in their facility. Sales and engineering alike at each brand are able to say, 'That's my boss and here's what we make. That's our customer, and here's what we do,'" he says. "It's crisp, it's clear, and everybody gets it. We have to retain the high performance teams that are working at the brand level—that's job number one."
Pro Mach's corporate office serves as the connective tissue between like-minded general managers in closely related arenas, and acts as a support system for all brands. And Anderson says that's the way real leaders want to work. The people successful at running Pro Mach brands are people who want to run a business, not work in a matrix organization without the freedom to lead their teams.
"I'm looking for [MLB hall of fame relief pitcher] Mariano Rivera. Someone who will tell me to get off their mound and let them pitch," Anderson says. "My job is just to get them into a position where they have the resources and support to do their job as well as possible."
Bret Ranc, president of secondary packaging, agrees. "One of the key attributes of an entrepreneur is that he or she thrives on the challenge of steering an organization towards growth and success," he says, "Today, I have more responsibility and a larger scope of activities than when I was the general manager of our Shuttleworth brand. And I'm still in the material handling business. I haven't left the industry I've built my career upon."
Decisions go up the chain, execution comes down
The brands are organized into related business groups, which are headed by senior leaders who report to Anderson. Currently, bottling/capping, primary packaging, pharmaceutical packaging, flexible packaging, material handling, labeling/coding, end of line, and integrated solutions comprise the eight Pro Mach business groups.
"Meanwhile, we're extremely lean in the corporate office, with only 20 or so people. We don't have a Pro Mach corporate VP of operations. We don't have a VP of sales. We don't have a VP of engineering, and I don't intend to change that," Anderson says. "We want those general managers and their teams as close to customers as we can possibly get them. That's how they grew their business to be attractive enough for us to acquire them in the first place—why would we mess with that?"
With such a decentralized structure, Pro Mach has developed a ground-up way of evolving and sharing ideas.
"It's about finding the best practices, highlighting them, and getting consensus and adoption across the brands," Eklund says. "With so many brands, it's inevitable that someone's doing something amazing in pretty much every functional area, whether that's marketing or sales, engineering or operations. There's a lot of benefit to just being able to find those instances, shine a light on them, and then share them with the rest of the group."
The result is a council approach; similar to how PMMI structures its committees. Pro Mach councils include an engineering council, a purchasing council, an aftermarket council, a marketing council, a sales council, and others, each consisting of a group of leaders coming from the respective functional area within the brands. Each of the councils supports a strategic area the company has committed itself to maintain across all brands.
"The engineering council took on the challenge of adopting PackML standards across the brands, no small task," says Bob Williams, general manager at Pro Mach's Axon brand. "The give and take, the sharing of best practices, and the practicalities of adoption were all sped up by the council approach. At PACK EXPO every year, I believe Pro Mach leads in the number of machines that are PackML compliant. This would not be the case if each brand tried to greenfield the new processes on their own."
In another example, the aforementioned common CRM project was the final verdict of the sales council. At one of their regular sales meetings, the council agreed the time was right to implement a common CRM system for all brands. Now, this isn't to say that there were many sad faces in Cincinnati when the council reached the conclusion that a shared, common CRM would benefit the whole.
"It's fair to say corporate planted the seed," Anderson says. "I can't say we weren't trying to steer things in that direction a little bit, but it didn't happen until the sales leaders got together and said, 'OK, we're ready to do this.' What's great about it is once we reach a consensus like that, we put our resources into making a world class system and we never stop investing in it. We get it running and then we keep making it better. There are a lot of things that would be easier, from my perspective, if we led more from the top. Standardizing platforms makes things easy from a corporate perspective," he adds. "But the easy way isn't necessarily the right way."
"The conditions were finally right for it to happen," Eklund adds. "We're not going to push the change until the conditions are right for the change to happen."
What Pro Mach is looking for in an acquisition
In general, Anderson is looking for companies that are well managed, have a known brand, have good customer relationships, and have a good reputation in the industry.
"We're not looking for turnarounds," he says. "We're not looking for broken companies to buy on the cheap and try to fix."
Pro Mach's 'critical success factors' list emphasizes that its brands be number one or two in their served markets. So, when the company applies this overarching goal to its company's acquisition strategy, it inevitably arrives at desiring market leaders with good installed bases, strong customer service, and capable management.
"We're typically looking for products or services that we do not have. That may change some day, but right now we are looking for solutions, or customer bases, or both, that we don't have, where we can be introduced to a new segment. Then, we can help that particular brand take advantage of the other Pro Mach solutions that we can sell into that new market, as well as open that new brand up into new markets we already serve," he says.
One thing that Anderson keeps rooted at the center of the acquisition strategy is that Pro Mach is in the business of acquiring brands that already have a lot of brand equity, many with thousands of machines deployed in the field.
"There's a lot of value to that, it's not strictly a bottom line financial thing. There's a lot of customer relationships baked into that brand that's already emblazoned on the side of those machines," he says. "That's why we try to position those brands first, supported by the 'power of Pro Mach.' It's not about Pro Mach necessarily, it's about those brands."
The company's recent acquisition of NJM Packaging, Montreal, Québec, Canada, is a good example of both a foray into previously uncharted waters—in this case, solid dose pharmaceutical packaging, as well as a brand with a century's worth of equity. But the relationship is a two-way street in terms of extending reach. Currently, NJM makes some products that could have a horizontal appeal, but the company's focus has long been on the pharmaceutical space. Pro Mach has more than 220 sales pros that could help open doors for NJM labelers or capping systems into other markets through the multi-industry relationships they already have (hence the common CRM initiative). Meanwhile, differences in regulatory and validation necessities between pharma and the markets Pro Mach has traditionally served had led the company to keep the front of the pharma packaging line at arm's length. But NJM had been navigating those waters for decades, and brings a strong aptitude in this area. In this sense, each acquisition provides a healthy dose of cross-pollination potential.
Anderson says that more acquisitions don't happen than do, so the company is usually in some stage of discovery or due diligence. Pro Mach uses all of its resources to identify companies to consider acquiring, sometimes it's as simple as a personal or PMMI relationship. Sometimes, a company is trying to sell its business and they reach out to Pro Mach, or they may reach out to the company's private equity owner. Pro Mach also has third party firms that reach out to potential leads to see if they're interested, especially if there isn't an existing relationship. If there's mutual interest, then Anderson and his team will begin to see what the business rationale is and what the company's financials look like.
"Our strategy is to acquire these businesses and in most instances we want them to be freestanding general managed businesses," Anderson adds. "Ultimately, it's about the people. We're buying the business because we like it as it is, so we want the people to stay. Then it's how can we help that company be more successful or how can that company help us be more successful? Either one is fine, but both is better."
Sometimes the rationale can be to take a primarily North American company international, or otherwise expand a regional footprint. It could even be to open up a key account to an acquired OEM. A new acquisition may never have been able to get a certain customer account, and Pro Mach might have the relationships that help them get an opportunity with that account.
Eklund's message for a recently acquired business goes something like this: "We have 30,000 customers and an installed base of more than 100,000 machines. So whomever you want to do business with, we're probably already doing business with them, and we can help get your foot in the door. A cold call can now be a warm call. However, it's still up to you to provide the customer the best solution and earn their business." Having delivered that message a time or two, he says it can be pretty powerful.
ProCustomer and an emphasis on machine uptime after the sale
An example of the importance of customer relationships for Pro Mach and its brands is the ProCustomer program. It has been Anderson's experience over 11 years of acquiring companies that post-sale service can be a difficult thing to manage among stand-alone OEMs, whether small and family-run or large and professional in scale. ProCustomer is a formalized strategy that aims to refocus general managers, who may only be thinking about the next technology or the next big customer, on customer service after the sale.
It may seem counterintuitive for a large corporation with the resources Pro Mach enjoys to place aftersales support back at the feet of the brands. A separate aftermarket division is commonplace among diversified portfolio OEMs. But keeping those with the most expertise at the closest point to the customer is central to Pro Mach's general strategy.
That isn't to say there aren't efficiencies. Service resources themselves can be shared within business groups, as a case packing service technician may be able to troubleshoot related equipment connected to the case packer. But when it comes to answering the phones, listening, and solving problems, the first line of contact is at the brand level.
Anderson tracks customer service and aftermarket improvement, and says that it's a demonstrable fact that as Pro Mach's ProCustomer best practices are brought to bear on a new acquisition, their top and bottom lines improve.
"That's why we are structured the way we are structured," Anderson says. "I theoretically could have a huge aftermarket parts organization, a huge service organization, and deploy them as needed. We don't do that because we think we have a better way to do it. We want our service and parts team to be industry experts in their technologies and applications."
ProCustomer is a process of sharing, across brands, aftermarket best practices in a number of different categories of reactive, interactive, and proactive service. At the general managers' meetings, these are the sessions that get the most engagement and generate the most value to the brands.
"It's because people are sharing real life customer service experiences," Eklund says. "For instance, one general manager might talk about implementing a program, saying, 'We've done some amazing things by proactively reaching out to our customers to do audits,' or 'We've done some great stuff with parts kits, and here's how it went, here's what we learned along the way.' In all the market research out there you see one uniform complaint against OEMs industry-wide among end users and that is the lack of good customer service and support after the sale. It's about helping these customers keep their machines running more efficiently and maximizing their uptime—if you do that then you've moved beyond machine vendor and you've started to become a business partner."
Fellow general managers pick up on others' successes and implement them, recognizing that this kind of sharing forum is rare for more isolated OEMs.
Also supporting ProCustomer is a full time employee at the corporate level devoted to helping all the brands take advantage of best practices. So much focus on customer service also serves to leverage a major advantage Pro Mach has over imported competition. Some European and Asian machinery exporters may be able to compete on technology or quality, but if Anderson has anything to say about it, they won't be able to compete on service.
Growth fuels private equity
Pro Mach is on its fourth private equity owner since its inception in 1998, a dynamic that has worked out well for the company according to Anderson. But he recognizes the negative perception that private equity has for taking over companies, 'leaning them out,' not investing in them properly and ultimately, deteriorating the business for short-term gains.
That's the perception, but the reality of private equity, at least as Anderson, Eklund, and Pro Mach have experienced it, couldn't be any further from the truth.
"What is great about private equity is that it's in the sweet spot between a small private company and a huge public company," Anderson says. "There are no dividends, so the earnings we generate go right back into the business."
The trick, he says, is that private equity requires growth. Private equity owners are investing in Pro Mach because they trust the management team. "It's almost like a geometric progression," Anderson says. "The business is growing. Our earnings are growing. There's more cash to invest and we re-invest all that back into the business, creating long-term value in the process."
Wait, back into the business or back into yet another new acquisition? No, you read that correctly—the first stop for the earnings coming in through growth is back into existing brands. Pro Mach allocates capital based on what the brands need, usually in the form of R&D investments, new products, capital projects, software tools, or new hire needs. Only once those itches are scratched does Anderson even think about acquiring new companies.
"I can honestly say that I've been at Pro Mach for 11 years, and I can't recall having ever turned down a general manager at a brand for resources that they've felt they needed. Now, the idea has to make sense, and sometimes we have to help shape and refine the scope of the request with what we've already learned at other brands, but we're always able to make it happen. These folks have strong business minds, they're experts in their corner of the space, and we want them to continue to be the experts," he says.
"Our organic growth and acquisition strategies are key ways we build long-term value in the company," Anderson says. "The type of acquisitions we make combined with the way we integrate them into the company fuels organic growth, which in turn helps open the door to other acquisition opportunities. I think in a lot of ways this is the antithesis of what people expect from a private equity owned company."
So while Pro Mach's acquisition model is highly visible to the industry, it's just one route to maintain the growth needed to fuel the private equity structure. It's used because it vastly accelerates and simplifies growth into a specific strategic area where institutional knowledge might not exist.
Even if there is institutional knowledge, the acquisition route can be best. In the case of automatic shrink-wrapping systems, there was more than sufficient technical capability within Pro Mach brands to develop a line. But Stork-Texwrap, Washington, Mo., which it recently acquired, already had an established brand with an existing set of customers, an existing set of distributors, a large installed based, and people that already knew the marketplace.
But the very public acquisitions take a back seat to investment in existing brands, something that isn't always as visible to the industry.
These two complimentary tactics—reinvesting into what they know, and acquiring into what they don't—also provide a natural guard against overlap in competency and redundancy among the brands.
OEM risk and unlocked value
Anderson explains that Pro Mach unlocks value with this model and private equity ownership structure.
For a family-owned OEM doing, say, $10 million in revenue, the need to put, say, $1 million into a product development project is daunting. As a small business owner responsible for your own bills, an investment back into your company is not always seen as necessarily a good investment if it's your money. That's coming out of someone's pocket. That's Johnny's braces or Cindy's college tuition. So, that owner asks himself, is this product development project really what he wants to do with his money? What if the product flops, or there's a change in the market? Pro Mach is able to spread the risk over 28 unique businesses and counting.
"We have a strong board of directors with a lot of talented executives that have been very successful at growing companies. Again, it's about growth and value creation, not about cost reduction," Anderson says. "It's about how to invest in the business and grow the business, and because we're successful, we have capital to invest. We are dying to invest that. We are actually asking the brands to invest in their businesses faster than they might have been used to."
What's next
Pro Mach is constantly monitoring trends, and the sales team is in the trenches trying to address these trends with customers. Whether that's retail ready/shelf ready, multi-packing, competing with private labels, co-packer outsourcing, or anything else, there's always a problem to solve, or more appropriately, an opportunity to pursue.
When Anderson's team identifies trends that it thinks are pervasive and imminent, they go to the drawing board to either look at new product development, or maybe more importantly, look at acquisitions. He asks himself, 'How can we participate in that trend?
Pro Mach feels that flexible packaging, for instance, is growing faster than rigid, and has invested heavily in the flexible-facing businesses. The retail ready trend has, at least partially, led to an acquisition. IPak Machinery, Richmond, B.C., Canada, was attractive to Pro Mach due to its strong tray forming capabilities. And aforementioned Texwrap was attractive because of its multi-packing and bundling capabilities, which lend themselves to retail ready packaging as well.
"Another trend we've seen at a growing number of end users is their internal engineering teams are shrinking," Eklund says. "And naturally those companies are increasing the amount of engineering services they outsource. They're relying more on integrators and OEMs to help them successfully commission both engineered and turnkey packaging lines." This trend led Pro Mach to their recent acquisition of Zarpac, which has been in the engineering services and integration business for over two decades.
E-commerce is also on Pro Mach's radar. Amazon is taking share, making huge investments in the packaging space in their distribution centers.
"Changing markets aren't anything new to us or to anyone in packaging," Anderson says. "We do business with all the major e-commerce companies. We are in their distribution centers supporting their needs and helping them move as much product as possible. I am not in the business of predicting who the e-commerce winners are going to be—they've all got great ideas and business models. I think how it's going to play out is the same way it has with retailers—as they sell more products and gain more power with the CPGs, they're going to drive new and innovative package formats that are more compatible with the additional handling required for their channel. And though that's a different package than the traditional retailer, it's the same basic challenge that has driven continued innovation within the packaging machinery industry."
And that's no different than what retailers, wholesalers, grocery stores, convenience stores, and any other channel has demanded prior to the emergence of e-commerce as a channel. It's just a new set of packaging problems to solve, and it manifests itself at every customer. Now, it's 'Here's what they're asking us to do, how do we do it?'
"It's not the engineering capability for us to actually develop a product that's the problem. We find that we almost always can develop a competitive product at a competitive price," Anderson says. "It's the spec. It's getting the engineers focused on something the customer is going to buy, and creating a spec, creating a market."
Due to the sheer volume of exposure Pro Mach has to customers in all industries and fields, and due to the resources it has to monitor and evaluate market spaces, staying ahead of the curve and anticipating markets is something Pro Mach is uniquely positioned to do.