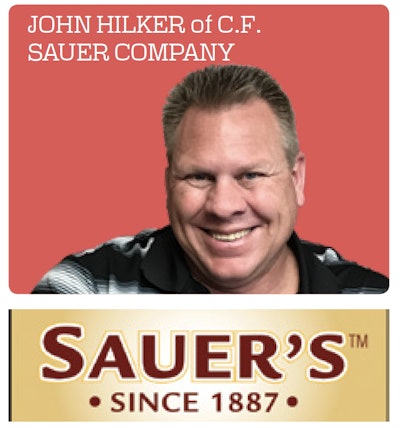 Every year, John Hilker, of food manufacturer The C.F. Sauer Company, has a plan for the engineers and packaging experts he sends to the PACK EXPO shows in Chicago and Las Vegas.
Two years ago, the company, which makes wet and dry condiments, extracts, sauces and spices, was in need of a specific machine for its liquid factories. Hilker sent a team of 15 people to the show with a mission to find this type of machine. Everyone was told to scour the show floor, take notes on what they saw, regroup and then, the next day, go back to the show with a "hit list" of the most interesting machines. They were to get more details from those OEMs about what the machine does and how it is built in order to do a high level evaluation and determine if it would work for the company. In that process the team was able to identify 17 different machine manufacturers, which was narrowed down to seven during the show and, after the show, whittled down to three OEMs. Ultimately, the decision came down to one OEM's machine—which is being purchased.
Last year, the group performed a similar exercise. But this year, despite the fact that there is a need for more equipment—from cappers to case packers—there's a new plan.
"We are changing up who's going," says Hilker, who is C.F. Sauer's senior vice president of plants and manufacturing. "I'm sending continuous improvement people and some maintenance people." Because this year, it's not about finding new equipment, but finding new ways to make existing machines more productive and extend their lifecycles, he says.
PACK EXPO International, which brings 2,500 exhibitors together with 50,000 attendees with over 100 free educational presentations, is a valuable venue for finding solutions to packaging problems. But, because there is so much going on at the show, it's important to enter the halls with a mission in mind, Hilker reiterates.
Don't go overboard on OEE
While Hilker is always looking for the latest and greatest technology to keep his production lines humming, he says the majority of machine maintenance is performed by the C.F. Sauer staff, not the OEM. So, when it comes to data collection, Hilker is looking at the entire production line, which may include 12 pieces of equipment. That means, it doesn't make much sense for the machine builder to integrate sophisticated analytics and OEE resources into their one machine.
"Just give me a signal. Tell me what the error is on the asset, and you don't have to worry about OEE," Hilker says, explaining that with a simple sensor, he can choose the input and output and how it correlates to the rest of the line. For example, when a production line is interrupted, the operator must record what asset went down and the reason it went down. "My system picks up the time and does all of the cataloging of the asset and summarizes it into something meaningful and actionable. To me, that's the reason the OEM needs to be able to send me a signal, but they don't need to calculate OEE on the machine."
What's more important, Hilker says, is that the OEM invests the time upfront to understand the end user requirements. And for that to happen, there needs to be clear, concise communication.
For example, C.F. Sauer has had trouble in the past during the site acceptance test (SAT) phase. Specifically, there has been miscommunication around the need for training as part of the process. In previous experiences, Hilker has had conversations about training, and thought it was understood, but it didn't happen easily and caused more financial headaches. Now, the expectations are defined upfront in the purchase order. SAT's are a separate event from training.
Hilker uses the OpX Leadership Network's factory acceptance test (FAT) protocols, which is a standard way to define criteria and expectations around equipment operability prior to leaving the suppliers factory. Now, he's extended those protocols to the SAT. To that end, the SAT version includes a timeline of deployment and equipment instruction.
"The CPGs are often trying to squirm out of paying for training by making it part of the SAT," Hilker says, noting that he is willing to pay extra as long as the training expectations are clearly define—and met. "We may agree that we'll do five days of SAT and three days of training after the SAT is finished, and we put that in the contract."
Hilker believes in the OpX tools because he is very involved with the OpX Leadership Network. He attends meetings and provides insights and opinions into ways to fill the "whitespace" around common operational problems. "We identify areas of business in which we all have a pain point, and where there is no good guidance on what we ought to be doing because every organization does something different."
For example, OEMs have to learn many different methods of how manufacturers buy machines, which can be stressful when trying to understand how each organization works. By using guidelines like the OpX's recently released RFP template for the CPG industry, which offers a systematic thought process, both the OEM and the end user can have greater clarity and understanding of capital project requirements.
Hilker says the OpX group is proud of the guidelines, which is why those who are influential in making them are also committing their organization to using them. "Since my involvement with OpX, I've been using the work products and threading them through my organization." This approach gets his internal team on the same page, too.
As pointed out earlier, Hilker approaches every operation in an organized manner—be it getting his team to focus on the PACK EXPO show floor or getting the team to focus on the factory floor. It's all about having a mission and a plan.