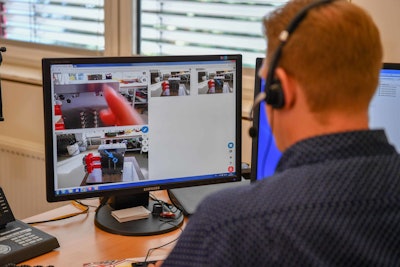 OEMs understand that any machine downtime will cost their customers money. With that in mind, last year, Milacron, a manufacturer of plastics processing equipment, rolled out a suite of IoT applications, called M-Powered, that enable the machine builder to provide remote diagnostics and maintenance services to their end users.
An important part of the M-Powered portfolio is the use of artificial intelligence (AI) to capture machine data that can be turned into predictive maintenance capabilities to avoid costly unplanned downtime. Optimizing asset utilization is critical to productivity and profitability.
"It is important that Milacron customers make money with our machines. So, our mission is to help customers get the maximum utility from the capital that they spend," says Giovanni Spitale, president of customer service and support at Milacron.
The initial M-Powered project began with a targeted application designed to identify real world opportunities. For that, Milacron turned to its longtime partner, ei3, a supplier of IoT services, to build in the predictive data collection capabilities of M-Powered.
The ei3 data scientists collaborated with Milacron's engineering team to investigate the OEM's machine behaviors to find the kinds of failures and difficulties the equipment experiences, as well as depicting where the machines excel. The OEM and supplier's long-time partnership sped the process, as a large amount of data had been gathered from Milacron's customers and handled by ei3 over the years. This data was thoroughly analyzed for instances correlating with failures, which would provide opportunities to learn how to mitigate, prevent, or delay downtime. Similarly, instances of success were sought to learn how to make other machines perform to the same capacity.
The data pointed to three parts of Milacron's equipment, the heater bands, hydraulic pumps, and feed screws, that would benefit from being monitored closely for predictive maintenance.
For example, if a hydraulic pump fails it results in metal shrapnel being sent through the hydraulic system that results in a messy, prolonged cleanup. Milacron and ei3 set out to find the signature patterns a hydraulic pump may go through to confidently predict it needs to be replaced. Using a combination of complex mathematics, AI, machine learning, IoT, cloud and edge computing, they can see the combination of signatures that, when put together, allow them to predict that the pump will fail, which really drives value.
"This is a huge problem for our customers, and if this failure is allowed to happen it can take hours or in some cases days of downtime to recover," Spitale says.
According to Dr. Stefan Hild, the head of the ei3 center in Zurich, the ei3 system is anchored around a data collection box, which ei3 calls the "Amphion". "Once connected in the machine's control cabinet, the Amphion will interrogate the machine controllers for data regularly, continuously generating real-time process variables. Once the edge gateway has collected the data, it will relay that using our secure network to our data centers," says Hild.
Once the data arrives at the data centers, algorithms developed specifically for the OEM's equipment operate to analyze the data and create insight that will be relayed back to Milacron through a dashboard interface so they can monitor equipment parts for failure.
A feature that made hosting an IoT suite through ei3 appealing to Milacron was the ability to license their IoT services under their own brand or product name, which is the M-Powered predictive module, so that the algorithm is entirely owned by them. Ultimately, this capability within M-Powered helps customers avoid monetary losses and unscheduled downtime.
"We've had dozens of cases where we caught either a failure that the customer did not know about or one that was going to happen soon, and we replaced the failing part proactively," Spitale says. "We are approaching this from a practical perspective because our customers are demanding it. At the end of day, it's about using the capital they spent to drive the products they sell. Our job is to make sure our customers are making money and we are doing that through this relentless focus on asset availability."
Companies in this article