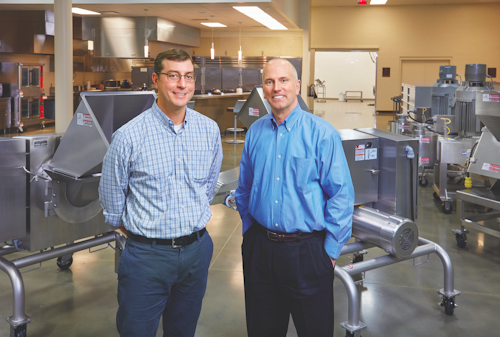 With varying degrees of success, large, multinational machine builders have long tinkered with ways to thinly, evenly, and efficiently spread their resources around the world. Packaging and processing OEMs' global footprints are frequently dotted with manufacturing facilities and assemblies in Mumbai, Jakarta, or Manchester, in an effort to share assets, tap into unique local pockets of labor, and generally decentralize so as to eliminate bottlenecks.
And on the plant level, many of these manufacturers have become devotees of lean manufacturing, creating efficiencies at every turn, limiting inventory, and obsoleting legacy machinery in favor of more streamlined machines and systems.
Urschel Laboratories, Inc., a Chesterton, Ind.-based food cutting machine builder, bucks both trends. More than 95 percent of the machines, down to proprietary metallurgy and heat treatment of the knives and blades, are machined, fabricated, sharpened, assembled, finished, and shipped out of Chesterton. Plus, the company has devoted itself to keeping large inventories of machines, componentry, wear parts, knives, slicers, and whatever else might need replacing, in stock and ready, supporting even the oldest machines in the install base.
It seems counterintuitive, but Urschel successfully maintains close control over most every part and machine in a single, homogenous facility, while still hanging its hat on immediate machine or parts availability the world over. 
Taking in-house global?
For a manufacturer with a 140-country global reach, a product line of more than 50 current machines, and a world-leading cutting machine install base including decades-old machines that the company still supports, Urschel keeps things remarkably centralized.
"Outside of the motors, a few electrical components, belts, and other odds and ends, we manufacture everything right here," says Tim O'Brien, VP of sales, Urschel. "We primarily do that for quality reasons—we're maintaining very tight tolerances. Also, we still have machines that are in the field and have been running for 50 years. People can still order parts for those machines, and they fit. If we were to outsource and demand that degree of quality and tolerance, it wouldn't be practical. We can just do it better here, and do it less expensively, with economies of scale on our side."
The company maintains an Asian headquarters in Singapore, a European headquarters in Leicester, England, and has a strong South American presence in Rosario, Argentina, among other sales centers and third-party distributors across the world. But those offices are primarily sales, support, service, administrative, and stocking locations. Little to no assembly, much less manufacturing, happens at these locations. 
How has Urschel accomplished balancing a single manufacturing location with keeping the whole globe supplied? They've had to go big with their Indiana facility to keep it all under one roof. The company's long-standing location, acquired in 1957, underwent nearly 30 additions over the years before an all-new facility would be unveiled in late 2015. The constant push has been to accommodate more inventory, keep more capability in-house, and ward off stockouts, which company culture considers to be the ultimate failure.
"The big thing about Urschel is our parts availability for the machines we sell," O'Brien says. "The last thing we want to have happen is a customer shut down a production line because he can't get a part for his machine. The Urschel claim to fame is being able to deliver our parts promptly when the customer wants them. And when they get the parts, they fit and work."
To err on the side of having a guaranteed inventory of parts and machines, some of the hyper-efficiency found in other leading OEMs is sacrificed. Of course, Urschel has been incorporating lean principles into its manufacturing operations for many years, but its approach has been measured and practical.
"Since product stockouts are very bad for our customers, the market is just extremely sensitive to them. We tend to produce a larger safety stock than other companies," says Bill Schott, executive director of manufacturing. "We are always modernizing production processes to eliminate waste, reduce work-in-process, and change set-ups more quickly. Many areas of production have been converted to cellular manufacturing, and we've been incorporating processes and equipment that reduce both labor input and cycle times. However, we've chosen to forgo many lean initiatives that greatly reduce raw materials and finished goods, or programs that put more responsibility on our suppliers. We are also fortunate to have a highly-skilled workforce, so adopting some lean concepts that take flexibility away from those people making parts doesn't fit with our culture."
Moving on up
In 2012, after 45 years, the incrementally growing facility finally became constrained by surrounding businesses and became land-locked, capped at 250,000 sq. ft. This gave rise to plans for a new, 385,000-sq.-ft. facility resting on 160-acres of greenfield for plenty of room for future growth. Construction initially began in 2013, and all departments had been transplanted by August of 2015. Departments were transitioned in stages to limit disruption. In some cases, they operated simultaneously in both locations to keep production purring along. Aftermarket as a percentage of overall revenue remains proprietary, but it's apparent that devotion to support and parts availability is a primary differentiator for the company.
"We had two big requirements when we decided to make the move. Number one, we wanted the move to be seamless to our customers. So, we did a lot of work to build up all of our inventories, knowing that we were going to have some production disruption during the move," O'Brien says. "The other thing that was extremely important to us was we wanted 100 percent employee retention, and not have any one leave us because of the location. So, we checked that box by finding a place in the area. Having ticked both of those boxes, we considered it an extremely successful move."
Recession proof?
Urschel had been family-owned and operated since its 1910 inception, and is currently on its fourth generation of family leadership. Over the years, one of Urschel's key sources of pride has been in retaining its workforce. In fact, O'Brien says that employee retention has been a big plus in weathering a shrinking skills pool in technology and machining.
"We hire people from executive level to entry level machining jobs. Backgrounds are varied, but we hire honest, intelligent people looking to make an entire career at Urschel, and that has worked for us. People tend to have long careers here, as evidenced by a turnover rate of less than 1 percent, and no attrition after our move," he says.
In fact, O'Brien says that since 1910, the company has never had a layoff or reduction in staff because business has gotten slow. It only tempts fate to say the business is recession proof, but two factors—one general, the other specific to Urschel—have decidedly been in the company's corner. First, it serves the food industry, and people need to eat regardless of the economic landscape. And second, the strong focus on aftermarket and install base support means that downturns in capital machinery sales can be spelled with replenishment of, or focus on, parts and component inventory.
"No matter what the economic conditions are, people who work at Urschel are going to be gainfully employed and work at least 40 hours a week, if not more," O'Brien says.
Employee-owned company
But in 2016, Rick Urschel, president and CEO, announced to his 400 Chesterton employees that after 106 years, the company had been officially sold. Remarkably, he wasn't booed off the stage. That's because over a few weeks in March 2016, shareholders had been tendering their stake in the company to Urschel Laboratories' Employee Stock Ownership Plan (ESOP).
An ESOP is a program designed to give the employees an ownership interest in the company without any out-of-pocket cost to them. Shares are allocated to employee accounts on an annual basis, and upon retirement, an employee sells shares back to the ESOP for cash. It also gives the employees control over future transfer of the company, making it difficult to sell to or merge with another company.
"I know it sounds trite, but we really feel our employees are our number one asset," says Bob Urschel, chairman of the board. "My father always taught me that it was the family's job to look out for the employee and decisions should always be made with them at the forefront."
Bob's son Rick echoes this sentiment, and believes it's why the company has had such low turnover. "The decision [to sell] was not an easy one to come by, and it had been in the works for more than a year," he says. "I'm grateful that the shareholders of this company were able to realize what an incredible benefit this would be for the employees, and what a wonderful way we could reward them for their years of dedicated service. Now, instead of the Urschel family being stewards of the company, we have passed that obligation to the employees. Today, we're all part of the same family." 
Metallurgy, heat treating, and precision machining
While Urschel has always used premium materials, Schott says that a real differentiator and innovation driver in the food size reduction machinery industry has been at the point where the rubber meets the road, or rather, where the dicer meets the carrot.
"Our knives come mostly from the austenitic family, steel alloys with 300 and 400 grades of stainless, for most of the parts. There are always new metallurgical advances, and we take advantage of them. We have metallurgists on staff that monitor and even develop our own proprietary alloys," he says. "We try to grind and buff and polish to the sharpest edge we can. We're very proud of our knives. It helps drive a lot of the parts business."
One key to constant advancements in blade technology is that it can immediately serve to upgrade older machines. Urschel customers are not stuck with old technology just because they have a 20- or 30-year-old machine. That said, newer machines can have an even greater impact, and even further augment increased volume, production speed, etc., but that's up to the customer.
Another factor is that the quality of the blades themselves translate directly to the quality of the slices or shreds in the finished product, so being able to control the metallurgical quality of the blades is essential. Having a heat treat department on site, and being able to manufacture everything on site, is another way to control for a consistency of quality that would be difficult to achieve across many facilities worldwide. The company's fully equipped machine shop hits extremely tight tolerances, translating into consistent slices and dices. From grinding shavs to honing boars for bearings, precision in machine design directly correlates to precise cutting, and that serves yet another purpose.
"Let's use the fresh cut industry as an example," O'Brien says. "Generally speaking, you want to cut product as cleanly as possible because that's going to maximize your shelf life. That's obviously good for the processor. Another vertical we sell to is the potato chip industry. The thickness of that slice is very important because a rougher cut might absorb a little bit more oil in the fryer. That affects the weight of the bag, it affects the color of the chips that comes off the fryer so all of those things are really critical. I'm just talking about two industries here off the top of my head, but it's true in different ways in all of our vertical markets. That cut quality is very important."
Striking a balance with hygienic design
It stands to reason that sanitary design is a core competency and cornerstone of machine design at Urschel. On a practical level, that has meant constantly improving surface finishes, removing blind holes, minimizing fasteners in the food zone, and other familiar routes to avoiding pathogen accumulation and promoting sanitary design. O'Brien says the company has long been ahead of the curve out of simple necessity, as they serve the food industry. But this can be equal parts exciting in the innovation of hygienic design, and frustrating in the occasional lack of pull from the end user.
From a manufacturing and engineering standpoint, Urschel can—in terms of degree of sanitary design and finish—reach above and beyond what any industry could foreseeably need, even in the shadow of looming FSMA enforcement.
"There are an awful lot of examples where we can put a very high finish on a piece of equipment or change some things that could cost some money, but in a lot of cases, the market's not willing to pay for that," Schott adds.
So, O'Brien and Schott sometimes find themselves trying to change hearts and minds, demonstrating ROI of improved sanitary designs, especially in light of legislation. Of course, FSMA is the name of the game in the U.S., but Urschel is global, so each market plays by a unique set of rules. Also, each main vertical market Urschel serves has different aspirations in hygienic design, as meat and dairy may have more stringent needs than fruit and vegetables.
At the time of the interview, O'Brien was just returning from a food processing show in Portland, Ore., where he participated in a sanitation track. He attended a similar meeting for the fresh-cut industry not long before, and will likely be having similar discussion during ProFood Tech, to be held in Chicago April 4-6. 
"It's difficult, but we do what we can to communicate to customers and other industry suppliers and hopefully come to a consensus as to what's best practice so we're all on the same page," he says. "And the processors have to be careful about what they need and what they don't need, they've got to run a profitable business. And although x2 is better than x sanitation, if they aren't going to have any problem with x, do they really need to pay 50 percent more for it? That's the balance we're always striking, and there's no single formula to follow."