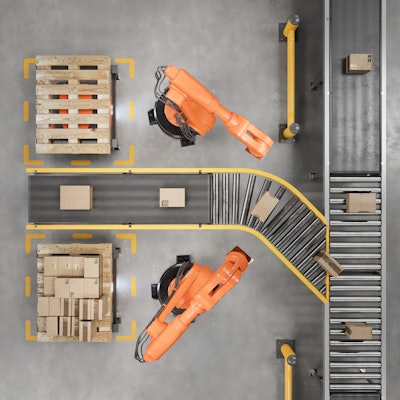 Getty Images
Advances in machine vision and learning made robots even more valuable at the end of the line, according to PMMI Business Intelligence's 2022 report "Robots and Cobots: An Automated Future."
These emerging technologies enable more efficient pallet stacking that does not require extensive reprogramming to change product type or configuration, for example. Cobots are also being deployed in transport packaging, especially as cobot payload capacities increase. These stronger cobots enable SMEs to more readily adopt robotics for applications at the end of the line.
Robotics Growth Predictions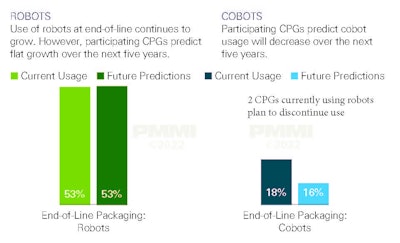 The result: a majority of CPGs now use robots at the end of line. The technology is especially useful for larger operations.
"We could not operate without our robots and cobots due to the numerous products and packaging patterns," according to a process and automation engineer at a leading beverage company quoted in the report.
However, participating CPGs in the PMMI survey predict that growth will flatten in the near future. Currently, 53% of surveyed CPGs use robots in end-of-line packaging, but those CPGs expect no change in that number in the next five years.
For cobots specifically, participating CPGs expect a decline over the same timeframe, from the current 18% usage down to 16% in the next five years. Two surveyed CPGs are currently using cobots but plan to discontinue use.
An engineering director at another large beverage company noted a full commitment to robots, saying "all our lines across the U.S. are using robotics for palletizing; we aren't using any cobots at this time."
Applications for Robotics
Robots and cobots are currently used in palletizing to build efficient pack patterns, reduce palletizing time, minimize carton gap, and offer measurable productivity, reconfigurability and increased line flexibility. Other applications for these technologies include case/tray handling, labeling, inspection and material loading.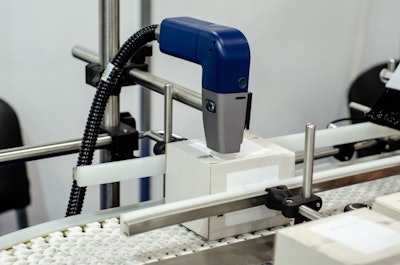 Robot-based solutions are being applied to labeling operations in industries where labeling is of the utmost importance, such as pharmaceutical production.
Robot-based visual inspection of incoming bottles is analyzed, an appropriate label is printed, and that label is then applied by a robot to the bottle. The label is then inspected again to verify it matches the bottle when exiting the process.
By using this completely automated and robotic system, pharmaceutical manufacturers are able to accurately label products and efficiently verify that accuracy. This is an essential process that must be error-free at pharmaceutical manufacturers required to comply with DSCSA (Drug Supply Chain Security Act) regulations.
Mobile Robots on the Move
While autonomous guided vehicles (AGVs) have been in manufacturing facilities for years now, businesses are increasingly turning to autonomous mobile robots (AMRs) for internal transport solutions. 82,000 AMRs shipped in 2021, with shipments predicted to reach over 600,000 by 2025, according to an article by Mobile Industrial Robots.
More adaptable, flexible and cost efficient than AGVs, AMRs are being used to navigate dynamic environments and transport a variety of items, from raw materials to finished products.
The newest generation of sensors and AI-driven data are making AMRs flexible enough to be easily redeployed and smart enough to navigate a facility without the need for guided wiring or magnets.
Source: PMMI Business Intelligence, "2022 Robots and Cobots: An Automated Future"
Download the FREE report below.
Companies in this article