Getty Images
The packaging material landscape may see big shifts in coming years, according to PMMI Business Intelligence's 2022 report "Future of Packaging and Sustainability."
In the U.S., rigid plastic, flexible packaging and metal are expected to see the biggest gains by 2026, but the degree of growth will depend on the category they serve.
Overall, the report indicates material usage is expected to increase significantly across all categories, except home care. What this means for initiatives like sustainability is yet to be determined.
Food: Flexible Packaging Predicted to Pop
The greatest overall projected volume gain from a single material comes through flexible packaging in the food category, with over 10 billion in projected volume gains between 2021 and 2026. Rigid plastic is expected to be the second most popular food packaging material, distantly trailing with projected volume gains around 3.3 billion units.
Following closely behind in the food category are paper-based containers, with projected volume gains nearing 3.2 billion units. The report notes an increasing share of sales in folding carton packaging by 2030, driven by rapid growth of compostable and certified paper-based packaging.
The only material expected to decrease in the food category is metal, with an expected decline of about 467 million units by 2026.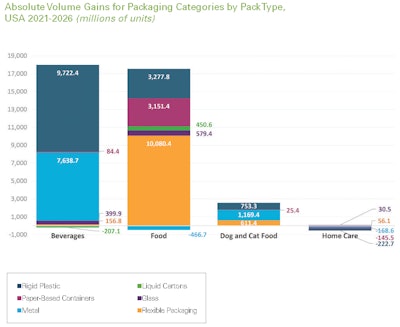 Beverage: Large Gains Expected for Rigid Plastic Containers
Rigid plastic holds the top spot in the beverage category, with projected absolute volume gains by 2026 exceeding 9.7 billion units. The projected popularity of PET bottles is driven by post-consumer recycled (PCR) content and growth in demand for beverages as a whole, the report says.
Metal takes second place in the beverage category, trailing behind rigid plastic with a projected growth of about 7.6 billion units in the same time period. Metal beverage cans might hold such a large share due to support from capital investments taken by water, water-like beverages and seltzers, the report says.
Only liquid cartons are expected to decrease in the beverage category, by about 207 million by 2026.
Overall, the beverage category is slated to see the greatest increase in material usage by 2026.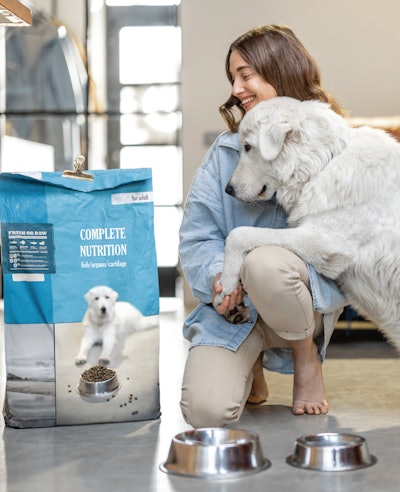 Pet Food: No Decline in Materials Usage
Dog and cat food hold a smaller share of packaging volume relative to the food and beverage categories. Despite this, it has seen the largest growth of any category in recent years, with a 5% compound annual growth rate (CAGR) from 2016 to 2021, the report says.
Metal packaging is set to be the most popular in the dog and cat food category, with almost 1.2 billion units in volume growth expected by 2026. Also in the running are rigid plastic and flexible packaging, expected to rise by 753 million and 611 million units, respectively.
Paper based packaging for pet food is expected to shift slightly, but still increase in use by about 25 million units by 2026. Pet food is the only category to see no declines across material types.
Home Care: Turbulence Ahead
Home care holds only a sliver of the packaging volume taken up by the beverage category, but there are a few significant changes taking place within it.
Rigid plastic is expected to see the greatest decline in volume by 2026, down by about 223 million units. Metal packaging is close behind, expected to decline by almost 170 million. Paper-based containers are also expected to decline, to the tune of about 146 million by 2026.
Flexible packaging shows the most promise for growth in the home care category, expected to increase by about 56 million units by 2026. Glass packaging is also expected to increase in the same period by about 31 million units.
Source: PMMI Business Intelligence, 2022 Future of Packaging and Sustainability
Download the FREE report below.
Companies in this article