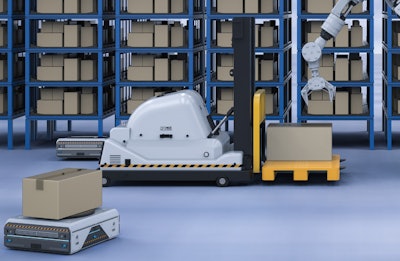 PMMI Business Intelligence, 2022 The Future of Automation in Packaging and Processing
The robot invasion is underway for consumer packaged goods companies, and the benefits they could bring are far from fiction.
PMMI Business Intelligence's 2022 report, "The Future of Automation in Packaging and Processing," predicts robots will be one of the "next big things" in automation over the next five years, backed by a record 39,708 units sold in 2021.
Adding up to $2 billion in sales, 2021's record was a 28% year-on-year rise over 2020, and a 14% increase over 2017, the previous record year. Over half (58%) of sales in 2021 went into non-automotive sectors, and the food and consumer goods sectors saw a 29% year-on-year rise.
Outlook for robots and cobots
Robots have increased consistency and accuracy in plants and have been vital in keeping lines running when staff availability has been poor.
They are seen as the best fit for helping to resolve labor issues, with over 90% of CPGs surveyed for the report saying robots and cobots (with emphasis on robots) have helped to address labor shortages in their plants.
That's not to mention other areas ripe for robotics, such as quality control with weight and label checking.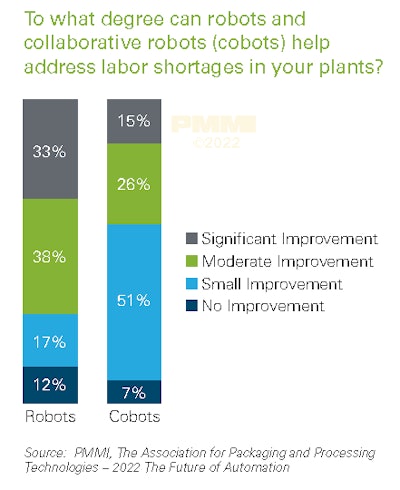 Collaborative robots (cobots), on the other hand, tend to lack the speed CPGs need. Over 50% of surveyed CPGs think cobots could only have a small benefit (51%) or no benefit (7%) to addressing labor shortages.
Cobots do have the upper hand in installation. Robots are more difficult to install in a plant than cobots, which could be why more respondents (12%) think robots would have no benefit.
Once installed, robots can operate much faster and with higher payloads than cobots. Some CPGs say cobots actually operate at a slower pace than manual processing.
Flexibility is the watchword for many CPGs, though, which is another area where cobots have a distinct advantage. In addition to easier installation, cobots take up less space.
Space is a huge premium for many CPGs as they often operate in smaller or older buildings. It is clear from CPGs that future developments in robotics will require smaller robots that can cope with higher payloads and operate in constrained spaces.
CPGs still gravitate toward robots due to the speed and weight limitations on cobots. However, advances in technology mean that cobots can increasingly deal with higher payloads, though the cost of these larger cobots has not fallen as much as that of smaller payload models.
Mobility will also be a key factor over the coming years. As demand for flexibility on production lines grows, mobile cobots will increasingly be seen as the go-to solution for CPGs.
Currently, around 27% of CPGs deploy cobots in their plants. With the combination of size, ease-of-install, and mobility working in their favor, that figure is expected to rise to 57% over the next five years.
Cobots on the move
Cobot mobility is being achieved by mounting the robot arm on an autonomous guided vehicle/autonomous mobile robot (AGV/AMR). While the combined cobot/AMR emerged a few years ago, this particular solution has not yet found a mass application in industry.
The main barrier here is that achieving collaboration between the functional components (AMR base, cobot arm, industrial camera, etc.) is technically challenging and costly.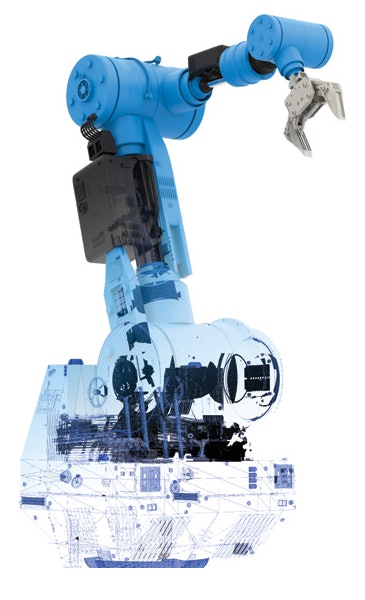 But Interact Analysis forecasts that in 2026 over 10% of the industrial robots market will be taken up by mobile cobots.
Small and medium-sized enterprise (SME) companies are increasingly interested in cobots owing to the low capital outlay required when compared to industrial robots.
Their high degree of mobility and flexibility and their ease of use are particular draws for SMEs who often do not possess the skill sets to operate more sophisticated robotic applications.
PMMI's researchers say they rarely see SMEs investing in whole lines of integrated robotic machinery, but they do see gradual automation of lines as SMEs experiment with new flexible and modular collaborative robot technologies.
Likewise, bigger companies are attracted by the competitive pricing of cobots and their ease of use. But the main attraction of these small robotic solutions for larger CPGs is that much-vaunted flexibility that cobots, particularly mobile cobots, afford.
Source: PMMI Business Intelligence, 2022 The Future of Automation in Packaging and Processing
Download the FREE executive summary below.