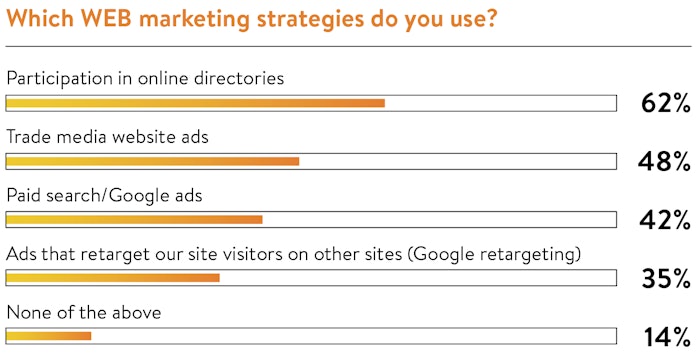 Marketing to packaging end users is increasingly complex. Communication options are diverse, buying teams are seeking tailored content, and marketers are pressed to optimize and accelerate the sales funnel.
It is with this backdrop in mind that PMMI Media Group recently released its Supplier Marketing Trends and Best Practices report. Within this report, OEMs can learn about:
The most popular channel strategies that packaging equipment and materials suppliers are pursuing—and where they may be falling short
Packaging marketers' lead management practices and performance norms
The biggest barriers today's marketers are facing and ways they are using process changes and technology to address them
The report is based on findings from PMMI Media Group's 2019 Packaging End User and Supplier Buying Insights Study, a two-pronged project examining both buyer and supplier perspectives on changes in the research and purchase of packaging machinery and supplies. The report, and others in the series, is available at: oemgo.to/pmgresearch
The following are just a few findings that you'll discover in the report as well as guidance for OEMs based on these trends. 
Passive web reach among suppliers
While 62% of suppliers participate in online directories, most are not using web techniques to steer and stay top of mind with buying teams. Retargeting visitors with ads—a simple and relatively inexpensive tactic any website owner can do—is used by only 35% of respondents.
What this means for OEMs: Many in the industry are missing a core piece of their marketing mix. Web advertising provides easy means to target and retarget ideal prospects with messaging that can flex based on product interest. These tools are vital to growing presence with buying teams and driving traffic to suppliers' websites. Simply put: Your customers and prospects are online, so you need to be as well.
The toughest obstacle to new leads
When it comes to lead generation, coming up with new content presents marketers' biggest obstacle: 41% ranked it as their top pain point. Many respondents stated they have difficulty accessing engineers and other technical sources to develop strong content. In many instances, writing and design resources are too stretched to perform the quantity of content development desired. Less than half of all packaging marketers go beyond offering basic spec sheets and product demo videos.
What this means for OEMs: Content serves a key role in growing and accelerating a sales funnel, and even more so as buyers increasingly turn to web resources to conduct research. Marketers will need to work harder and smarter when it comes to their content creation efforts, not only addressing specific prospect and customer needs but also taking advantage of versioning and repurposing to ease production burden. Some suppliers will be looking to external assistance for these efforts, as 25% indicated they are weighing investment in outsourced content marketing in the coming year.
Marketing automation is increasingly the norm
Marketing automation is designed to track top-of-funnel activities, such as when a prospect visits the supplier's website, opens an email, or fills out a form, and it can automate many repetitive tasks and reporting functions. As such, the platforms have the potential to significantly aid cross-channel marketing performance measurement, segmentation, lead nurturing, and scoring. Combined with sales information, these insights are valuable to ROI measurement.
Within the next year, the packaging suppliers who use marketing automation will be about equal to those who don't. Systems are diverse, with Pardot/Salesforce Marketing Cloud the most commonly used platform at 16%.
What this means for OEMs: Marketing strategies across the industry are poised for disruption, as suppliers become savvier about how they target prospects and customers—but only if these technologies can deliver on their promise. System implementation spans are long and the road isn't easy. Expect fits and starts in taking on automation. Most organizations will likely excel in using certain functionalities while finding others simply too much time or effort for near-term pursuit. With no clear platform of preference across the industry, those yet to adopt the technology will continue to face some challenge in vetting and selecting ideal programs.
To view more findings from the Supplier Marketing Trends and Best Practices report, see: oemgo.to/pmgresearch