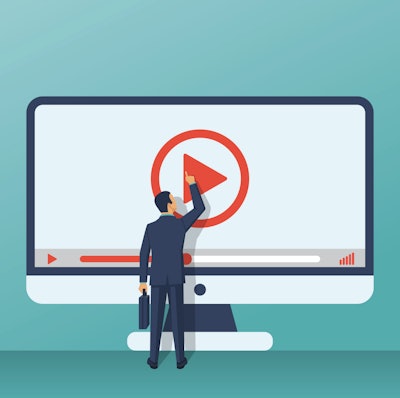 Virtual events present a major pipeline opportunity for machine builders and technology suppliers. Where else can you find high volumes of prospects—with exactly the right interests—who are ready to engage? As such, one of the most powerful tools in your marketing arsenal right now is a strong product demo.
Yes, being in front of a camera can be a bit daunting. But putting together a product demo for a virtual environment is far easier than most people realize. Here are some tips to help your team be successful:
Figure out preferred balance between demo and Q&A. You've got a short period to make an impression. When you have a great product, it's only natural that you'll want to be sure the viewers understand all its amazing features. But wait, the best demos give prospects just enough to recognize relevance and whet their appetite. The true power is getting the viewer to want to talk with your sales team to learn more.
Many demos therefore follow a pretty similar format: A spokesperson describes the challenge(s) prospects often feel, discusses how the product addresses these challenges and the applications for which it is best suited, and then shows the product in action while focusing on just a handful of key features. From there, it's best to transition the conversation to viewer questions, where you can start tackling more intricate details about features or practical aspects of adoption, such as typical install times, maintenance considerations, etc. Do not spend the whole period demonstrating your product and relaying every nuance, or you limit having the viewer engage.
Give yourself "supports" if needed. Feeling a little queasy at the prospect of speaking live in front of a camera? You're not alone. One way the pros relieve this pressure is to record some of their presentation in advance and then devote the rest of their time to answering questions, where conversation flows more naturally. Others may find it helpful to use several slides to guide the discussion. (Just be mindful to minimize the amount of content that you're making viewers watch and read at the same time.) Making use of this support can reduce pressure on your speaker while still satisfying the information needs of viewers.
Find opportunities to underscore live presence. Anyone can feature a product video on a website. What truly makes virtual events so special is the interaction. To make visitors feel like they are connecting with you "live" (even if some of your presentation may be pre-recorded), consider the following:
Ask questions, even if rhetorical. ("How many times have we all experienced X challenge?")
Instead of simply standing in front of your product, don't be shy about moving around. As you are describing how something works, walk closer and use your camera to zoom in on details. Viewers want to get a closer peek and feel like they are sharing a more intimate environment with you.
Don't be shy about relating real-life experiences. Take advantage of small opportunities to humanize your presentation by sharing the occasional brief anecdote (e.g., "I once saw poor integration lead to the worst flow-wrapping back-up—cupcakes were flowing everywhere!" or "I know a factory in Ohio that reduced changeover times by 30% simply by timing operators and making the performance data visible." These narrative elements make your presentation more memorable and can breed a sense of familiarity that helps viewers feel more comfortable engaging with you.
Do a few run-throughs to get used to timing. Most presenters do best with a few bullet points of what they want to cover instead of a formal script, so they sound most natural. But that doesn't mean presenters should "wing it" by any means. Practicing these points in advance is key, as it's easy to lose track of time when talking about a topic you are passionate about. The more run-throughs the speaker does, the easier it becomes to deliver each point succinctly. (Tip: Have a timer nearby, so the speaker can reserve enough time for audience discussion.)
Give viewers a reason for follow up. Before completing the demo, the presenter should encourage viewers to engage in some fashion. Ideas to keep the conversation going include:
Introduce a technical staff member who will be on-hand for one-on-one chat or phone discussions about particular applications.
Offer an exclusive white paper or case study to those who follow up via chat or email.
Encourage attendees to schedule a more detailed demo for their entire team, where you'll host the meeting during or after the show on your own preferred video platform (Zoom, GoToMeeting, etc.).
Remember: Your goal isn't simply to produce a product demo. It's to use the demo as a means to advance your engagement and sales efforts with prospects.
PACK EXPO Connects – November 9-13. Now more than ever, packaging and processing professionals need solutions for a rapidly changing world, and the power of the PACK EXPO brand delivers the decision makers you need to reach. Attendee registration is open now.