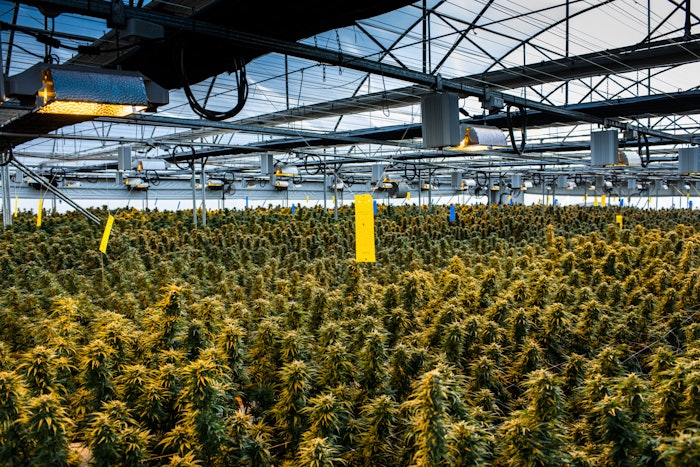 During PACK EXPO Connects, Healthcare Packaging editor, Keren Sookne, and PMMI Media Group's vice president of content, Jim Chrzan, spoke with cannabis CPG company Green Thumb Industries (GTI) about the growing sophistication of the cannabis packaging market and how they are relying on their OEM partners.
On behalf of GTI, Chrzan and Sookne were joined by Greg Flickinger, senior vice president of GTI, Cristin Rudolph, vice president of consumer products, and Madinah Allen, vice president of engineering. They all came to GTI after working at companies like General Mills, Snyder's-Lance, Procter & Gamble, PepsiCo, and Conagra. The three have taken their prior experience and applied it to the cannabis industry, which has presented its own set of challenges but has many similarities to the food and beverage sector. 
OEM Magazine condensed this Q&A to highlight equipment procurement and engineering. To listen to the full discussion and learn more about how GTI is approaching marketing, branding and packaging design, visit: oemgo.to/cannabisgti
Keren Sookne:  So Cristin, how do you approach a packaging design project?
Cristin Rudolph:  I wish I could tell you it's simple, but it's obviously a pretty complex initiative. If we break it down, we are really thinking about three critical things as we kick off any packaging design project. First and foremost, what does the brand stand for and how can we visually communicate that through the lens of packaging? The second thing is what does the consumer actually want? And that can range from purely functional to aesthetic, but really putting that consumer mindset at the forefront. Then the last part, which is arguably the most important part, what does the business actually need? And so, combining all of those things helps to set the north star for what we are looking for because there are obviously lots of trade-offs that can occur—and need to occur—as we are trying to find the right balance. Generally speaking, that's how we tend to think about things, which then obviously lends itself to lots of decisions, briefs, and ultimately, the packaging that you would see in market.  
Jim Chrzan: Medinah, from your perspective, how is packaging automation approached and justified with any new product launch there at GTI?
Madinah Allen: Once we understand [the business need] and what the consumer needs and wants, we then take a look at volume. A lot of that business need that Cristin and her team helps to define basically helps us establish a footprint and scale. So when we are going after automation solutions, we typically look from the lens of justifiability, financially, and volume. Now, we may go after specific automation or innovation to help us introduce a product that aligns with the strategic vision that Cristin and her team has come up with and has proven that it's going to be a business-imperative. So it's not just, 'Hey the numbers all have to line up,' but it does also have to fit the strategic portfolio. 
Keren Sookne: So Greg, speaking of volume, when it comes to a rapidly scaling company, such as GTI, what are some of the key operational challenges that you face in deploying automation?
Greg Flickinger: As Madinah said, first you have to have critical mass of volume and that begins to open the door for automation. As in most companies, when we start out with a product it can be fairly small. So, I would say one of the bigger challenges is that we go from manual to semi-automated, and then there's this white space in between before you go to full automation. One of the biggest challenges we find are some of the mainstream companies have large scale systems, and for us, they're far too big. So we have to scale them down. And some of the companies that are in that semi-automated version, they really can't scale up. So we kind of live in this white space of trying to figure out how to bridge from semi-manual to automation. And to me, the big challenge is finding OEMs that can provide equipment that has the flexibility to run multiple SKUs and then grow with us as our volumes grow. 
Keren Sookne: Speaking of collaborating together and constantly thinking about that next innovation, Madinah, I was wondering is there a cross functional marketing and engineering operation strategy for CapX by brand?
Madinah Allen: So it didn't necessarily start off as a brand strategy. It started off as, 'Hey we have all of these pieces of equipment that are similar in technology and function. So how can we use them all?' Now, it's more so leaning into what Cristin stated and having that brand definition. So now, we are looking by brand and saying okay these are the products that we have, which ones are the highest volumes that we have to go after from an automation perspective? And then we're asking the question, 'Does that Automation already exist? Who's willing to partner with us?' And the reality is with some of the traditional CPG companies that specialize in automation, we've been able to tap into some of them slowly. Initially, there was a resistance to work in the cannabis space. So, we did not have a lot of takers a year and a half ago wanting to trade in and say, 'Yep, you can use this technology, we'll help vet it out for you.' So, we've been on a journey, and in some cases, we've had to do some white board R&D exercises with some fabricators to come up with solutions in the interim because they're not readily available. 
Jim Chrzan: Greg, let's talk about workforce. What challenges do you face with a rapidly scaling company? 
Greg Flickinger: We face the same issues as every other company in the industry. It's so challenging to find people with the background in the technical expertise we need, and then, of course, we are all fighting to get to the same pool of talent. So that part is the same. I'd also tell you the OpX Workforce Engagement document—that to me, is the pathway. That's how we create our work system. So, we're leveraging that as we build our teams. The one thing that is a little bit different is that we are in transformation. When you think about timescales in the CPG industry, even though it's now moving very fast, you're in six-month, eight-month, or maybe a year by the time you're pulling automation and you're upscaling and transforming your workforce. Of course, they'd like to go faster but that's still very fast. For us, we're operating in one-, two-, and three-month segments because we're going from manual to semi-manual to first automation. And the growth is so explosive that the biggest difference is time frame—months and days versus many months in a year. 
To download the OpX Leadership Network Workforce Engagement document, visit:  oemgo.to/opxwfd
Jim Chrzan: Madinah, how does engineering support a product launch? What do you do to help?
Madinah Allen: It really is engagement with the cross-functional team from the point in which we've gotten those consumer insights and we've translated that into product specifications that then translate into process specifications. And once we have those specifications, we can go out to market leveraging our procurement team to source ways to automate or make a decision to not automate. It's based on what's available. So that's all a part of the decision tree. It's not just, 'Hey, Cristin came up with this really cool package and we have all this volume that we know that it's going to require automation to meet those goals.' And sometimes it's, 'Okay what is the impact operationally?' We look at it from a perspective of total cost of ownership.
Keren Sookne: How can OEMs that are interested in supplying solutions to this very rapidly growing industry best engage? I'm curious if there are sort of some keys to success for OEMs that really serve you guys as the brand owners?
Greg Flickinger: Solutions. If teams and companies are able to bring solutions to us and we have the need, that's great. The one thing that's a little bit of a differentiator is flexibility. We've got lots of different and unique products. So, we need pieces of equipment that are very flexible. We also deal with child-resistant packaging, and there are complexities involved with that, tamper strips, and all kinds of additional items that we have to put into our package. The most important thing, over and above those elements, is speed. So, when we need a solution, we need a solution in four weeks, five weeks, six weeks. We don't have the ability to design and wait for six or eight months because then, first mover advantage goes away, and we can't get into the market quick enough. So, speed is the key. 
Keren Sookne: It's a lot faster than in the pharma or the CPG side meeting those short lead times for machinery. 
Greg Flickinger: It's far faster, yes. Speed in business here is crazy, especially after spending 20 years in more traditional CPGs. And I think Madinah and Cristin would agree, we're operating again on time frames of days and not months. So, it's a fast-paced business. 
Companies in this article