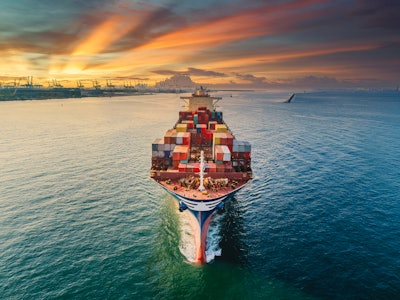 In January, President Joe Biden ordered government agencies to take action and require the wearing of masks in airports, on commercial aircraft, ferries, and all public transportation, while encouraging "masking across America." And, if we are going to be buying more face masks, why not purchase products that are also "made in America?"
When the pandemic reached the U.S. early last year, about half of the world's disposable masks were produced overseas in China. And as COVID-19 became a global healthcare crisis, face masks became essential and countries imposed restrictions on exports, which increased the worldwide shortages of masks and raw materials, according to the U.S. National Institute of Health's National Library of Medicine.
"All it took was stopping the supply of disposable masks produced overseas from coming to the U.S. for us to be critically impacted," says Raphael Kryszek, founder and CEO of Intrepid Protect, a manufacturing start-up focused on producing face coverings that are made at a new state-of-the-art facility in Los Angeles, Calif. It was the PPE shortage, dependence on foreign sourcing of goods, and a lack of quality-control standards that prompted Kryszek to make manufacturing in the U.S. a viable option. It is also his small way to create jobs and help bolster the U.S. economy.
And Kryszek is not alone when it comes to setting up shop stateside. According to a recent Thomas Industrial Survey assessing the ongoing impacts of COVID-19 on North American manufacturing, there is heightened interest in reshoring and hiring—mainly as a result of rethinking supply chains.
Of the 746 manufacturing companies surveyed in May and June of 2020, 69% are looking into bringing production back to North America, 38% are actively hiring, and 55% of the participants said they are likely to invest in automation, specifically as it pertains to production performance, process control, and product testing and quality. "With the growing appetite of reshoring and onshoring, respondents shared the top products they are looking to source domestically: metals (15%), machining tools and parts (13%), fabricated materials (13%), and PPE (12%)," the Thomas report states.
"Clearly, the pandemic has been an accelerant to reshoring, as well as nearshoring," notes Paul Wellener, a vice chairman at Deloitte LLP, and the leader of the company's U.S. industrial products and construction practice. "Nearshoring is getting into your time zone, like utilizing manufacturing in Central or South America if you are in the U.S., and reshoring is bringing production back into your country. But as things come back to the U.S., it is not coming back in the same way as it's being done in another part of the world. There is technology being added to help continue to drive the cost targets, quality targets, and safety targets that manufacturers have."
According to Wellener, automation and robotics play a significant role as a way to offset labor costs, but machine learning, artificial intelligence (AI), cloud computing, 3D printing, and supply chain management (SCM) are also aiding in the effort to reshore manufacturing.
Intrepid Protect, for example, uses servo motors and absolute and relative encoders on the assembly line and relies heavily on AI and machine learning to ensure quality control and predictive maintenance to optimize operations and accelerate the delivery of mask inventory at the lowest cost. "There are a lot of moving parts on the assembly line, and they fail due to wear and tear. But we've seen huge improvements due to AI and predictive maintenance cycles, which has increased productivity, efficiency, and reduces pricing due to our ability to minimize waste and minimize faulty products," says Kryszek. "We didn't reinvent the production of three-ply masks, what we did was streamline and automate it by adding technology to improve different parts of the assembly line."
The high price of production
In recent history, the U.S. has had an $800 billion/year trade deficit. The U.S. has been dependent on imports primarily because the cost to manufacture here is just too high. According to Harry Moser, founder and president of the Reshoring Initiative, his data shows that U.S. manufacturing costs are too often 20% higher than European manufacturing and 40% higher than China and other low labor cost countries, which makes offshore manufacturing more appealing from a cost-competitive standpoint. And the price is too high mainly because the dollar is too high, he said.
In addition, in the U.S. there aren't enough engineers and the country lacks the quantity and quality of skilled manufacturing trades people relative to the opportunities, hindering productivity growth that could overcome the impact of the U.S. dollar, Moser says. Plus, the U.S. has too many regulations, high corporate tax rates—which until 2017 were 35% when most of the world was around 22%—and there's no value-added taxes (VAT) here, whereas other countries apply it. "These are important things that we concentrate on and reversing those over 10-to-20 years would balance the trade deficit and get us out of the problem we're in," Moser says. "We call it leveling the playing field, and if you do that then it is a lot easier to get companies to decide to bring work back."
With that said, Moser agrees that the latest interest in reshoring is driven significantly by COVID-19. "From March 2020 through the end of the year, about 60% of cases of reshoring mentioned COVID-19 as one of the factors causing them to reshore. Some of those cases were COVID-19-related products, like masks, and gowns, and ventilators, and others were related to the company recognizing that whatever it makes, it is too dependent on China or offshore sources, and COVID-19 has educated it to not be so dependent."
In addition, from a longer term perspective, growth and productivity is the only way to raise the living standards. And the average U.S. manufacturing growth rate for the last ten years is 0.4%, Moser says. So, the lack of applying automation due to concerns that robots will take jobs, for example, has not helped U.S. productivity. In contrast, China's productivity is growing at 6% per year.
"If we don't invest in automation, we don't increase our competitiveness," Moser says. "Some people are afraid of automation because they'll lose their jobs. But throw away that statement, because the U.S. will lose more jobs to Chinese automation if we don't automate than we will to U.S. automation if we do. Since we are competing, you have to automate the best you can just to stay even."
But automation, too, must change to help manufacturers to compete. Moser points to Bright Machines, a San Francisco-based manufacturing technology startup that is transforming this space with its modular system for electromechanical product assembly.
The future is bright
The Bright Machines' Microfactory for assembly, testing, and inspection, is designed to get products to market faster by leveraging intelligent software and adaptive hardware, using computer vision, machine learning, cloud computing, and robotics.
The platform is first focused on hardware standardization and common interfaces that map to a common data model. On top of that, there is a set of algorithms and microservices which are put together via an API gateway for a common set of apps that take the manufacturer through all of the stages of automation, line planning, configuration of robotic cells, deployment, and service and support. Key to this is an AI-powered software layer that configures, monitors, and manages machines and operations.
"We are automating automation," says Bright Machines' chief product officer Abhishek Pani. To that end, Bright Machines will work across a variety of controllers and different components through an abstraction layer that makes it PLC agnostic. "There are a bunch of things happening through different vendors, but it is how we bring it together in one common interface and one common workflow and a common software tool."
To understand how the Bright Machine Microfactory works, and the speed at which this all comes together, one can just take a look at Argonaut Manufacturing Services, a U.S.-based contract manufacturer for the biopharmaceutical, diagnostics, and life sciences industries. With a focus on molecular diagnostics and parenteral drug products, the company currently has many active programs in the COVID-19 area, partnering with companies on the manufacturing and supply chain side.
For example, the company produces the kits for COVID-19 testing and collecting of the swabs and the liquid that preserves the sample to be tested to tell if someone has the virus. The company does both filling and packaging of materials, which could be different chemicals in different tubes that make up a kit. "We work with Bright Machines as an enabler to significantly automate the process to increase our scalability in the areas of filling and finalizing these kits," says Eric Blair, chief commercial officer at Argonaut. The benefit is the modularization that fits well into the operational budget. "It enables us to take what tends to be a capital-intensive process and turns it into taking the key parts and building it out for specific needs in shorter periods of time."
This is important for reshoring because there's a need for innovative diagnostic testing and drug discovery here in the U.S., and to do it quickly and at scale while mitigating supply chain risk. To do that, many companies will look to contract manufacturers, like Argonaut.
Read about the rise in demand for sustainable and flexible packaging in the contract packaging industry in the PMMI report "Contract Packaging and Manufacturing Packaging Operations, Trends and Challenges" by visiting: oemgo.to/contractpackagingtrends
Inventory made easy
Another technology that can speed up things in the supply chain and on the assembly line is additive manufacturing, otherwise known as 3D printing, which is a way to fabricate an object by sequentially layering material, such as plastics or metals, in successive cross-sections. It has been used by manufacturers to make parts while eliminating tooling costs and shortening lead times.
Part of the evolution of additive manufacturing is introducing new materials, like carbon composites, a strong lightweight material. Arris Composites, founded in 2017, is a pioneer of next-gen composites for mass market applications, including aerospace, automotive, and consumer products. The company developed continuous carbon fiber composites that can be combined with other materials in a high-speed process that brings 3D printing together with the traditional high-volume manufacturing method of injection molding.
The Arris Additive Molding technology is capable of manufacturing complex geometries using continuous fiber and it can integrate hardware with advanced electronics. So, for example, a smartphone enclosure could have the electronics embedded within the structure. In addition, combining additive manufacturing and injection molding creates repeatability for production volume at lower production costs—producing parts that are stronger than titanium at about 1/3 of the weight.
Skydio, a U.S. drone manufacturer, worked with Arris to redefined airframe designs leveraging the Arris Additive Molding carbon fiber manufacturing technology. It resulted in taking 17 parts in an assembly and consolidating it into one single, multifunctional structure that performed better, as there was a 25% weight reduction to increase range and speed of the drone, had better strength and durability, and, frankly, the part just looked nicer.
"Industrial design teams at consumer products companies are excited about the cosmetic latitudes we give them to make beautiful products," says Ethan Escowitz, CEO and founder of Arris. But the beauty of it all goes beyond aesthetics. "The ability to collaborate with customers and take the functional requirements for a single part or an assembly of parts and design something better is the key."
Skydio is a success story in that the drone company figured out how to innovate from the ground up and manufacture on U.S. soil. A lesson other companies looking to reshore can learn from. "One of the most important things about reshoring is that it requires rethinking how something is made," Escowitz says. Sometimes companies just look at a bill of materials to figure out what is made overseas that could be made here. "I think there are more disruptive reshoring opportunities that are more interesting…like taking advantage of new manufacturing technology…looking at the architecture to make a more desirable product, and picking the right location based on the customer supply chain."
Making it in America
Deloitte's Wellener notes that what is coming back to the U.S. shores is high-value products—not the nuts and bolts—but, like the Skydio drone, the highly engineered items, as well as even components that go into larger subsystems. So, there is a balancing act for companies considering what to reshore and how to make investments at the right time.
To that end, the Reshoring Initiative offers a free online tool, the TCO Estimator, that helps companies quantify all offshoring costs and risks. The tool helps account for all relevant factors—overhead, balance sheet, risks, corporate strategy, and other external and internal business considerations—to determine the true total cost of ownership. Using this information, companies can better evaluate sourcing, identify alternatives, and even make a case when selling against offshore competitors. In addition, Reshoring Initiative created the Import Substitution Program (ISP) to convince and facilitate importing companies to produce or source more domestically. Customized versions of ISP are available for U.S. manufacturing companies, technology suppliers, trade associations, economic development organizations, and manufacturing extension partnerships. Moser estimates that consistent use of the program would increase domestic manufacturing by about 10%.
For companies like mask-making Intrepid Protect, the labor costs, capital equipment costs, material costs, and technology costs, all factored into the equation when deciding where to build a facility. "It was a challenge," Kryszek says. But making masks in America was always the goal. "The founding principle of the project was to help the American supply chain and the American labor force."
Equipment is key to U.S. contract manufacturing
Contract packagers and manufacturers in North America will benefit from reshoring efforts, among other trends that are growing this industry segment, including mergers and acquisitions, e-commerce, customer demands for innovation, and the COVID-19 aftereffects. And that will impact OEMs, as well, as they will be buying more equipment, according to Carl Melville, founder and chief marketing officer at Melville Group during a webinar hosted by The Association for Contract Packagers & Manufacturers (CPA).
Automation, he says, will be the key to success for a few reasons. First, the pre-COVID-19 labor shortage and the current issues related to social distancing on the factory floor. Second, customer pressures for new things that require equipment adaptability. "If you look around at the machines getting attention at PACK EXPO, it is the ones with high-speed changeovers, flexibility, and easy washdowns, which work well in contract packaging and contract manufacturing environments, and they are investing in this."
Melville notes that customers are looking into contract packagers supply chain as well and asking questions around ethical sourcing, how they are handling waste, energy usage, etc. And when it comes to sustainability, contract packagers won't make decisions on materials. "But they need to adapt to equipment and format changes."
Brands are demanding renewed innovation from contract packagers and it is a great opportunity for them—and for OEMs—to rise to the occasion and create new value, Melville says.