Everything as we know it is about to change. As the industry faces unprecedented labor shortages and supply chain issues, OEMs need to make strategic moves and plans to differentiate their offerings, meet evolving end-user demands, and diversify their business model.
But they don't need to go the route of innovation alone. Having a strategic partner can help OEMs bridge technology gaps, create new revenue streams, and develop solutions that meet the dire needs of the industry.
At PMMI's annual Top to Top Summit, where end-users and OEMs gathered to discuss the state of the industry and key challenges that lie ahead, the main pain point for everyone in the room was the ability to grow their company amid a labor shortage. And the top priorities for the next 12 months were found to be workforce, automation, productivity, and supply chain, in that order.
You can access the full report from PMMI's Top to Top meeting by visiting: Key Challenges for Packaging and Processing Operations.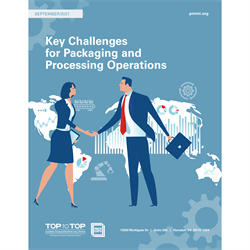 In the report, there was also a large emphasis put on partnerships between OEMs, end-users, and technology suppliers. The overall consensus: "OEMs should bring suggestions to the table and be better partners."
OEM Magazine spoke to OEMs and their strategic partners about how they are teaming up to create lucrative partnerships that move the industry forward while also addressing the key challenges and needs that the Top to Top meeting found critical. Here's what we found.
The digital transformation is happening
The last big technology shift in the packaging machinery space was when OEMs adopted servo technology, according to Mike Wagner, global OEM business manager, Rockwell Automation. And many years later, OEMs are experiencing the next wave of innovation through digitization.
During a presentation at PMMI's Annual Meeting called "Future Insights Pummeled by the Pandemic," Jim Carroll, a global futurist and innovation expert, spoke to how digitization will manifest in the coming years.
"As you digitize, the speed of the computer chip now defines the pace of innovation within the industry," Carroll said. "What happens when an industry becomes a technology industry? What happens when an industry becomes a software industry? The processing power of a computer chip doubles every 18 months while the cost cuts in half and that's what's happening with packaging machinery. Your customers are going to demand the latest, greatest capabilities and sophistication."
---
---
The digitization of manufacturing is creating new ways in which equipment is designed, maintained, and operated. It brings manufacturers and the industry one step closer to the Industrial Internet of Things (IoT), which aims to make information and communication between components, equipment, and manufacturers more accessible and seamless.
As OEMs embark on their digital transformation journey—from digitizing their operations to the machinery and equipment they produce—OEMs will need to rely on strategic partners, if not several, Wagner says.
"End users are looking for more insights into the machine, artificial intelligence, and self-diagnosing machines that can readjust themselves and can make improvements on the fly," Wagner says. "But OEMs don't have data scientists on call. So, they need a partner to help them define the architectures of the machines, the hardware architectures, and software, and then help them develop and take their knowledge and put that into a format that can be served up as the end-users start connecting that equipment within the plant."
Realizing the need for equipment that uses smart, connected controls, an open automation platform, and incorporates IoT devices, Harpak-ULMA partnered with Rockwell Automation and computer software company PTC to digitize its equipment.
The OEM is currently working with Rockwell to collect the data and use machine learning and artificial intelligence to conduct predictive maintenance and predictive analytics.
Learn more about Harpak-ULMA's digital transformation journey 
"Some of these digital transformations started three years ago, and these companies are reinventing themselves," Wagner says. "But the pandemic has accelerated everything."
The pandemic has created a big demand for machinery like Harpak-ULMA's that is performing predictive maintenance and churning out analytics. However, Rockwell's Wagner says there are still concerns around intellectual property (IP) protection as companies digitize.
"OEMs want to protect what they develop, but the end-user really sees themselves as owning any of the data around their production," Wagner says. "There's been an entire wave of development around how to segregate and protect data. So that's the piece that we're knocking down now. And we're finding that the benefit of accessing data outweighs the risks. And there is a new security technology that Rockwell is bringing into its partnerships with OEMs and end-users."
Over the past few years, Rockwell Automation has been acquiring several digital companies and cloud-based technologies to create a one-stop shop for OEM partners to start their digital transformation. The most recent acquisitions range from Fiix, Inc., an AI-enabled computerized maintenance management system company, to Plex Systems, a cloud-based manufacturing platform, as well as cybersecurity companies like Oylo and Avnet and adding Claroty to their Encompass Partner network.
"The first thing we work through is the security side, making sure that operations are secure," Wagner says. "We all know of the security breaches and shutdowns that have occurred. And that's why Rockwell has purchased cybersecurity companies that pair well with our relationships with other companies like PTC to connect IT and OT."
Bridging information technology (IT) with operation technology (OT) will be critical as OEMs develop and discover new service opportunities, and ways to access their equipment data remotely, Wagner says.
Inside the new OEM business model
In recent years, OEMs have explored different business models when it comes to how they sell and service equipment, including the Machine-as-a-Service (MaaS) model.
The MaaS model allows OEMs to lease equipment to end-user customers for a specified time and collect payment based on the machine's output and agreed-upon targets. When it comes time for maintenance and services, OEMs charge their customers a subscription fee. While this means that OEMs aren't collecting payment in full for their equipment as they deliver it to the end-user, it is still an appealing business model to OEMs because it provides them with consistent cash flow through automated payments and the added revenue of the service subscription fees. Another benefit is that OEMs still own the machine and the equipment data, which can be used for R&D and predictive maintenance to be able to improve equipment.
One of the platforms that have allowed companies to deploy standardized MaaS business models is SteamChain.io. The company's automated process engine uses IoT and blockchain, an immutable digital ledger, to access the data from equipment, which is then used to create and send financial transactions back to the OEM.
Michael Cromheecke, CEO and founder of SteamChain.io, started the company in 2017 after he spent 17 years at Rockwell Automation. Cromheecke founded the platform when he realized that the MaaS model was a more efficient way to deploy advanced, automated technology into end-user facilities that not only make it easier for CPGs to take advantage of automation but also create a better environment for OEMs to support machine performance.
---
---
"SteamChain.io acts as a third party to monitor the performance of the assets to ensure that everything is achieving the performance goals that are defined between the OEM and end user," Cromheecke says. "Then, our technology clears those transactions in an automated manner. So, we don't add in any bureaucratic workload to either party because as the machine runs and as the SteamChain.io platform collects the operational data, we convert that into financial data for OEMs, and then help them clear those transactions. It truly reflects a pay for performance."
SteamChain.io currently has the largest install base of MaaS equipment—since it was first to market with the technology—and the company has partnered with many packaging OEMs. Most recently, it teamed up with Ohio-based Arnold Machine to help the OEM adopt the MaaS model.
"The OEM business model, as it exists today, is a difficult one," Cromheecke says. "There is a desire by the market to not just profit from the next order or capital project, which causes you to constantly refill the funnel, but really to build a better relationship with customers and create recurring revenue. And, in Arnold's case, they were able to offer full support of the machine and repairs and guarantee uptime, removing the risk on the end user's side of purchasing automated machinery."
When it comes to adopting the MaaS business model, Cromheecke says that OEMs with machines that have a lot of technology and automation embedded, which need a lot of support, would benefit from this shift.
"You're not just selling your customers a machine and wishing them good luck, you're actually baking in the post-sale service and the support that all the end-users want," Cromheecke says. "There really isn't a good model to charge them for service and support today. But with this, you're effectively setting up a recurring revenue model for yourself so that you're generating the cash flow necessary to provide the support that your customers need."
And while end users may have previously been closed off to allowing OEMs to access and own data, Cromheecke says the industry is at an inflection point where end users are becoming open to not only allowing OEMs to own and analyze machine data but the MaaS model as a whole.
"When CPGs are looking at the return-on-investment calculation, it's hard to determine what the ROI is on a $2 million machine," Cromheecke says "But if they can just put a single price on a per unit basis, knowing that the OEM has a support plan for ensuring the performance of the machine, it's a value proposition for them. Even if they're paying more for the machine over time, if the machine is producing more and requiring less support, we're starting to see acknowledgment that a total cost of ownership approach drives clear benefit amongst the mid-market and the large, global producers."
Robotics get a human hand
RŌBEX, an industrial robot system integrator, sells a lot of its equipment into distribution centers where a variety of package shapes and sizes are handled, which can potentially provide many obstacles for the robot and require more oversight from operators.
Today, end-users are looking for equipment that is highly automated and needs as little operator involvement as possible due to the extreme labor shortage. With this demand in mind, RŌBEX has partnered with AI-powered vision software manufacturer Plus One Robotics to improve robotic eye-hand coordination, boosting productivity capabilities in warehouses and distribution centers.
"We've always been a big believer that partnerships are what drives success," says Craig Francisco, RŌBEX's president. "With Plus One and learning more about artificial intelligence there is so much that's happening on the vision side of automation, and it is a game-changer."
To that end, RŌBEX is leveraging Plus One Robotics' Yonder product, which is a remote supervisor software suite that leverages live remote support and bridges the technology and skills gap. It accomplishes this by allowing robots to ask for help—via the software's human-in-the-loop feature—when the robot encounters a package format that it isn't sure how to pick, place, or palletize. A "Crew Chief" can then instantly see what the robot sees and instruct it on how to handle the package. The robot resumes its operation and the AI in the software teaches the robot how to adapt to similar scenarios in the future.
---
---
"By being able to put a robot cell into a facility that you could eventually have a lights-out operation where there's no one there having to watch it, but you've got the capabilities of a human interacting from afar, it's remarkable," Francisco says. "If a robot gets stuck and doesn't know what to pick next, the human can then get in there and tell the robot what to do, which then builds that AI over time. And then, the robot will ask less and less what needs to be done for situations like this. It's just taken us into a different space and opened our eyes to what's possible."
And the supervised autonomy afforded by Plus One's Yonder software also allows remote management of the robot 24/7.
"I talk to a lot of end-user CEOs on a weekly basis, and it doesn't matter the industry that they are in, the labor shortage has affected everybody," Francisco says. "It's real, and it's not going away. If companies have not already fully automated, they're really focusing to understand what to do next in terms of deciding what technology is out there to help them be successful. The relationship that we've built between [robot supplier] FANUC and Plus One Robotics, and the integrated systems we have done together, can do some pretty amazing things for companies."
Making the supply chain work for you
A strained supply chain puts OEMs in an incredibly tough spot as access to raw materials can be hindered due to shortages, causing longer lead times for end-users.
During PMMI's Top to Top meeting, one OEM cited serious supply chain issues as the main reason for extended lead times.
In response, a CPG suggested OEMs need to be more creative with machine design and that they should use alternative components when supply chain issues cause delays.
Looking at margins and operational productivity will never go away, according to Matthew Addley, a senior director of product and industry market strategy at Infor, an ERP and supply chain management solutions provider. But the next-level capabilities of optimizing the supply chain are here, he says. And while the pandemic may have accelerated this push, the industry is also facing the global shortage of semiconductors and transport constraints, further straining the supply chain. So, how do OEMs focus on doing what they're good at—designing machines and solutions—while also becoming supply chain experts?
Infor suggests digitalizing end-to-end supply chain processes so that they can have real-time visibility to make those decisions that could positively impact lead times or improve transparency when supply chain issues arise.
"The key is having a platform that provides greater visibility into the supply chain," Addley says "Depending on where supplies are coming from can have a real impact on business. If there is a delay, for example, with the Evergreen ship stuck in the Suez Canal, that's not a model that you can predict the consequential delays of. But at the same time, you can use similar insights so that you can start managing customer expectations early."
A partner that Infor now works with came to the company after it wasn't being notified and given time to adapt to delays, which meant they were scrambling to adjust at the last minute.
"With our CloudSuite Industrial Enterprise, partners have the ability to deliberately multi-source," Addley says. "OEMs can have the low-cost country provider that they use to improve margin, but at the same time, they can have a secondary source—perhaps more locally or more reliably—who may ask a premium for that same part. But at the same time, you want to keep both on stream so that you can then use both and potentially expedite and adapt."
And while having the right resource planning technology and tools is an important aspect of securing and streamlining the supply chain, taking action and being able to scenario execute plays a big role, too.
"Using integrated business planning or sales and operations planning, OEMs can use their MRP engine to identify if suppliers fail to meet their requirements and delivery times," Addley says. "You need to look at predicted lead times as they were entered and compare them to the supplier agreement and run an analysis against actuals. If you reveal a difference in delivery time, you need to decide whether they want to overwrite that initial lead time in a controlled way with approvals and workflows—you don't want to just overwrite data because it may be a one-off. But it's good to revise that information so that you're actually using real-world data to drive your next decision."
Once OEMs are working with real-world data within their resource planning systems, it will allow them to forecast and plan more precisely.
"If manufacturing organizations can share earlier what they think their needs would be, and then firm it up in a realistic timeframe, suppliers can engineer for that," Addley says. "Our PLM Discrete solution has been rearchitected to be cloud native and offer continuous improvement. It works hand in hand with ERP and looks at events across the board, whether that's production issues or supply chain constraints and delays, to help OEMs look at those events and drive to resolution so they're dealt with in a controlled way. It's really all about making sure that you've got a holistic approach across your own enterprise, but then also recognizing how much of your business activity relies on that extended supply chain."
The time is now
After two years of unprecedented obstacles, the industry is ready to move forward and fast. End users will be relying on OEM partners to help them automate and weather the labor shortage while also expecting quick lead times.
If your company is looking to add new automation and technology capabilities to equipment, or you want to find a way to optimize your business and facility, the time is now. Consider tapping into a partner to get the job done and differentiate your company.
"We are now in a situation where companies that do not yet exist will build products not yet conceived using materials not yet invented with methodologies that have not yet been designed," Carroll said during PMMI's Annual Meeting. "Are you ready for your world of disruption and acceleration? Are you ready for a world in which the future belongs to those who are faster?"
Companies in this article