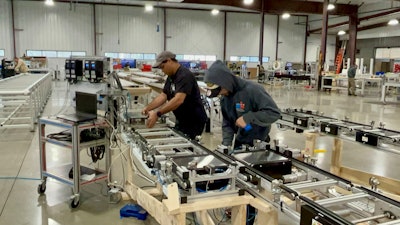 It wouldn't be wrong for mk North America to consider itself the Lego builder of the conveyor industry due to its invention and familiarity with aluminum framing and all the Lego-like components it entails.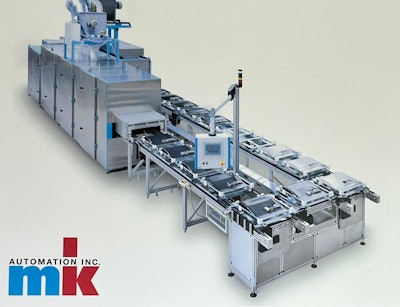 "It's truly like a LEGO set," mk North America president Andreas Haussmann says of the company's conveying systems. "There are about 200 different shapes of aluminum extrusion and about 3,000 components and accessories, including connectors, handles, castors, etc."
Sometimes finding a suitable company, whether as a customer, partner, or potential employee, is as simple as finding that missing Lego needed to complete a set and making it fit—in more ways than one. For mk North America, Inc., finding the right pieces began as early as its founding, extends through its product line, and remains a staple of its hiring practice and family-like work environment.
From challenging and empowering employees to innovating customer ideas, mk North America has built a reputation for its excellence in engineering and unique product line that makes the complex, simple.
"While we have certainly introduced new products over the years, our real strength lies in applying proven solutions across industries," says Kai Tietje, director of engineering and co-owner. "We continuously try to improve our products but are also often challenged to think outside of the box."
Early building blocks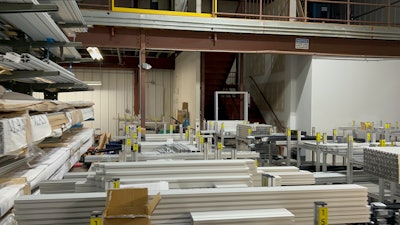 The parent company of mk North America, mk Technology Group, was founded in Troisdorf, Germany, just outside Cologne, in 1966. Initially, the company designed and built conveyor systems out of steel, but in the early 1980s, the founder invented the aluminum framing system. This system provided flexibility in mounting components and accessories, making it easier to build than traditional steel construction. Successfully designed to replace steel, the aluminum framing enhanced mk North America's wide variety of conveyors, including flat belt conveyors, roller conveyors, timing belt conveyors, and metal or plastic modular belt conveyors.
How mk came to North America is as simple as finding the right piece and attempting to make it click in place. In 1988, Kai's father, Andreas Tietje, discovered mk Technology Group's work at the Hannover Messe trade show, and he saw it as the perfect time to leave his current situation and start a new enterprise.
"Tietje went out to dinner with representatives from mk Technology Group after seeing the product at the Hanover Messe event," Haussmann explained. "If mk Technology would send the product, what is now mk North America, would sell the product. They shook hands and agreed to a simple 50/50 split of the profits, and mk North America was born."
The elder Tietje left his engineering job and began independently operating mk Automation Engineering, Inc., out of a garage as the North American headquarters of the mk Technology Group.
According to Kai Tietje, the operations remained small for the first decade before moving into its current headquarters in 1999. Since that initial move, the headquarters has expanded three additional times, with the most recent expansion completed in 2022, increasing overall capacity by over 30% and doubling the production facility. The company has always experienced sustained steady growth. However, the need for expansion ramped up recently during the height of COVID as mk North America's reliance on North American suppliers left it in a prime position when competitors ran into material shortages due to supply chain issues.
After finishing office renovations this past spring, mk North America is busy adding new machines in the production area, expanding all departments and their capabilities, and planning further expansion of its machining and fabrication capabilities.
Fitting in the right employees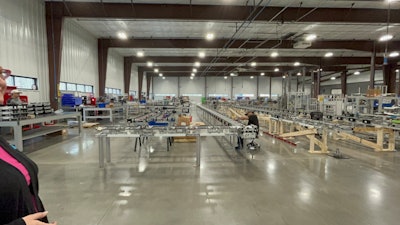 Bloomfield, Connecticut, is not exactly a hub for manufacturing among the many larger cities and states in the densely populated industrial Northeast corridor. Couple that with mk North America, Inc.'s relatively small size, despite accounting for over $50 million annually, and the competition for talent can be difficult. While this may make it challenging for a company that designs and builds conveyor systems out of steel and aluminum framing to contend with more giant multinationals for skilled workers like nearby Arrow and Pratt & Whitney, Deanna Ridgway, accounting and HR manager, believes it allows mk North America the ability to have a unique hiring practice, targeting employees just starting their careers.
"We are upfront about the fast-paced work environment when interviewing prospective engineers," Ridgway says. "As a result, the hiring process is geared towards attracting younger engineers and recent college graduates interested in learning and applying their knowledge to non-traditional, outside-the-box projects in the real world."
While the company offers competitive pay and benefits, they are aware that they cannot compete with the larger companies in that regard. Despite this challenge, the company finds that young engineers are attracted to its culture, emphasizing personal relationships and valuing the individual over anonymity, the opportunity to learn, and the chance to work with people their own age. For mk North America, this practice allows them to teach their techniques to new employees and experienced engineers alike.
Kate Nadeau was one of those recent college graduates when she started with mk North America out of Hofstra University over 20 years ago. Now, she has found her way to leading the marketing team as marketing manager and finds employees in all departments relish the small teams, personal attention, and the opportunity to learn from other engineers on the staff.
"For the engineers, it's the variety. No days are truly ever the same," Kai Tietje says. "Monday, belt conveyors; Tuesday, pallet system; Wednesday, linear motion. Thursday conference call with sales for new applications, and so on. The list is nearly endless, be it motor sizing, pneumatics, grippers, or powered rollers. At any given time, every engineer is the 'project manager' of five to ten orders at various stages of their lead times, and they see it being manufactured, assembled, and run."
Autonomy is also a significant facet of working at mk North America, with employees given a chance to make decisions. This ranges from material selection to vendors to design choices.
"My job has a new challenge every day because the products that we make are always changing to fit our customers' expectations," says Tom Ziemba, assembler. "I like the sense of accomplishment at the end of each project, and I get a sense of dignity to have a job to come to that rewards me with a feeling of worth."
According to Haussmann, machinists and floor operators are also hired and mentored in a particular way. The company initiated a program that repositions long-time employees as mentors to teach new unskilled operators and even machinists the mk North America approach to manufacturing.
"The opportunity that mk North America offers is unmatched," says Douglas Crispin, a company supervisor. "If you work hard and you are responsible with the task of the job that you are assigned, they will always try to give you opportunities to move forward in the company."
In recent years, mk North America has also started working directly with trade schools, tech schools, and colleges as part of a program sponsored by the state of Connecticut to identify potential employees and shine a light on what the company can offer.
Lego-like product line
mk North America stands out as an OEM in that it carries a full line of conveyors and aluminum extrusion, allowing it to present a mechanically complete solution, supplying the workstation to go alongside the conveyor and vice versa. This compatibility ensures the customer seamless integration between the various components in the system.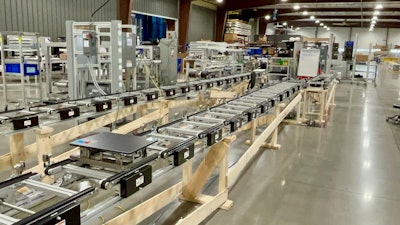 Because of its large customer base in various industries (automotive, packaging, food, pharmaceuticals, etc.), it has developed many standard products that began as a solution for one client. Many of these products were subsequently refined and used in other applications. Throughout its history, mk North America has evolved and can combine conveying, linear motion, and framing into solutions that, while considered custom, now serve as off-the-shelf products.
One example would be a classic over/under pallet handling system with elevators at both ends. The dual-lane conveyors have been a standard product for many years, but the elevators were typically custom-designed for each application. Over time, introducing standard stops, lifts, locates, and pallets became more efficient. The elevators have also been refined to use many common elements and features.
Fast-forward and now one of mk America's flagship products, the SPU-2040, is an accumulating pallet recirculating system that offers feeding, buffering, positioning, and separating of workpieces in the smallest possible space without the need for elevators while still providing an asynchronous pallet system with stop and locate features.
"We generally do not create a product in a vacuum. Rather, we listen to our customers and representatives," says Kai Tietje.
Tietje highlights basic twin-lane conveyors as an example of the standalone product vs. custom application evolution. Initially, the product was marketed to integrators for use in pallet-handling applications. Over time these integrators became less inclined to custom design and manufacture the hardware portion of these lines, focusing on providing a turnkey system to their customers. Their emphasis became more on electronics, controls, and automation.
Seeing this, mk North America began marketing its conveyors as mechanically ready.
"We integrated the conveyors, the functional elements such as pneumatics, lifts, stops, rotates, etc., added workstations, guarding, and so on," says Tietje. "Each individual element supplied worked in a stand-alone fashion, and our customers would then 'breathe life' into it by adding the electrical and controls logic."
Another factor that drives mk North America to broaden its product line has been solving other manufacturing companies' problems or pain points. If a customer needs a conveyor that doesn't exist, mk North America invents or develops one. Often this becomes the backbone of a future standard product offering.
What's next
Tietje and Haussmann are each very optimistic about the future of mk North America as it was one of the few companies that wasn't grossly affected by supply chain issues since most of its component suppliers were in North America. Many of its customers may not have been as prepared and are committing to domestic manufacturing with a strong element of automation.
"A significant part of our growth recently has been fueled by re-shoring," Tietje says. "This is right in our wheelhouse, and we're poised to serve those customers well."
Nadeau also thinks the recent passage of the CHIPS and Science Act, a semiconductor and infrastructure bill, will bring new opportunities for mk North America as the products the company offers are ideally situated to aid in increased U.S. production.
Companies in this article
Videos from mk North America, Inc.