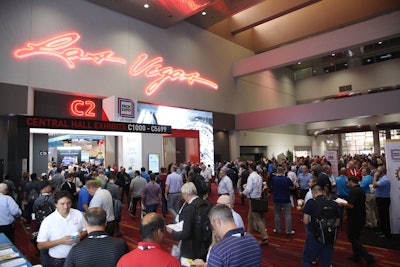 Interacting with potential customers at a trade show is essential, but what you do after that brief meeting determines the real success of the event. While attending PACK EXPO Las Vegas and Healthcare Packaging EXPO 2021, you may fall behind if you don't have a proper post-show plan in place. Without a company-wide plan for post-show lead follow-up, your connections and exchanges will literally stay in Las Vegas.
---
---
To get the most out of your exhibiting experience, don't settle for substantial booth traffic alone. Your company's actual goals are new sales and hopefully long-term customers, factors that depend heavily on efforts after the show. Simply put, keep the long game in mind. To optimize performance, consider these four critical tactics:
Immediately after the show, send a quick thank you to all booth visitors reminding them of your products. Attendees leave an event with a ton of new information, and it's crucial that you don't get lost in the shuffle.
Schedule six months of post-show follow-up to keep your brand top of mind among potential buyers during their research process. The further a potential customer gets from the show, the more important it is to maintain the relationship that started at PACK EXPO Las Vegas and Healthcare Packaging EXPO.
Communicate across a variety of channels, creating ongoing opportunities for engagement with your brand. Don't settle for just a phone call or one-off email. Investigate whether your new connection engages on social media and reach out via Twitter, Facebook, Instagram, or LinkedIn. Direct mail is also seeing a resurgence in effectiveness because it is different from what customers receive every day on laptops or mobile phones.
Leverage show-related messaging in your campaigns. Use relevance to grab attention with messaging specific to the show. Highlight points that you connected on while engaged with the customer. 
In business-to-business buying, especially when talking about high-ticket items such as machinery, components, materials, or software, the path to purchase can be long and have many fits and starts. All too often, companies will send out a few emails to assess near-term sales interest, separate out only the most promising leads and miss out on a good portion of the value. Some companies require extensive due diligence and numerous approvals before significant capital investments.
For more information about exhibiting or attending PACK EXPO Las Vegas, Sept. 27-Sept. 29, visit:  PACK EXPO Las Vegas
Tips for a long-term nurturing plan include:
---
---
Composing an engaging post-show email campaign. Consider offering an exclusive promotion just for attendees to foster further engagement.
When writing follow-up communications, instead of a generic home page, direct prospects to the most relevant pages on your website, so it is easy to identify products relevant to their interests.
After determining who opened your email, make sure you follow up by giving them a call or sending another email.
Keep on your leads with a timely direct mail campaign that allows you to continue the conversation. Make sure your call to action is clear.
Don't forget to post periodic status updates, offers and industry news on your social channels. Doing so further builds your network and connects with your prospects.
The buying journey can be long, and purchasing teams are often diverse. Keep your brand top of mind over the months post-show by continuing to share high-quality content with trade media and your show leads, such as case studies, white papers, and upcoming webinars. 
For a comprehensive marketing guide for trade show success, download the e-book A Marketing Guide for Trade Show Success