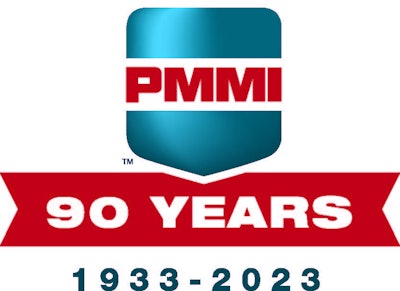 1933 was a banner year for trade associations for one big reason: The National Recovery Act.
First, a quick history lesson. Coming out of the depression, the National Recovery Act led to the creation of countless committees composed of business leaders and labor and consumer representatives, each group seeking to develop codes for a massive variety of industries. However, the sheer size of the effort made the process unwieldy, and much of the code creation fell by the wayside. But associations were here to stay as companies realized they could lobby and work together better as an industry than as individuals. Thus, the Packaging Machinery Manufacturer's Institute—PMMI's legacy title—was born in July 1933 with about 10 companies, and PMMI's first annual meeting included about two dozen companies. Ninety years later, PMMI has grown 100-fold, with member rolls exceeding 1,000 companies. In the last 15 years alone, membership has nearly doubled, and the Executive Leadership Conference was PMMI's largest in its history.
Often recognized as much for our trade show as anything else, the original PMMI tradeshow, dubbed The Packaging Machine and Materials Exposition, debuted in 1956 in Cleveland with 136 companies and at that time an impressive 43,000 net sq. ft. of exhibit space. Sixty-seven years later, the show is now one of the largest trade shows in North America, with PACK EXPO International 2022 welcoming over 2,500 exhibiting companies spread across 1.2 million net sq. ft. of McCormick Place in Chicago. While impressive in and of itself, PACK EXPO International is but one of the six biannual shows in the PACK EXPO portfolio of trade shows, joined by PACK EXPO Las Vegas (Sept 11-13, 2023), EXPO PACK Mexico in Guadalajara (June 13-15, 2023) and Mexico City (June 4-7 2024), PACK EXPO East (March 18-20, 2024) in Philadelphia, and our latest addition PACK EXPO Southeast in Atlanta (March 10-12, 2025). Every two-year cycle of trade shows now approaches three million net sq. ft. of exhibit space and welcomes over 140,000 potential buyers.
Obviously, the founders of PMMI would not recognize the magnitude of PACK EXPO or even have thought it possible for such growth, but it is only one of many aspects they laid the groundwork for but couldn't have imagined.
A once little association of American packaging machinery companies, mostly based east of the Mississippi River, now maintains members throughout the US, Canada, and Mexico, with an office representing PMMI in Mexico City. We provide management services to other associations as the PMMI way is now an attribute other associations strive to emulate.
PMMI serves as the true global resource for packaging and processing, owning its own media company with PMMI Media Group, which produces the leading publications in the packaging and processing industry. We provide world-class industry research to our industry; we host over half a dozen meetings with end users and members throughout the year. We have pioneered making packaging and processing more inclusive with the Packaging and Processing Women's Leadership Network and Young Professionals Network. Finally, we provide for the next generation of our industry every day, giving away millions in education, scholarships, and matching training funds for members, welcoming students to our PACK EXPO trade shows, and much more.
I could go on and on with all we have added since a muggy summer day in 1933, but I leave you with a simple Happy Anniversary and congratulations on being the true home of packaging and processing.