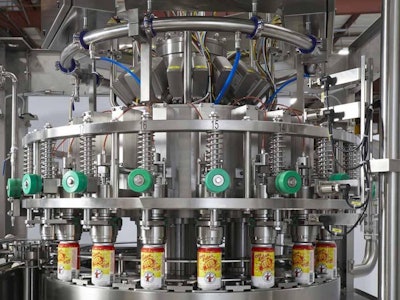 TechniBlend was founded in 2008 in Waukesha, Wisconsin, with the stated goal of providing new technology and solutions for the beverage industry.
Amid rapid growth, TechniBlend expanded to provide complete turnkey beverage plant processing systems and solutions to some of the world's largest beverage producers and brands. In 2022, TechniBlend was acquired by ProMach, becoming an integral part of ProMach's end-to-end process to package solutions. OEM sat down with Derek Deubel, vice president and general manager of TechniBlend, and the company's marketing manager Evan Rusch, to discuss what makes one of the newest members of PMMI so successful.
What sets your company apart in the industry?
Our beverage and liquid processing systems utilize the latest cutting-edge technology and innovation with proven components and optimal design features to improve our customers' productivity, efficiency, and product quality while delivering a high rate of return on their investment. Our engineering and professional services also focus on helping our customers operate more efficiently, productively, and successfully.
We believe in the creation of optimal customer satisfaction through world-class engineering, dedicated research and development, and superior innovation and technologies. To this end, the performance of our equipment and the value of our professional services will meet or exceed customer expectations, and we will provide prompt and competent service and support.
What went into the decision to join PMMI?
PMMI is a great partner to work with to expand our networking and connections in the industry. Plus, our new parent company ProMach is a major partner who participates in the full range of PMMI offerings. We are long-time exhibitors at PACK EXPO and look forward to the connections and business we expect from what we are sure will be a successful PACK EXPO Las Vegas 2023.
What's your approach to new product development?
Research and development is the key to TechniBlend's success. Our customer-focused research and development efforts and consistent innovation techniques keep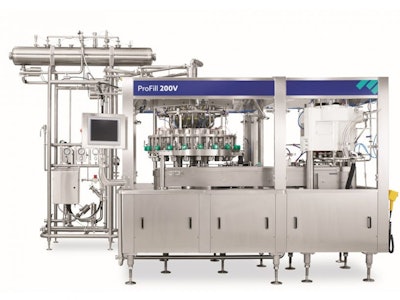 TechniBlend and our products at the forefront of the industries and customers we serve. Our new state-of-the-art research and laboratory capabilities are available for product testing and development, analytical experimentation, and process capability testing. We have four key focuses when conducting in-house R&D:
1. Product testing and development utilizing TechniBlend's innovative technologies.
2. Pilot testing capabilities with laboratory and analytical instrumentation.
3. In-house, full-scale production capabilities.
4. Investment in new product and process development.
How has your product line broadened over the years?
TechniBlend initially started as a blending and batching-focused company, whereas now we have grown to provide solutions at every part of the line. We now offer every piece of technology that a beverage producer needs to create their beverage at scale. In fact, after performing at such a high rate for some of the largest beverage companies in the world, like Sam Adams, MillerCoors, AB InBev, Coca-Cola, and Pepsi, we decided to custom-make our solutions to apply to the growing craft beer and specialty beverage industry. Every beverage manufacturer doesn't need the same scale of equipment, particularly with start-ups or craft brews. With that, we launched our subsidiary, ProBrew, which offers the same great technologies and expertise that we use for large beverage companies and custom-fit the equipment for any size brewery or specialty beverage.
What sort of background or talents/skills do you look for in new employees?
Most of our employees come to us with a background in the beverage and brewing industries, whether in engineering or service. We look for experienced individuals who have a focus on the client and what we can do for them.
Why do employees love working for your company?
Our employees love working for TechniBlend because we focus on the individual's growth. We are a fast-paced and rapidly growing company that offers employees many ways to develop their own skill sets. In addition, now that TechniBlend is a part of the ProMach family of brands, employees can seek career paths in just about any industry and job function they want while still remaining part of our team. We also focus on team building and comradery, with employees enjoying monthly company cookouts and team-building activities.
How do you balance standardized machine configurations with customization?
TechniBlend has very few standard machine configurations, around less than 5% of our business. Our sales, engineering, and operations teams are all built around selling, designing, and assembling custom configurations for each customer's needs since it includes flow rates, pressures, dearation requirements, blend ratios, footprints, and plant utility constraints.
Are you incorporating lean manufacturing? If so, please give some examples.
We incorporate lean manufacturing by not prebuilding parts or assemblies before receiving customer orders. We also purchase raw materials and job-specific components as required after engineering release and, as a result, do not carry an excess inventory of materials that we may never use. All our machines are built in place in one assembly station. This reduces wasted non-value-added touch time.
What's your process for handling a customer's initial inquiry and needs assessment?
For website inquiries, a market-specific salesman will reach out to engage in the initial scoping of the customer's needs. The second step is to send that information to our technical applications group to develop a solution, create a cost, price the equipment, and prepare a proposal.
After a customer issues a purchase order, the salesman will reach out directly, acknowledging and thanking them for the order/business. After the order is entered, a dedicated project manager will reach out to introduce themselves and coordinate a formal kickoff call to review the proposal and technical specs, as well as review milestones and a project schedule.
What influences a new machine's turnaround/delivery time?
The customer's review and turnaround of a technical signoff of equipment capabilities drive delivery times. From that point, long lead components that set the lead time are placed on order, and the build time is dependent on how much labor is needed after those components arrive. FATs, however, are not typical for our products. They are typically held on less than 5% of equipment. When they occur and are required by the customer, we develop a plan based on what they want to see, how long they plan to visit, and our internal capabilities. They typically involve 30% of the time in a conference room reviewing the design, prints, and capabilities and then going to our test floor to demonstrate the equipment's performance.
How do you handle field service and training?
We have a team of service technicians, process engineers, and controls engineers that go into the field to start up the customer's equipment. We do not have dedicated training personnel; the engineering team prepares manuals, PowerPoints, and videos to train on-site. This typically involves multiple classroom sessions for the plant's three shifts and hands-on training during production to teach them how to use the equipment and give them confidence that they will be set to run equipment after we leave.
Companies in this article