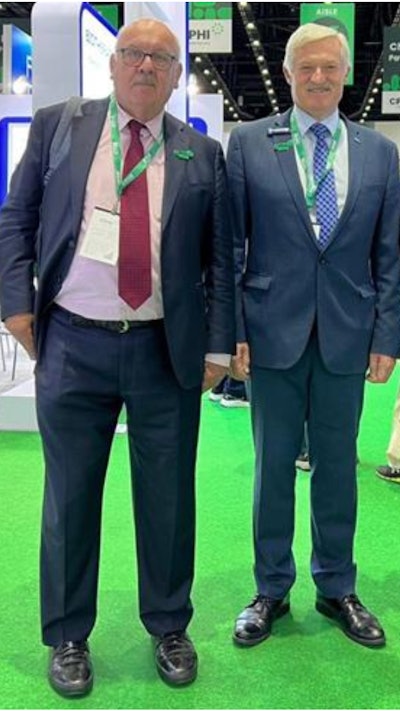 The WPO (World Packaging Organisation) and AIPIA (The Active & Intelligent Packaging Organisation) signed a Memorandum of Understanding furthering their collaboration on smart packaging and the science that underpins it. This will include WPO supporting AIPIA on the technology of material science, which is particularly important in active packaging. In turn, AIPIA will support WPO's agenda of encouraging sustainable and appropriate packaging innovation.
Already cooperating at various events, including ProPak and CPHi exhibitions in Asia, MENA, and South Asia, the two organizations will aim to develop joint agendas wherever possible to further the creation of smart packaging solutions that meet the goals of the global industry and particular market needs.
"Both organizations have been aware for some time that we share common goals and objectives, and it is a logical next step to formalize these in a constructive and practical way," said WPO President, Pierre Pienaar. "The two of us have a clear focus on our responsibility to the sector and the way packaging can be a solution, not a problem - as it is so often characterized today. Packaging for good is high on our agendas, and we see this collaboration as a way to demonstrate these benefits in a very impactful way."
Andrew Manly, Communications Director at AIPIA added, "WPO is the major global packaging organization and has a strong profile in both the developed and developing world. It is a tremendous boost to the smart packaging sector to be able to join with WPO in promoting these technologies and helping to reinforce the Organisation's agenda on sustainability, innovation, and supply chain efficiency. We are particularly delighted to be able to tap into so many talented people, in particular Pierre's tremendous knowledge of materials science."
The MoU WPO AIPIA also aims to encourage the development of a Smart Packaging category in the WorldStar Awards, the global packaging competition organized by WPO.
"This agreement adds strength and knowledge to both organizations. We look forward to working with AIPIA and 'spreading the good word' about packaging and its benefits across the globe. We also intend to develop joint agendas at each other's conference wherever possible", concludes WPO Senior Vice President Marketing and President-elect, Luciana Pellegrino.