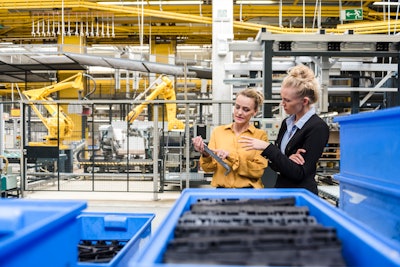 Getty
CPGs and OEMs came together at Top to Top Summit to discuss current challenges in their operations and workforce was one of the top three issues mentioned.
Top to Top Summit is an annual three-day networking event of high-level executives in the packaging and processing industry, who meet to discuss industry problems and solutions with the aim of improving industry outcome. Sponsored by PMMI, this year's meeting (the 15th annual) was held in conjunction with PACK EXPO Las Vegas.
Both groups emphasized that they need to engage their workforce to retain talent. Automation is one way, to eliminate monotonous tasks and free up employees to be redeployed to new areas.
Better education and training is another way, and CPGs specifically asked OEMs to improve remote support (a potential revenue stream for OEMs), train their employees on machine operation, and "provide structured training packages for new equipment installations."
End users are citing that they need to promote from within and improve training and career development - including better understanding of how to assist employees through a job transition and understanding the opportunities for labor conversion.
---
---
Ensuring that all new OEM built machinery is easy to use for inexperienced employees would help end users overcome problems with recruiting skilled staff, and it was suggested that incorporating LEAN principals (value, value stream, flow, pull, and perfection) into equipment design and layout is just as important as automation to reduce labor requirements.
Other measures to help battle workforce challenges include improving pay and conditions, stop relying on temporary workers and encourage commitment by offering full-time positions, improve flexibility of work locations when possible, and work more closely with schools and colleges to recruit young people.
Download a FREE copy of this report below to read more about these discussions.
Source: PMMI Business Intelligence, "Key Challenges for Packaging and Processing Operations."