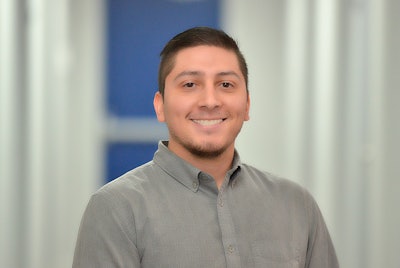 Formers International
Xavier Gonzalez is the Quality Manager at Formers International, a global manufacturer of bag forming assemblies for the packaging industry. He is responsible for ensuring products and services exceed the expectations of customer requirements. This is done via various quality inspection checks throughout the engineering and production departments, as well as a final inspection completed by the quality team. When issues occur, an investigation is conducted to identify the root cause, and a solution is documented and implemented. Many people believe quality solely relates to the quality of the product being provided, however, this is just one aspect of Gonzalez's responsibilities. In fact, he leads special projects that have developed new products, gained new customers, and adopted new processes. For all of his efforts, at the end of 2021, Gonzalez was named an Emerging Leader On the Rise award winner by PMMI. OEM magazine interviewed Gonzalez to learn more about his role and future career path.
OEM: What do you do as Quality Manager at Formers International?
Gonzalez: My main duty is to implement, monitor, and document the quality of all aspects of our company. These responsibilities are not just my own, but they are shared collaboratively by each employee of our company. This can be how our sales team communicates with our customers, how our employees communicate internally, what our design and fabrication processes are and how they are carried out.
OEM: How did you make your way into the packaging / processing industries?
Gonzalez: While obtaining my associate degree, one of my Instructors found a job posting for an AutoCAD drafter at Formers International. He felt I would be a good candidate for the position and gave me the information on where and how to apply. Within a day or two, I was invited in for an interview and was shortly offered the position.
OEM: What has the time at your company been like? Have you had any promotions or had the opportunity to learn a different side of the business?
Gonzales: When I first began working at Formers International, I had no knowledge of the industry and the impact it had on my daily life. Throughout the six years of my employment here, I've had the opportunity to be a part of multiple departments. Starting out in the engineering department, I had the opportunity to learn the design process and dimensional importance of bag forming assemblies. After a year of doing this, I had the opportunity to become a project manager for special projects that were contracted by our company. During this time, I was able to become more involved in the fabrication processes of the industry. Welding, machining, and material forming were just some of the processes I was able to directly interact with and expand my knowledge and experience. Having spent time in both the design and fabrication sides of the business, I have been able to utilize these experiences and knowledge to serve my company as an effective Quality Manager.
OEM: How do you help your company innovate?
Gonzalez: Throughout my time at Formers International, I have had the opportunity to lead special projects that have developed new products, gained new customers, and adopt new processes. Most recently, I have overseen the company's process of obtaining an ISO 9001:2015 certification, which is an international standard for a quality management system. Creating and preparing the required documentation, implementation of employee training, and establishing departmental procedures are just a few things I have contributed to in the process of receiving this prestigious certification. Obtaining this certification has and will greatly impact the internal and external success for our business. This process is something I am very proud to say I am a part of.
OEM: As an emerging leader, what were some obstacles you faced in your career and how did you overcome them?
Gonzalez: When I was 24 years old, I was given the opportunity to enter my first managerial role. The responsibilities you gain and the impact you have on your company, as a manager, can be intimidating at that age. For the first few months, I struggled with the weight of this and was not very confident in my decision-making abilities. With the support of my team and the growing success our company has seen, I was able to overcome this and become more confident in this role.
The packaging industry is overflowing with experience and knowledge. Most members of the industry I've met and communicated with have spent most of their careers within the industry. So, when you have a young individual, such as myself, offer alternative solutions, share a different perspective, and provide input, it can be difficult to be taken seriously or accepted. This is something I was able to overcome by building credibility. Although my knowledge and experience of the industry was not as vast as theirs, I was able to prove it to be just as valuable through my work and communication.
OEM: What advice do you have other emerging leaders about getting involved in packaging / processing / manufacturing?
Gonzalez: My advice for anyone wanting to get involved in the packaging and manufacturing industry would be to always be prepared to learn. This is a vast and growing industry. There is always something new to learn and a new experience to gain. Take all of it in and utilize it for not only your benefit, but for the benefit of the company and industry. Listen and understand what others try to teach you and be patient and understanding when teaching others.
OEM: As a rising star in your organization, what is next for you?
Gonzalez: As time progresses, my attachment to this industry has consistently grown. There is still a lot I feel I can learn and a lot I feel can give. There is no doubt that I will want to continue my contribution in the evolution of the industry. Regardless of what I do and where I end up, continuing my education and becoming a better leader are goals I will continue to strive for.
---
---
The 2022 On the Rise Awards are here! Nominate a rising leader in your company for the opportunity to further their professional development in packaging and processing, meet others in the industry, and learn more about PMMI.
The submission deadline is Friday, July 29, 2022. Learn more: http://oemgo.to/emergingleaders2022