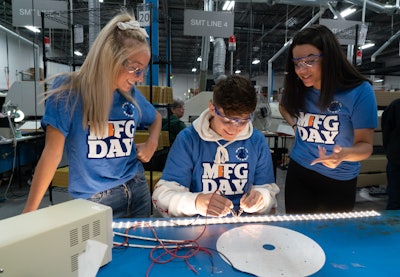 National Association of Manufacturers
This year, the Manufacturing Institute's Manufacturing Day (MFG Day) is celebrating its tenth year. Held annually on the first Friday in October, with events that continue throughout the month, MFG Day aims to show a behind-the-scenes look at the reality of modern manufacturing careers "by encouraging companies and educational institutions around the nation to open their doors to students, parents, teachers, and community leaders."
"The main goal is to raise awareness of manufacturing and the many opportunities for young people in various communities," says Herb Grant, vice president of program execution at The Manufacturing Institute.
Through open houses and factory tours, manufacturers can show the public (and future workforce) what it is they make, how their operations run, and the ins and outs of working at the facility. This is especially important as the labor gap continues to widen within the high-skilled, high-tech, and high-paying manufacturing jobs.
"The challenge today is that there are more than 800,000 open manufacturing jobs in the U.S. By the end of the decade, we're on track to need four million more people in the manufacturing workforce," Grant says. Driving this skills gap is a healthy economy, growth of U.S.- based manufacturing, and the great resignation (where the last two year has seen more people leave their careers than ever before). Plus, there's growing competition for talent as more career options become available.
There's also the industry image. "There's a misperception that manufacturing is dark, dirty, and dangerous. That's not accurate. The industry is high-tech, clean, innovative, and safe. That's what these tours prove," says Grant.
The importance of MFG Day
In 2021, The Manufacturing Institute reported that more than 584 events were held on MFG Day, which were OEM-hosted events that were either in person demonstrations, factory tours, or online events. There were a reported 101 plus million impressions collected on the MFG Day website, and 15 states made written proclamations declaring the event on the first Friday of October, bringing weight and validity to the institute's goals.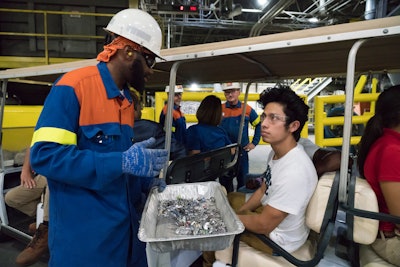 Novelis, the world's largest aluminum recycler and leading provider of flat-rolled aluminum products, is (and has been) one of the companies participating in MFG Day. "We have participated in MFG Day for several years by opening our doors to students, teachers, and community leaders and giving them a firsthand glimpse into cutting-edge manufacturing careers and operations," says Dev Ahuja, executive vice president and CFO at Novelis. "In 2019, we held a kick-off event at our Greensboro, Georgia, recycling facility, where I joined Manufacturing Institute executive director Carolyn Lee and our Greensboro team in welcoming 50 students to the plant. While visiting, the students learned about career advancement, safety, environmental sustainability, and STEM-related applications."
While the events help students to learn about careers in manufacturing, as well as the technology being applied at the facilities, the event can be beneficial to participating companies as well. Miller Fabrication Solutions, one of the top metal fabricators in the U.S., is an active participant in MFG Day, and has benefitted from past events.
"MFG Day has undoubtedly helped with our recruitment and marketing efforts, "says Eric D. Miller, president of Miller Fabrication Solutions. "The event gives people a behind-the-scenes look at how we help produce the types of heavy equipment you see on construction jobs, railroads, mining sites, and other industrial applications. It's a great way to showcase the many rewarding career opportunities at Miller and convince the workforce of tomorrow to consider a career here."
---
---
In the last few years, due to the COVID-19 pandemic, MFG Day events went virtual through virtual factory tours and demonstrations. This year, MFG Day is expected to be a mix of in-person and virtual events held throughout the country.
Getting involved
So, you may ask yourself, "How can first-time participants get involved?" You'll find everything you need to get started at mfgday.com. There you will be able to see relevant information regarding how to participate and ways to host an event. This can include hosting a virtual event, a factory tour, or product demonstration. You'll then register for the event, which will publish the event and its details on the site, allowing attendees looking to participate in MFG Day to see it.
After that, promote the event as you see fit. The Manufacturing Institute's Grant says that a good practice is to reach out to local high schools (and sometimes middle schools), and talk to staff, explaining your participation in MFG Day, with the ultimate goal of inspiring the next-generation workforce to consider manufacturing as career.
"As we all compete for workers in a tight labor market, it's more important than ever to highlight our industry and connect with prospective employees. I would tell organizations participating for the first time – or the 10th time – to ensure their approach is creative, inspiring, and true to their brands," says Miller.
While there is no cost to participate in Manufacturing Day, you may incur costs as you work to create a memorable event, such as providing refreshments, catering lunch, and even providing student transportation. The good news is that there is help for you if your company wants to participate in Manufacturing Day and is looking for a little bit of cost assistance. The PMMI U Skills Fund is available to member companies looking to participate. It is a matching program that helps company dollars go further, according to Kate Fiorianti, Senior Manager, Workforce Development, PMMI. For example, if a PMMI member company wanted to get a bus to bring students into their facility for the day and it costs $1,000, PMMI would match $500.
Find out how PMMI can assist your MFG Day!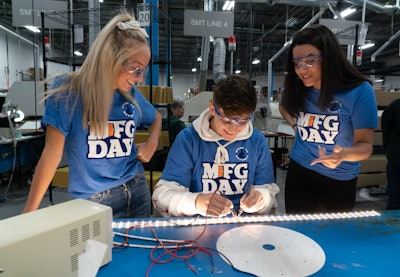 Building the workforce
The goal is clear: To get future generations interested in manufacturing and excited about the industry. It's also to showcase the innovation and automation and robotics technology behind modern manufacturing, proving it to be an exciting career path for just about anyone.
"At Novelis, we are excited about the future. We recently introduced ambitious sustainability commitments – including being carbon neutral by 2050 or sooner and reducing our carbon footprint by 30% by 2026 – and announced several capital investments, many of them to increase our recycling capacity, that are enhancing the sustainability of our products and preparing us for an exciting period of growth ahead. We know that the future is bright, which is why we love to use opportunities like MFG Day to share our excitement with the communities where we live and work," says Ahuja.
As more companies open their doors to the next generation workforce, the idea of modern manufacturing won't be so foreign. And as more people and students gain knowledge and excitement surrounding the industry, the hope is that the skilled labor gap will begin to close, and eventually close for good.
Companies in this article