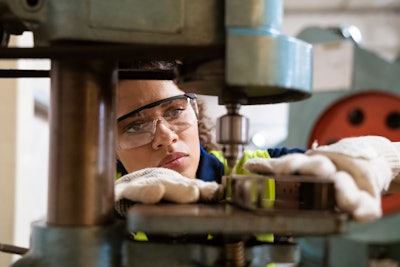 Nearly two years later, COVID-19 is still affecting the way many North American manufacturers are doing business.
As the industry moves forward—and possibly into another wave of COVID-19 restrictions as a result of virus variants—OEMs need to refocus on their human assets to prevent employee burnout and other obstacles, while also navigating simultaneous workforce crises such as the skills gap and labor shortages.
According to the 2021 Manufacturing Talent study from Deloitte and The Manufacturing Institute, the skills gap will contribute to two million manufacturing jobs going unfilled by 2030, which makes employee retention and recruitment one of the top challenges for OEMs today.
So, to keep up with innovation, OEMs need to draft a plan on how to hold on to existing employees while attracting and training new recruits in an ever-evolving, remote world that's still enduring a pandemic. Fortunately, they have the most valuable resources at their disposal: the people who currently work for them.
---
---
OEM Magazine interviewed emerging leaders, OEMs, and manufacturing organizations to reveal the industry's top priorities when it comes to workforce development for 2021 and beyond. And the two biggest issues discussed were worker safety as the pandemic ensues, and workplace culture as managing remote employees becomes a priority—as does a focus on diversity and inclusion initiatives.
How to improve employee safety during COVID-19
With new COVID-19 variants and only 50.8% of the U.S. population reported to be vaccinated, as of press time, the pandemic is long from over. OEMs will need to continue to provide employees with a safe place to work or remote alternatives. Here are some ways OEMs are ensuring employee safety and promoting wellness.
Require and provide personal protective equipment (PPE) and space. Located in Spokane, WA, Pearson Packaging Systems was very proactive in its approach to protecting employees as it required masks in its facility before it became an official state-wide mandate.
"Washington state was one of the first to actually be affected by the pandemic with the first COVID-19 case being recorded in Seattle," says Machelle Johnson, Pearson's director of human resources. "We were diligent about following the protocols that were established by the CDC and we brought in education, when necessary, for employees throughout the entire process."
Eric D. Miller, president of Miller Fabrication Solutions, a metal parts fabricator located in Pennsylvania, says social distancing and PPE didn't represent a drastic change for his people on the shop floor.
"Our equipment was already spread out to make it easy to execute social distancing. We already had strong PPE requirements, so adding masking wasn't an extraordinary inclusion,'" Miller says. "I don't know if we're in this forever or not, but as an essential manufacturer who needs people on the shop floor, we are still maintaining precautions and social distancing guidelines and we will continue to. We still have a big emphasis on PPE, cleaning, and making sure that we are properly distanced."
Monitor Centers for Disease Control and Prevention (CDC) guidelines regularly. Pearson has regular meetings to review and implement CDC guidelines within its facility, as well as evaluate the health and morale of its people.
"I was just in a meeting where we were reviewing CDC guidelines regarding people going back to masking up indoors, even if they're vaccinated, because they now say that the vaccinated person can spread the virus," Johnson says. "I was in the process of meeting with our CEO, going through our policy, and we are going to have everyone go back to masking up. So even though our state hasn't required a masking mandate, we're putting it back into our business because we want the business continuity and to make sure our people stay healthy. And that's really been our goal all along."
Offer vaccine access, education, and resources to employees. When the vaccine became available, many manufacturers, including Pearson and Miller Fabrication Solutions, set up onsite vaccine clinics.
"We continue to provide information to our people so they can make educated choices," Johnson says. "And we also incentivized [employees] by offering bonuses and giving discounts on health insurance premiums for those who got vaccinated."
Along with Pearson, Miller Fabrication Solutions had staff that were among some of the first people to get the vaccine in the area because of these onsite efforts.
"We had about a hundred people in our facilities vaccinated," Miller says. "We wanted to make sure that if someone needed or wanted a vaccine that we could help them get it. That was important to me."
In addition, vaccines are now becoming necessary to enter some CPG and OEM facilities, which has Pearson executives wondering if vaccines need to become mandated at their facility to ensure collaboration with their customers. "It's really been our CEO's directive not to mandate the vaccine, but we're starting to see our customers telling us we can only send vaccinated employees into their buildings," says Johnson.
How to Shift and Improve Workplace Culture
When it comes to manufacturing, workplace culture is something a lot of OEMs pride themselves on creating and fostering. To attract and retain employees in today's climate, culture is a huge selling point, especially for emerging leaders, women, and younger generations—all of whom manufacturers need in order to thrive.
As the industry and its people continue to grapple with what the future holds, here are some of the cultural shifts manufacturers should consider:
Adopt diversity and inclusion as a core mission. Implementing workplace diversity and inclusion has become an initiative that has gained momentum and is top of mind as employees reevaluate or start their careers in manufacturing. A 2020 Glassdoor study revealed that 76% of Millennial and Gen Z job seekers expressed that diversity and inclusion is important to them.
---
---
As a Hispanic woman, Pearson's Johnson acknowledges that the packaging and processing spaces have evolved over the years, but that it's still a male-dominated field with a very low minority population.
"When I came to Pearson 18 years ago, there were very few women," Johnson remembers. "Out of around 200 employees, there were only 10 women, and there weren't many women on the leadership executive team. And I am really proud to say that half of my leadership and executive team are women. We have also increased our representation in minorities and those in protected groups throughout the company."
Johnson has been able to bring more diversity to Pearson by spending time looking into different recruiting networks and labor and talent pools that may not have been considered before.
"We post our job listings in diverse communities and different talent pools," Johnson says. "But that's something you actually have to spend time researching and networking to find talent. Once you have the talent in the interview process you don't have to convince managers to hire people of diverse backgrounds it happens naturally. The most qualified person is hired, and I have found that including women and minorities is how we improved our Equal Employment Opportunity demographics."
And not only is this something that employees will expect companies to prioritize, but creating a diverse and inclusive workforce could stand to boost business and innovation. In 2018, Boston Consulting Group found that companies with a diverse management team—including people of color and women—innovate quicker and have 19% higher revenues than companies whose teams are non-diverse.
Take workforce development digital. Manufacturing Day is held on the first Friday of October, and it aims to connect students, parents, and teachers with local manufacturers to show students what modern manufacturing looks like. Typically, OEMs host engaging plant tours for high school, middle school, and elementary students.
In 2020, many manufacturers closed their doors to keep their people safe, but Miller Fabrication went digital, offering virtual plant tours and webinars throughout October. Not only did these engaging events reach students in their home state, but the events went national.
"We had a thousand visitors or more across 16 states," Miller says. "We are in Pennsylvania, and we had educators and students attending our events from as far as California."
---
---
So, this year, in addition to holding on-site plant tours, the company is developing virtual webinars on the lifecycle of heavy metal parts fabrication for OEMs, which they will release throughout the month of October.
"We saw educators, student groups, suppliers, and vendors inside and outside of our local community join in last year," says Susan Towers, marketing director at Miller Fabrication Solutions. "Our events were focused on particular roles throughout our company, from the shop floor to back-office positions. It gave folks better insight into what we do and got kids excited about possibly working here one day. The reception was fantastic, and we're excited to have a new take on it again for this year."
Develop Remote Onboarding Processes. While much of manufacturing and production needs to be done on the shop floor, there are many departments that can work remotely, as OEMs learned during the beginning of the pandemic.
As the trajectory of the pandemic is unknown, one thing is for certain; remote work is possible and will be around for a while, according to a study conducted by consulting firm Mckinsey and Company.
Tim Jolly, for example, just started as a global account team leader at Intralox. The conveyor belt manufacturer is based in Louisiana, but Jolly is based in southern California. As Jolly accepted the job at Intralox months ago, he became part of the company's first incoming class that was entirely remotely onboarded.
"Although it's not ideal, I think Intralox's remote onboarding process was highly effective," Jolly says. "Typically, I would've spent several weeks on campus going through onboarding, culture training, and our continuous improvement training. But instead, I did it with an incoming class remotely. With Intralox's ability to roll out a flexible work environment and comprehensive remote onboarding process, I felt very supported from day one."
To Jolly's point, remote workforce development isn't the same as the traditional methods, but if supporting remote recruitment, development, and training can help OEMs secure talent in pools across the country, a shift in practice might pay off.
Support remote work and build in flexibility. The ability to work remotely may also accommodate employees who need more flexibility and for those who had to entirely shift their priorities due to the pandemic.
For example, the impact of COVID-19 on women and working mothers was devastating, as an estimated 2.4 million women left the labor market between February 2020 and February 2021, according to Pew Research Center. In addition, according to a 2019 study conducted by consulting company Maven, of the 35 million working mothers, nearly 10 million of them were cited as suffering from workplace burnout even prior to the pandemic.
"These are startling numbers," says Allison Grealis, president of the Women in Manufacturing Association. "Our goal is to help women return to manufacturing, and one of the biggest ways manufacturers can assist is by reevaluating workplace policies and culture to build in more flexibility. One of the positive outcomes of the pandemic is that it helped manufacturers look at their policies and adopt more progressive practices. Manufacturing companies can make themselves employers of choice by putting in place more progressive work policies that draw people in and set them up for success."
To that end, company culture must change to align with the realities of the world today.
"Intralox is very much a traditional type of company where I think we are concerned about whether or not the company culture, that we take very seriously, is going to be able to carry over into this new work life," Jolly says. "If you walk into our corporate campus, you can see our business philosophy plastered on every wall throughout every building. Looking forward, we need to see how we can preserve this culture that we find so unique and special in a remote and flexible way."
But as manufacturers revise their culture to reflect today's climate, it will usher in a new class of individuals into manufacturing—including more women—as well as promote diversity and inclusion.
"I've never seen a brighter future and opportunity for women in manufacturing than now," Grealis says.
Companies in this article