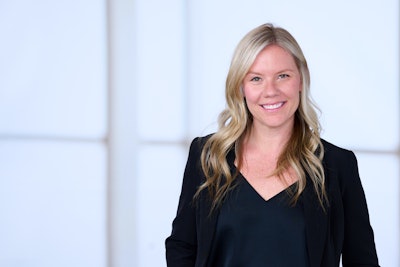 PMMI, The Association for Packaging and Processing Technologies, recently announced its fifth annual On the Rise Award winners. Developed by PMMI's Emerging Leaders Committee, the awards recognize 10 young professionals who have demonstrated leadership potential in packaging and processing. Alison Zitzke, senior product manager at ORBIS Corp., is one of the 2022 winners. She recently spoke with OEM magazine about her current role and career objectives.
Can you provide a brief description of what ORBIS does?
Zitzke: ORBIS helps world-class companies move their product faster, safer, and more cost-effectively with a wide assortment of reusable plastic pallets, totes, bulk containers, metal racks, and dunnage.
What is your role and your responsibilities at the company?
Zitzke: As a senior product manager for plastic pallets, I am responsible for bringing together customer needs with our internal project teams to solve problems related to packaging. I act as a liaison between departments and a subject matter expert to support our sales team.
During your six years at the company have you had the opportunity to learn different sides of the business?
Zitzke: My role encompasses all sides of our business from sales support, project management between the manufacturing plant and engineering, supply chain planning, and dealing with quality concerns. My product line has some of the largest growth potential for conversion out of wood pallets, so projects are continuously changing.
How do you help the company innovate?
Zitzke: One of my most recent achievements has been spearheading the development and launch of ORBIS' flagship 40x48 pallet, the Odyssey, bringing our pallet portfolio into new manufacturing technologies, applications, and markets within the reusable packaging space. The Odyssey pallet provides stability and unmatched durability with approximately 36 times the lifespan of a whitewood stringer pallet. Under my leadership, the ORBIS team was able to put the Odyssey pallet to the test at the Virginia Tech Center for Packaging and Unit Load Design where the Odyssey plastic pallet completed 400 cycles without failure, resulting in cost-savings and sustainable advantages to customers across the supply chain.
What have been some obstacles you have faced in your career and how did you overcome them?
Zitzke: In a manufacturing environment, you must push boundaries and advocate for new ways of doing things. That's why I continuously learn about new technologies and materials to push different ways of doing things that can lead to company growth.
How did you make your way into the packaging industry?
Zitzke: I started my career in disposable packaging product management at ULINE and then moved into a reusable packaging role with ORBIS. While it was not my intention to go into packaging when I graduated, being part of understanding the supply chains that we utilize every day has kept me in packaging.
What advice do you have for others who may be interested in starting a career in packaging or some aspect of the manufacturing industry?
Zitzke: If you're thinking about a career in packaging, I'd recommend visiting different types of manufacturing plants to see what interests you. Even if you have no specific desire to work with packaging, it is something that touches our every day lives. You may not realize how important and impactful these jobs can be. And don't give up on ideas – this industry can sometimes be slow moving but needs people to continue to push for new and innovative solutions.
As a rising star in your organization, what's next for you?
Zitzke: Continuing to do what I do best – coming up with new products that help solve problems in different parts of the supply chain and transition consumers out of wood pallets into plastic.
Companies in this article