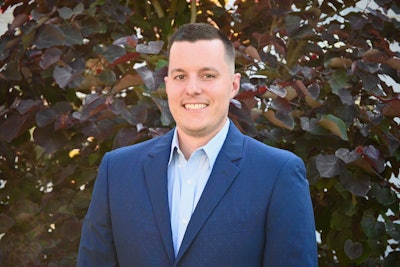 PMMI, The Association for Packaging and Processing Technologies, recently announced its fifth annual On the Rise Awards winners. Developed by PMMI's Emerging Leaders Committee, the awards recognize 10 young professionals who have demonstrated leadership potential in packaging and processing. William Reese, director of engineering at Garvey Corporation, is one of the 2022 winners. In his management role, Reese reduced the time to prepare detailed proposals by 75% and increased overall pricing accuracy. He also worked with the marketing group to promote the latest innovations and design advertisements, as well as trade show displays. His hard work and dedication have earned him a seat on Garvey's steering committee, where he plays a key role in Garvey's major decisions and long-term strategic planning. Reese recently spoke with OEM magazine about his current role and career objectives.
OEM: Can you provide a brief description of what your company does?
Reese: Established in 1926, Garvey Corporation has grown into a global leader producing conveying, accumulating, and automation solutions. Our designs are unmatched in the food, pharmaceutical, personal care, and beverage industries. We pride ourselves on handling unstable products better than anyone in the world. We specialize in helping companies build efficient production lines and show how to maximize throughput for increased profitability. We do this by performing an expert line analysis on your current automated lines and placing accumulation in the right location, which often can boost your overall end-of-line throughput by up to 30%. This increase is accomplished by identifying the constraint in the production line and to never allow other machine's downtime to cause the constraint to stop when it is capable of running at full capacity.
OEM: What is the role and responsibilities of the director of engineering at your company?
Reese: A director of engineering is the head of the engineering team or department. This is a leadership position in upper management, but unlike other director roles, the director of engineering plays an active part in the development of a project. They work with their team of engineers to set goals, plan projects, build a timeline, and stay within budget. Their duties and responsibilities also include project management, hiring new team members, presenting budgets and plans to other departments, and meeting with upper-level management.
Also, prepare project proposals by working with various teams and departments. Complete customer RFP's and RFQ's. Draft, edit, and prepare proposals to ensure it is in compliance with company goals. Coordinate with any outside vendors to acquire quotes for non-company-built equipment. Ensure pricing and specifications are accurate to customer needs and profitability.
Pricing is key to company profitability. Work with team members to check pricing structure and ensure it maintains the company's profitability goals. Work with purchasing department to capture the most up-to-date costing. Work with sales department to set market pricing and ensure it aligns with company goals. Update pricing structure to reflect the current market.
OEM: During your 11 years at the company, have you had the opportunity to learn different sides of the business?
Reese: I started as an intern in college. After graduation I got hired as a mechanical designer in the engineering department. I worked there for a few years as a designer and then a project engineer. Moved to sales and was on the road selling in the mid-west for a few years. Got an opportunity to manage the proposal department about four years [ago] and am still doing that today. During that, I was assisting with the engineering department and was moved to director of engineering at the end of last year.
Coming from an engineering background and having sales experience has helped me tremendously. The ability to see the projects from both vantage points has made my job a lot easier. It has also helped the engineering team learn about the sales process and give them a look into why we need to do certain things.
OEM: How do you help the company innovate?
Reese: Part of my duties is to oversee the product development with our sister company Dorner—creating new products or revising existing ones. I am also working with the engineering and controls teams to standardize our offerings for quicker turnarounds and increase speed through the design process.
OEM: What have been some obstacles you have faced in your career and how did you overcome them?
Reese: My first obstacle in taking over the engineering role was a chronically late project schedule. My first goal was to get the department on time to give the other departments more freedom to schedule their work. I worked together with the team and instated small goals over the course of a few months. Worked on getting more engagement and information share among the department and others. This helped to see the big picture and how we affected other areas. Through the small changes, like creation of an R&D team, building parts libraries, and improving and enforcing procedures, we got the department back on schedule in about six months.
OEM: How did you make your way into the packaging industry?
Reese: It was really by accident. When I was looking for an internship one summer, my friend's grandfather knew about Garvey and said they do engineering. I applied and got the job and really enjoyed the fast-paced environment. It's amazing how much we do affects the entire population. My favorite part is walking down store aisles and seeing a product that is produced on Garvey equipment.
OEM: What advice do you have for others who may be interested in starting a career in packaging or some aspect of the manufacturing industry?
Reese: Keep an open mind. It's a huge industry and just because you don't like one aspect, there are a thousand others you can try. It is a constantly evolving industry. Thinking back on my career, I cannot believe how much it has changed. That is one of the things I like best about it.
OEM: As a rising star in your organization, what's next for you?
Reese: Right now, I am continuing my education and pursuing my MBA with a concentration in management. My goal is to continue to work my way up the management ladder improving every department I can along the way.
OEM: Is there any other information you feel is important to your journey?
Reese: I want to thank my wife, Erica, for helping with the kids more often so I can put in the extra time and travel for work. The Garvey culture that allowed me to take on additional responsibilities and learn from mistakes. Tom Garvey and Mike Earling for being my mentors at Garvey. Mike was a big influence on me on the sales end of things and helped me develop my customer relationship skills. Tom has a great business mind and I have learned a lot from him. He has help me grow as a manager and leader.
Companies in this article