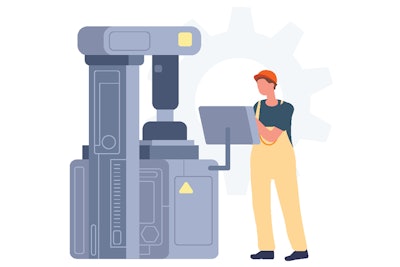 PMMI Business Intelligence: 2023 Sustainability and Technology - The Future of Packaging and Processing
Packaging and processing companies use retention efforts, new technology, and enhanced training to help find and retain skilled workers, according to PMMI Business Intelligence's 2023 report, "Sustainability and Technology – The Future of Packaging and Processing."
The US Department of Labor reported the labor market remained strong in 2022, with 223,000 extra jobs added in December 2022, the Washington Post's 'December Jobs Report' said.
The manufacturing industry continues to experience labor shortages. Stakeholders across the industry acknowledge the need to effectively train more people in modern manufacturing techniques, as well as automate simple, repetitive jobs to improve productivity and retention rates.
One company representative interviewed by Business Intelligence researchers said recruitment, training, and retention initiatives aimed to "make the job meaningful and rewarding with good pay and benefits."
Retention Efforts Pay Dividends
More than four out of five surveyed executives (81%) described retention efforts as "successful" or "very successful." The remaining 19% said their efforts had not been at all successful, and many stated they were still struggling to recruit and retain employees.

Successful initiatives include gain sharing, regular career discussions, benefits like health insurance, and changing the company culture to provide "a better, more desirable/enjoyable work environment," one respondent said.
Several respondents also mentioned competitive wages, reflecting rising inflation and labor shortages.
Technology Helping Tackle Workforce Challenges
Technology is clearly playing a large role in all aspects of manufacturing, including training, recruitment, and retention.
Survey respondents mentioned "transparency of data" and "implementing remote and hybrid work for packaging engineering positions" as focus points. Others mentioned, "engagement and development of [the] team using newer technologies/updated equipment."
The majority (82%) of survey respondents found that technology enhanced training efforts. Initiatives cited by these respondents included OEM/vendor-supported or led equipment training, involving all employees in leading and managing continuous improvements, video training, virtual training systems for remote workers, cloud-based guides, digitalized work instructions, and software programs to test, record, and store training data.
When asked about the success of leveraging technology to increase the span of control of current operations, 90% of those who answered said it was either successful or very successful.
Using technology to provide line operators with more control reduced "dependency on others and/or manual tasks," one respondent said, with more HMI configurations credited with helping hourly employees manage roles such as planning, materials releasing, and inventory management.
"We have increasingly automated production processes, such as dosing of materials, weighing, and preparation times," an engineering and project manager of an international food producer, importer, and distributor wrote. "This with the purpose of having greater control and traceability in the process."
SOURCE: PMMI Business Intelligence, 2023 Sustainability and Technology – The Future of Packaging and Processing
Download the FREE report below.